So I was in Birmingham this weekend. I believe I've mentioned it once or eighteen times.
What I didn't mention was that I actually worked as part of the LifeWay event team for the Deeper Still conference. Seriously. They gave me a walkie-talkie with an earpiece and everything. Sadly, I had to give it back when everything was over and that makes me sad because I discovered this weekend that people take you seriously when you walk around with a walkie-talkie and an earpiece. Well, except for the people who know me in real life who just died laughing every time they saw me.
I will write about the weekend tomorrow, but right now I have to go to bed because part of my event team duties involved selling $2.00 t-shirts at the merch table and I think all 14,000 women in attendance bought one.
(You don't know how happy it makes me to use the term "merch". It makes me wish I had merch to sell so I could walk around and talk about my merch table. Apparently that word and a walkie-talkie is all is takes.)
But, in the meantime, I have to share that Caroline passed a major milestone this weekend. I also want to warn you that if you are not a fan of the hunting you should probably leave at this point and come back for the rest of the weekend re-cap tomorrow.
On Friday afternoon, P texted me this photo.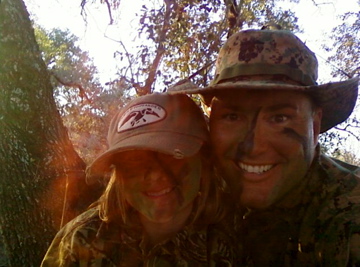 Aww. Mama's little baby has on camo face paint.
I texted him back and said, "I LOVE IT. I LOVE Y'ALL!"
And then Saturday morning I was walking around the concourse looking very official with my walkie-talkie and earpiece.
(In reality I was going to meet my friends, Heather and Kelly, who had brought me a Peppermint Mocha but were told they couldn't bring it in the arena. I was DESPERATE for that Peppermint Mocha and not above telling someone it was for Beth Moore just to get it in the doors.)
(Also, they let me walk right in with it and I didn't have to resort to deception. I owe it all to the walkie-talkie.)
Anyway, I'm walking around the concourse when I receive a text from P that says, "Caroline shot her first deer this morning." And it was accompanied by this photo.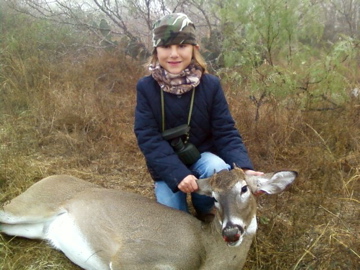 Y'all.
The weirdest part is I felt tears of pride well up in my eyes.
And I spent the rest of the day saying words I never would have imagined saying seven and a half years ago, "LOOK Y'ALL! MY BABY GIRL SHOT HER FIRST DEER THIS MORNING!"
The best part was people acted like they were genuinely interested.
Or maybe it was just the walkie-talkie that made them feel like they had to listen.