Happy New Year. I hope 2011 is treating you well thus far.
It was treating me immensely well until I spent the day yesterday taking down all our Christmas decorations and vowing that I won't use as many lights on the tree next year. Even though we all know that I'll forget all the pine needle inflicted agony of the past few hours by next Christmas and will once again get caught up in all the festiveness and feel the need to use eighteen strands of lights on one tree.
But now the tree is down and the garland is gone and the toffee has been eaten. It's time to return to real life. A life that requires me to wear pants that button and aren't made of flannel.
We spent New Year's Eve down at our friends' ranch. Which is the same way we spent last New Year's Eve and has become my favorite way ever to bring in a new year. There is something about being away from everything and just hanging out with friends you've known forever and eating a lot of chips and dip and homemade cheesecake and black-eyed peas.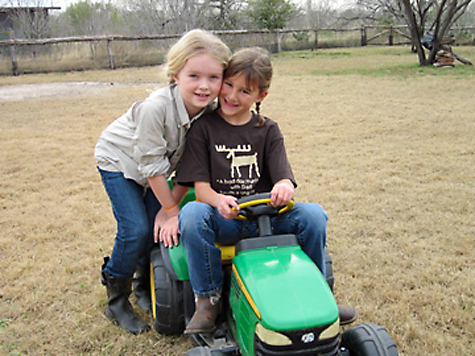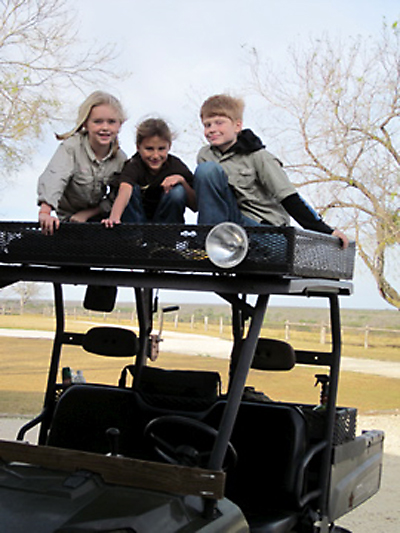 After the kids spent Friday afternoon building forts and zooming back and forth on the zipline and the mamas spent the afternoon sitting on the front porch not doing one thing and the daddys made sure all the guns were sighted in and helped the kids catch a few perch, it was time for the evening hunt.
The mamas continued to sit on the front porch because it's what we do best.
Meanwhile, P decided to take the big kids out for the hunt. But first they needed proper face paint.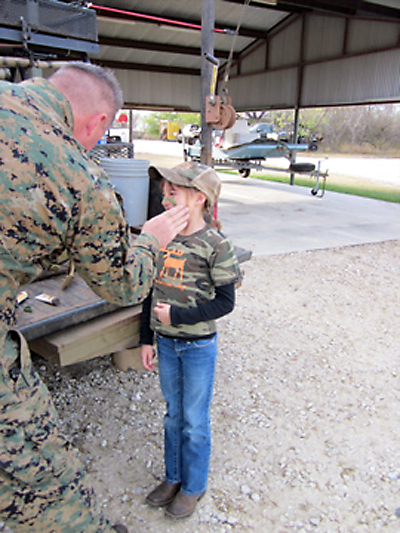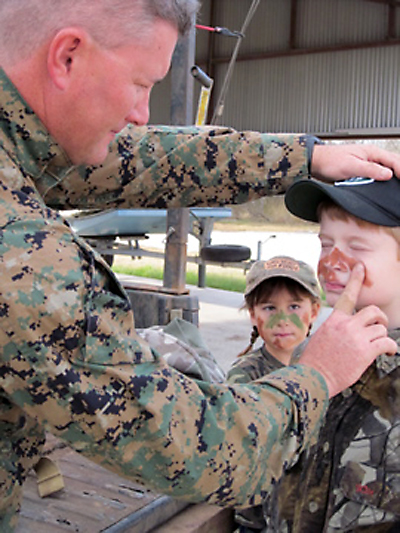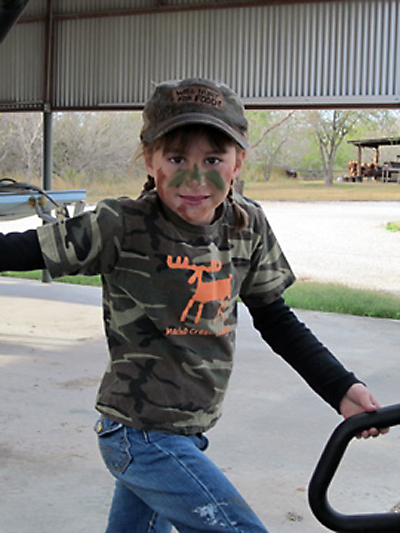 Then they had the delight of looking at themselves in the rearview mirror.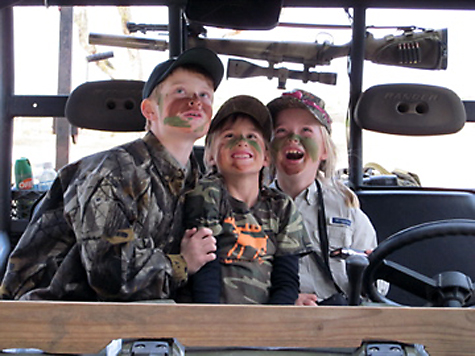 And, finally, it was time for the mighty hunters to head out for the evening.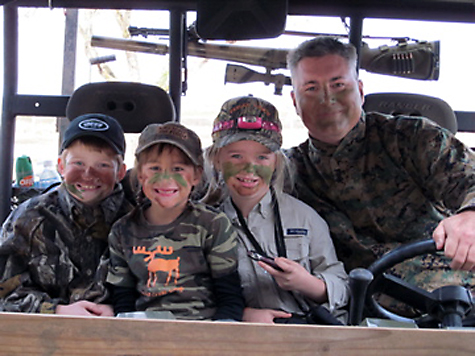 Sadly, they didn't manage to shoot a deer. Which is shocking because CAMO FACE PAINT. You would think that would totally throw the deer off in spite of all the gum-smacking and hair flipping and loud stage whispers of "WHEN DO YOU THINK THE DEER ARE GOING TO SHOW UP?" and "DO YOU SMELL A TOOT?"
They did manage to shoot a very large male hog. And P said there were some discussions about its anatomy.
I'll leave it at that.
The rest of the evening was spent lighting various fireworks and the kids loved it even though we couldn't shoot off the massive aerial ones like we did last year since we're in the middle of a drought and surrounded by dry grass. Nothing would kill a new year's celebration like a massive grass fire.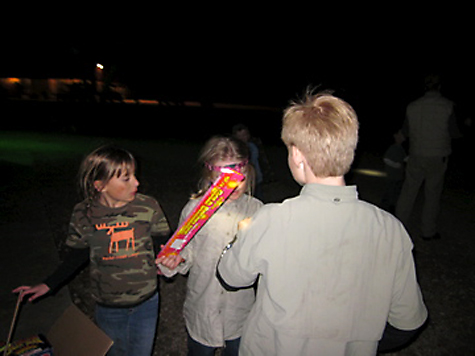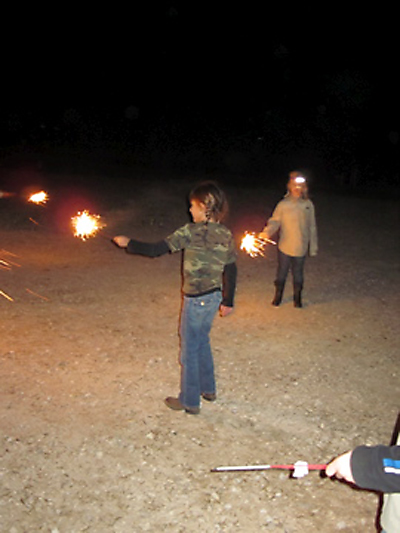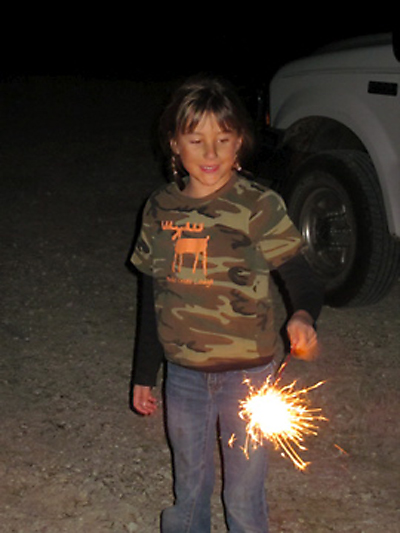 After I took those stellar photos, I realized I was cold and went back inside with Julie and Gulley and we treated ourselves to some decaf coffee with a little Baileys Irish Cream which was a delightful addition to the celebration. I give it five stars.
Eventually all the revelers made their way back into the house and we waited to count down to the New Year while Will walked around trying desperately to pull his loose front tooth out of his mouth because he wanted to start 2011 off with some cold hard tooth fairy cash in his pocket. Alas, his efforts were in vain.
Gulley served as our official timekeeper. Mainly because we realized her watch was four minutes faster than everyone else's and we were all ready to go to bed. We counted down from ten, hugged and kissed and HAPPY NEW YEARED, and then all went to our respective rooms and crashed for the next nine hours. Except for P who got up in time for the morning hunt because hunting never takes a holiday.
(I just made that up. I don't know if hunting takes a holiday. I just know it doesn't take a holiday at our house.)
After breakfast all the kids wanted to go for a ride in the Polaris. The mamas immediately strategized and managed to load all the kids and dads, Beverly Hillbillies style, into one vehicle.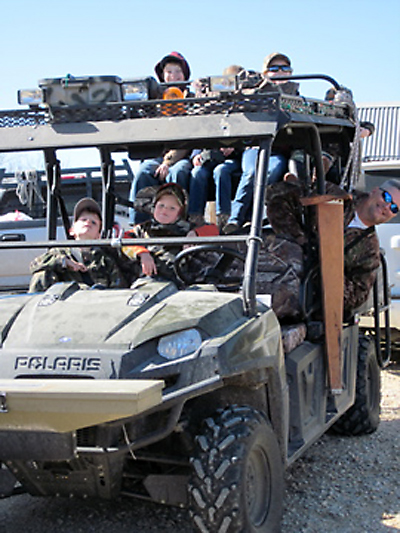 And we opted for a ladies only cruise in our own vehicle.
It turned out to not be much of a safari. P said it was because the mamas talked so loud in our own vehicle that we scared everything off. However, we did manage to see this guy.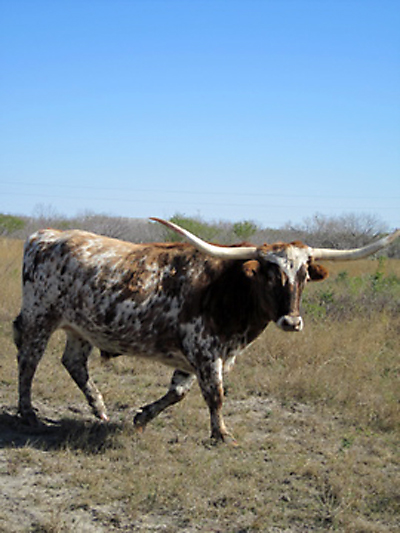 It was a rare sighting. Especially considering that you won't be seeing his kind at any sort of bowl game this year.
(Just a little rivalry humor.)
(The Aggies play LSU this Friday in the Cotton Bowl. I'd be lying if I said I wasn't a little nervous. Mainly because Les Miles is insane and manages to win even when it doesn't make sense.)
Anyway, we all went back to the house and I headed home with Gulley and her peeps while Caroline and P opted to stay and hunt the evening. I felt like I needed to get back and have a little time to get the house in order and enjoy some quiet. Plus it was totally worth riding home with Gulley because I got to sit by Will and he offered me multiple chances to pull his front tooth for him.
I passed.
After I got home I made myself a fire in the fireplace, turned on the Christmas tree one last time and just listened to all the silence. My inner introvert was in desperate need. I also managed to finish The Other Boleyn Girl which I've been reading for the last two weeks and haven't been able to put down. I don't want to ruin the ending but Anne Boleyn gets her head cut off.
And then I spent about an hour researching the history of the Reformation and the British monarchy like a big nerd. Of course my main source was Wikipedia so there's a good chance that everything I read isn't even true. But that doesn't mean I won't try to manipulate multiple future conversations to the topic just to so I can share my knowledge that may or may not be accurate.
Caroline and P made it home about 10:00. He said she talked non-stop all the way home which is always a sign that she's exhausted and fighting sleep with everything in her. We all fell into bed and she and I didn't wake up until 10:30 yesterday morning.
Then we spent the entire day in our pajamas taking down Christmas decorations.
Which means that Monday morning and the alarm clock are going to beat us like a rented circus monkey.
But other than that, 2011 is off to a good start.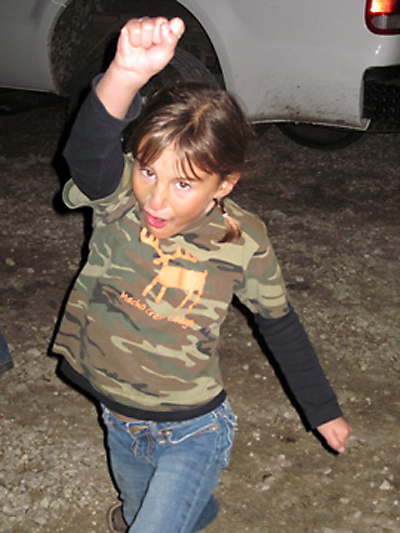 (That picture doesn't really go with anything but it makes me happy. So there it is.)