Friday morning, P and I went to the doctor so that they could look at his incision and make sure everything was okay. The recovery from this surgery hasn't been nearly as easy as his previous recoveries, so I've been a little concerned.
We met with the nurse and she told us that everything he's experiencing is normal. In fact, she said every day the herniated disc was putting pressure on his nerve equals a week of recovery. So, good news! Recovery should only last about 33 weeks, which is about the same amount of time it takes me to balance our checkbook.
She also read the doctor's report from P's surgery. She said (and I quote) "Patient had a tremendous mass of spinal material removed". I'm no medical expert, but I feel fairly certain that the words TREMENDOUS MASS in reference to any medical condition are just not good. Like P said, "If they removed a tremendous mass, how much do I have left?"
So, after having the fear of God and spinal fusion drilled into us, we left the office and headed home. The good news is I get to keep putting P's socks and shoes on him for at least the next month and, fingers crossed, I may get to cut his toenails.
It's really everything I imagined as I stood at the altar and pledged to be his for all eternity.
As for the rest of the weekend, my friend Jen came in town for a visit. Friday night, all the girls went out for Mexican food and Jen surprised us by bringing a cake to celebrate all the summer birthdays in the group. We ate huge bowls of guacamole, enjoyed a few margaritas, laughed until we cried and then, the band started up.
Nails scraping on a chalkboard are less annoying than this band. And really, I'm using the term "band" lightly. There were maracas, drums and LOUD, LOUD singing. We were literally screaming at each other and couldn't hear a word. The final straw was when they sang a cover of "Smooth" that would have made Carlos Santana and Rob Thomas curl up in the fetal position. Needless to say, we asked for the check and got out before our ears started to bleed.
Saturday night we all went over to Gulley's and ate a spread of food that can only be described as health-free. It was essentially the bizarro equivalent of the Atkins Diet. There wasn't a protein to be found, not even a summer sausage. We had Mississippi Sin Dip, Fritos, cheese and crackers, chips and salsa, and topped it off with this.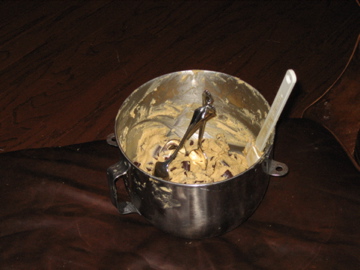 In case y'all can't tell, that's a large bowl of chocolate chip cookie dough with four spoons. Otherwise known as magic in a bowl.
I'm not even lying a little when I tell y'all that I finally had to put a piece of gum in my mouth to keep me from eating anymore.
I'm not proud to say that, 5 minutes later, I spit out my gum so that I could have another bite.
And one last note from the weekend. Look who learned to ride her bicycle.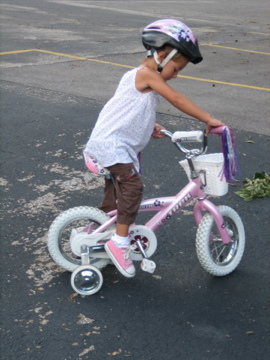 She's getting so big.
I wonder if I can teach her how to cut P's toenails.