When we last spoke I wished you all a very happy Thanksgiving and said I would be spending the next few days staying up too late and watching movies and laughing with my people. And that's exactly what I did. I also learned a couple of things:
1. I don't think I digest carbs as easily as I once did. I swear I still have some sweet potato casserole sitting somewhere in my stomach. It's a good thing we don't serve noodles at our Thanksgiving lunch because one more carb would have put me permanently over the edge.
2. It is possible for the human heart to stop beating for a good three minutes due to anxiety. I know this to be true because it's what happened to me when Johnny Manziel went down holding his knee on Saturday night during the A&M game.
3. When I have the luxury of no schedule I immediately go back to my preferred system of staying up until two in the morning and sleeping until ten. Or maybe ten-thirty. Don't judge me. Night owls are people too. We're the ones with bags under our eyes while we try to function in "normal" society. Monday morning is going to hit hard.
(It isn't going to help that I have to get Caroline's lunchbox that she left at school over the Thanksgiving break. It has chicken salad in it.)
(If you hear a gagging sound, it's probably me.)
Anyway, we had a great Thanksgiving. On Wednesday I took Caroline and Gulley's boys to see Rise of The Guardians which was actually pretty good. Turns out I'm a fan of a Russian Santa Claus and an Australian Easter Bunny. I had no idea.
And then Thanksgiving morning, look who got to make fresh-squeezed orange juice.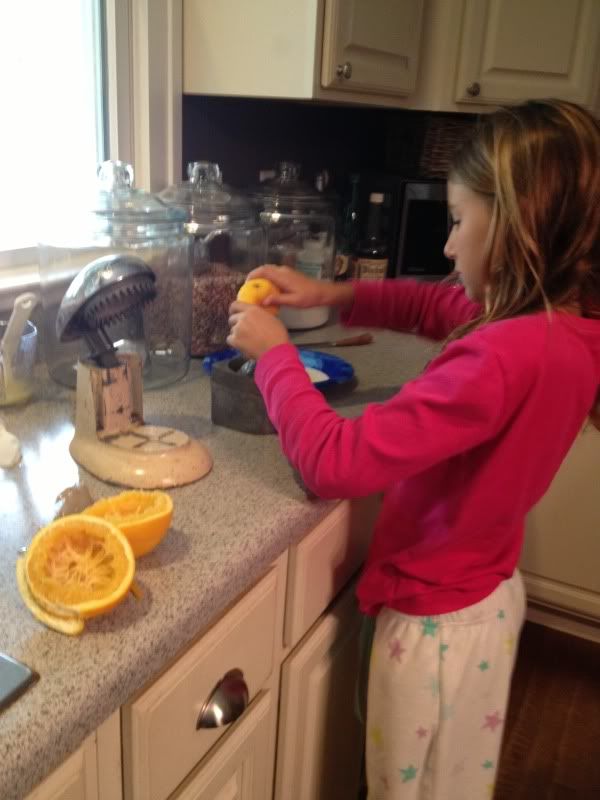 That's right. The paper bag trick with the apples worked. The oranges ripened and she was thrilled. I didn't even have to replace them with store bought oranges which was totally my back up plan because there was going to be much weeping and gnashing of teeth if those oranges didn't get ripe.
We watched the Macy's Thanksgiving Day Parade and then headed to Mimi and Bops's house for Thanksgiving lunch. Gulley and her family joined us this year and we had a great time. It seems like it would have been a great idea to document Thanksgiving with pictures of some sort but apparently I was too busy shoveling in the broccoli rice casserole to take the time to capture any precious memories.
Later that afternoon we went back home in a carbohydrate induced stupor. And I vowed I would never eat again. And I absolutely DID NOT until about four hours later when I thought it seemed like a good idea to heat up some leftovers. No turkey, just straight carbs.
On Friday morning P decided to take Caroline, Will and Jackson to Cabela's. I cautioned him briefly about Black Friday shopping, but then I decided he's a grown man and could make his own decision to brave the crowds and traffic. Plus, Gulley and I really wanted to go get pedicures. Because, while I was thankful for many things this Thanksgiving, the state of my toes didn't make the list. Normally this wouldn't be a problem this time of year but the temperatures have refused to drop and I still wear flip-flops at least three times a week.
So P loaded up the kids for a little shopping and Gulley and I went to eat lunch and then get pedicures. As we were leaving the pedicure place, we decided to run by Gap just to check out their sale items. But I mentioned that I'd really like to stop and get a peppermint mocha first. And that's when we experienced an unfortunate turn of events.
I was trying to pull my car into a spot right in front of Starbucks. And I misjudged the amount of room I had. And the front bumper of my car hit the back bumper of the parked car in the next spot.
Well. Great.
To make it worse, I got out of my car and realized I'd hit a Prius. I felt like there was a chance the Prius owner takes their car ownership much more seriously than I do based on their environmentally-friendly choice. I also wished I didn't have the "Drill Here, Drill Now" bumper sticker on my car.
(I don't really have that bumper sticker on my car, but it would have made the story so much better if I did.)
But since I was still craving what had now turned into possibly the most expensive peppermint mocha ever, I ran in Starbucks while Gulley waited outside in case the Prius owner came back to their car. Probably carrying recyclable bags from Whole Earth Provisions.
And, sure enough, I looked out and saw Gulley talking to someone who appeared to be the owner. So I got out of line and went outside. The Prius owner was one of the sweetest people I've ever met. She told me not to worry about it and assured me that she hits her car on her friend's carport all the time. And then she started bumping it with her hip to show me how everything just pops right back into place.
I apologized profusely and gave her my name and number just in case. And then I just dreaded the moment I had to go home and confess to P that I hit a Prius. That was parked.
He actually took the news really well even though he did make sure to let me know it was possibly the dumbest wreck he'd ever heard of. He asked if Gulley and I were busy talking when it happened and I said no. And he totally busted me because he said that would be the first time EVER we weren't talking when in the same vicinity.
Truth.
So maybe we were talking. But I was still totally paying attention. My parking physics were just off.
And so we'll see what happens.
The rest of the weekend was spent just relaxing. On Friday night P went to bed early and Caroline and I curled up on the couch together while we both read books and I don't know that life gets much better than that.
Then the Aggies won and Johnny Manziel's knee appears to be fine and if he doesn't win the Heisman Trophy then they need to quit giving it out.
That's just my opinion.
And to make up for my lack of actual Thanksgiving photos, here's a pic I took of the kids while we watched the Aggies. There is no such thing as personal space.
All around, it was a great holiday. In fact, Thanksgiving is my new favorite.
Copyright secured by Digiprove © 2012