Well yesterday was a day I wait for all year long.
What day is that, you may ask?
Rodeo carnival day.
The San Antonio Rodeo is in full-swing right now and so yesterday Gulley, Steph, P and I took the kids out to the carnival portion. I could lie and tell you we did it unselfishly for the children, but the truth is we love ourselves a corn dog and some Texas twisters.
(Texas twisters are those homemade potato chips that I'm sure will be waiting for me on a big platter when we get to heaven someday.)
Originally just the moms were going to go, but P found himself with a day off and decided to join in the fun. Which worked out beautifully because it gave us an even number of people who wanted to actually ride rides. That means the kids and P.
The moms had no desire to ride any rides. My love of carnival rides came to a quick and ugly end about three years ago when I got on something called the Tower of Terror. It took four days for my inner ear to begin to function normally after that.
Here's our group waiting in line for the first ride. It was the gigantic swings appropriately called Vertigo.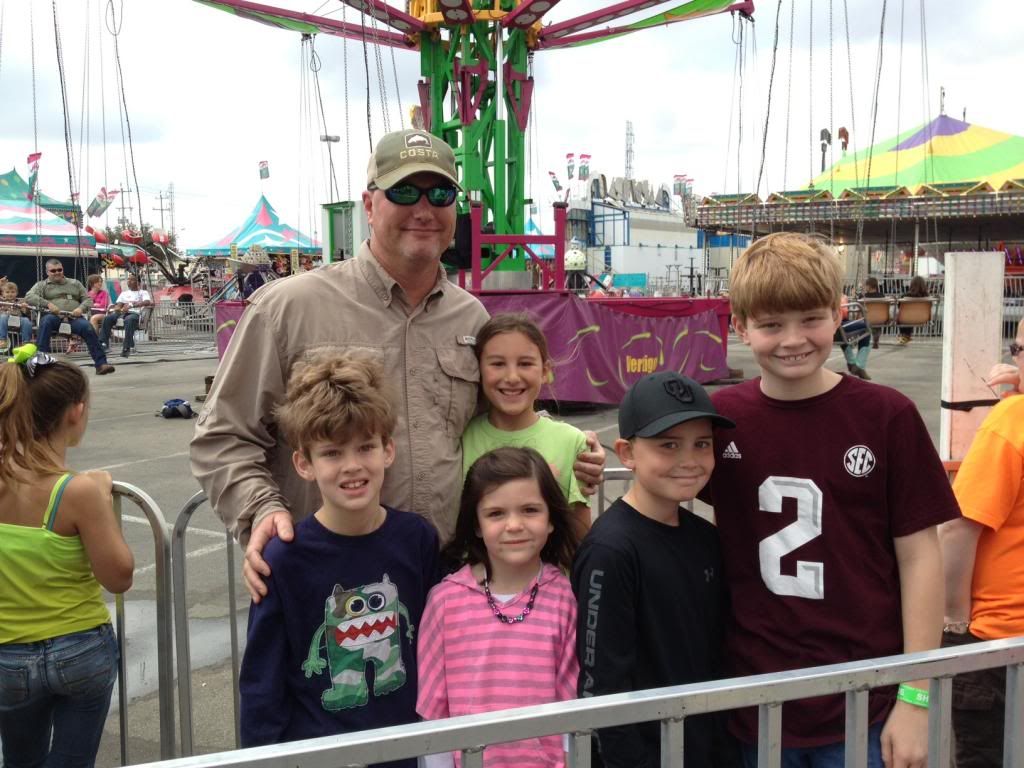 Please note that at this point no one looks like they might want to throw up. That wasn't the case later on.
Then they headed to the hang glider ride while Steph, Gulley and I sipped Diet Cokes and rejoiced that P had decided to spend the day at the rodeo with us.
We debated making a break to the Wine Garden and turning it into a real party, but felt like we needed to at least cheer P on as he rode all the rides.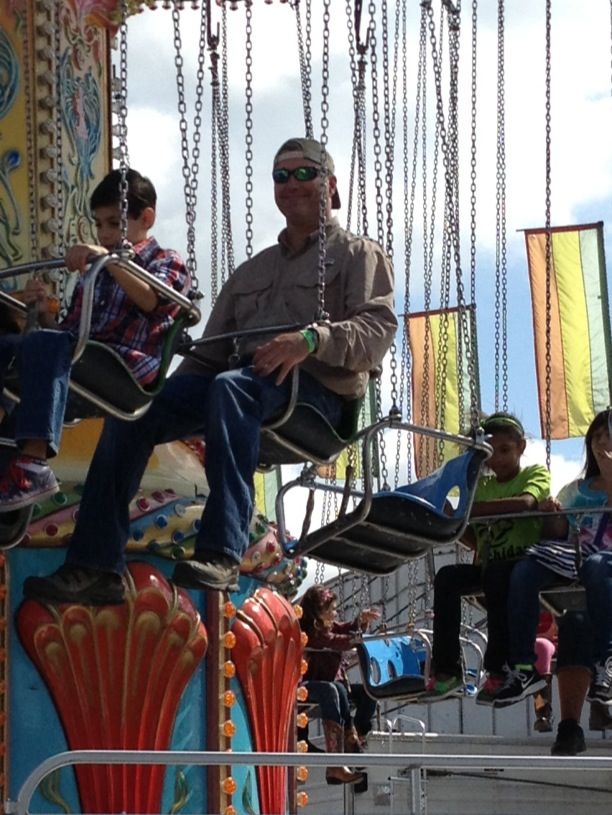 Eventually we made it to the Sea Dragon. This used to be my favorite ride every year at the Southeast Texas State Fair. But then I rode it two years ago and spent the entire time feeling like I was going to throw up or go flying out of my seat onto the concrete below. Or both.
But Caroline always loved it so I'd make myself ride it while I tried to pretend I wasn't terrified. Then last year she rode it with Jackson and Will and decided she didn't like it anymore either due to the feeling that you're about to be hurled through the air into oblivion. However, P got her back on it this year with the promise he wouldn't let her fall out. In fact, it isn't possible to fall out or you'd hear about it all the time.
Or maybe there's just a vast conspiracy to cover up Sea Dragon related deaths. Maybe it's a real thing and we're being kept in the dark.
So she practically sat on his lap and he held her firmly in place and she hated the entire thing. In typical Caroline fashion she got off that Sea Dragon and it was dead to her forever. She doesn't even know why someone invented that ride. It's horrible.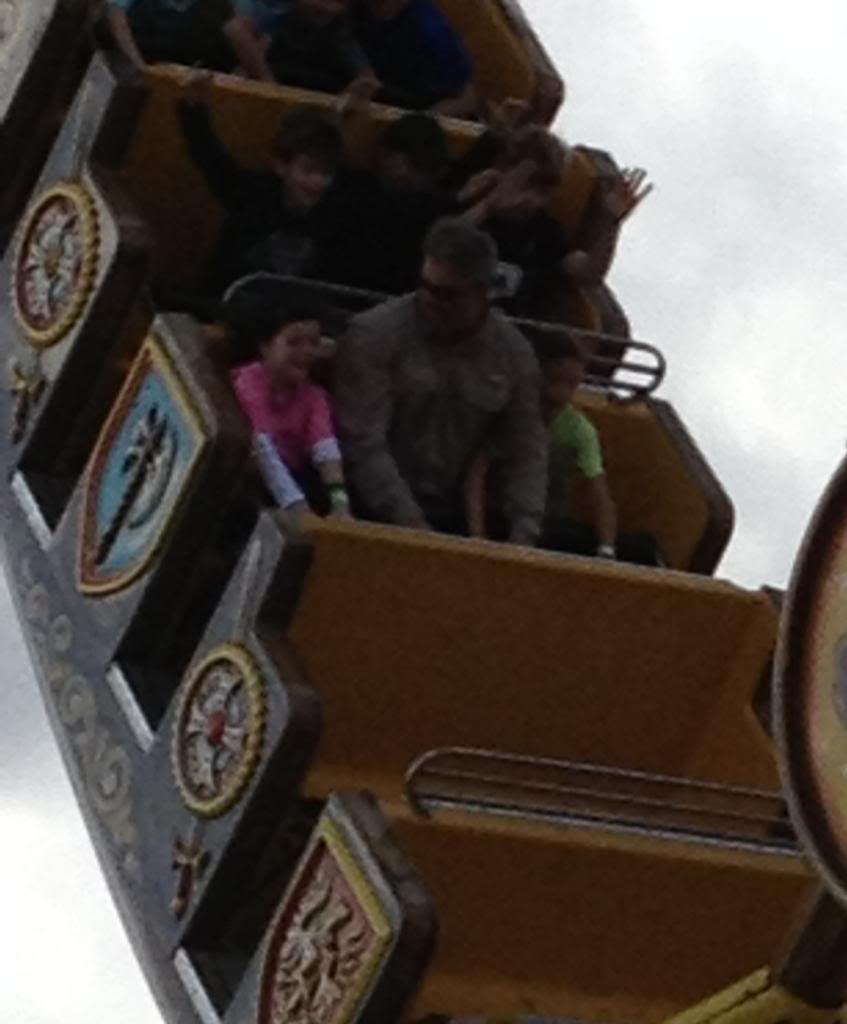 But she recovered quickly and they all rode a few more things before we headed to the real show. The food booths.
Caroline, P and I opted for the corn dog with lemonade. Everyone else went for the sausage on a stick.
And we all decided against the Glazed Donut Bacon Cheeseburger. And the fried butter. And the fried Kool-Aid which, frankly, seems to defy the basic laws of physics.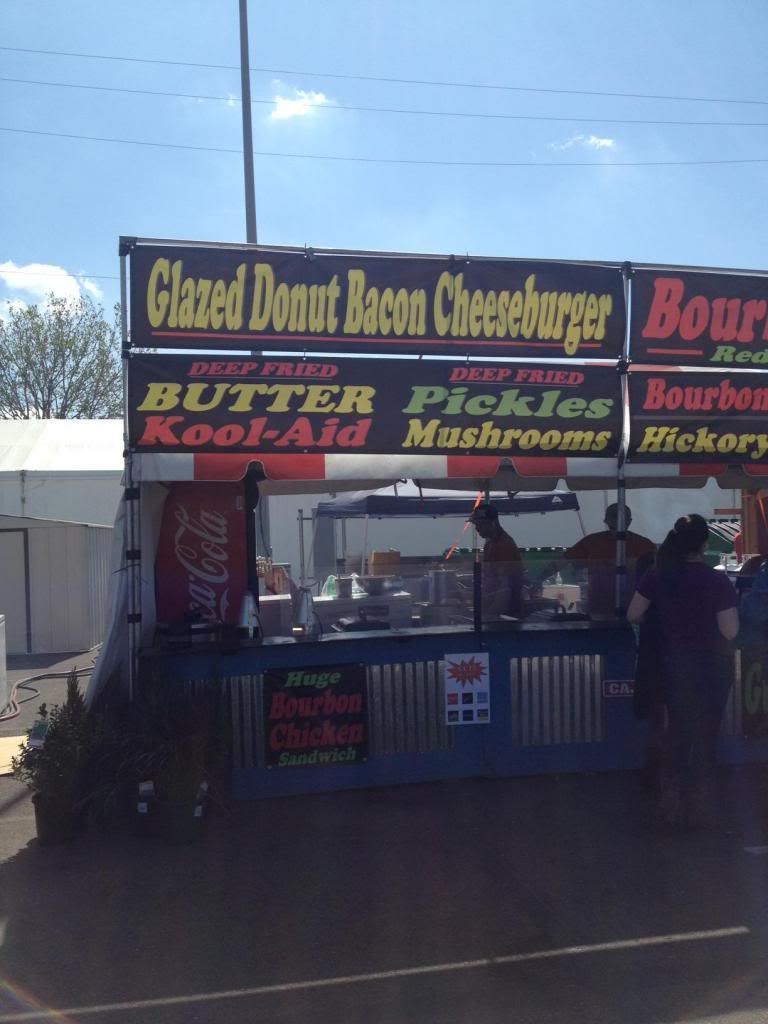 I can't imagine why some countries think Americans are gross. Why wouldn't you want a fried pastry dipped in sugared glaze on a meat patty topped with bacon and cheese? Otherwise known as the meal that killed your cholesterol dead.
After the corn dogs, we were in need of a funnel cake. Especially since I'd been thinking about them ever since I saw that truck on the way to Houston. I didn't get a picture of it because we ate it too fast and if I had taken a picture of the scene it would have been reminiscent of a pack of hyenas with a fresh kill on one of those nature shows.
But Steph decided to try the fried peanut butter and jelly. And I'm here to tell you, it was the sleeper of the day. DELICIOUS. Warm peanut butter? Check. Perfect ratio of jelly? Check. Crispy, fried coating topped with powdered sugar? CHECK.
It was a culinary triumph.
And also the likely reason I had to use soap and water to get my wedding rings off after I got home. Of course the Texas Twisters may have also played a role.
But totally worth it.
Copyright secured by Digiprove © 2013