Before I ramble on for at least a thousand words trying to make our weekend seem more interesting than it really was, I just need you to know that I've been sitting here for the last hour with a damp sleeve. And it's very annoying. But apparently not annoying enough for me to get up and do something about it. I'll probably end up with a diaper rash on my arm.
Maybe you're wondering how my sleeve got damp. Or maybe you're thinking that if I'm starting off with a non-story about the current state of my clothing that it doesn't really bode well for the rest of this post. You are correct.
My sleeve got wet while I was wiping down the kitchen countertops. But I'm wearing my favorite sweatshirt thing that I wear every night and I didn't want to change because it's so comfortable. Except for the part where the sleeve is wet.
But enough about that.
(And the crowd said HALLELUJAH)
We had a nice little weekend around here. On Friday I brought lunch to Caroline at school and then went to Target. I was hoping to try on some cute sandals that I'd seen online, but they didn't have them in the store. I'm not sure what's going on with our new neighborhood Target but I am seriously disappointed in their shoe selection. I don't know if it's just the one by our house or if it's Target in general right now. Part of me wants to explore it further except that that would require me to drive seven extra stoplights to a different Target and I don't care that much.
After I left Target I picked up Gulley's boys from school. I saw my friend Leslie picking up her daughter and she informed me that almost one hundred kids had been out from their school that day with the stomach bug. Cue my Post Traumatic Stress Disorder. So I loaded Jackson and Will into my car and told them it would probably be a good idea for them to wash their hands thoroughly as soon as we got to my house. Perhaps a bleach shower for good measure.
We picked up Caroline and then the kids played while Gulley and I visited for the next couple of hours. And then they left but we had big plans to spend Saturday afternoon together at the Little League Fields since it was Opening Day and we wanted to watch the boys play baseball.
Then P got home from work and we decided to just pick up Mexican food for dinner because we were all tired after a long week and just wanted to relax. So we caught up on all the news over tacos and guacamole and enchiladas and then Caroline decided she wanted to go climb a tree in the backyard because isn't that what everyone wants to do after a big Mexican food dinner?
But she came in a few minutes later and announced she'd gotten a splinter. Which led to an impromptu surgical session on the kitchen island where she exhibited my propensity for drama by declaring, "OW, OW, OW! THAT HURTS!" before P ever got the knife anywhere near her. However, I can't judge because I am the worst. The absolute worst. There is no bigger chicken than me concerning all health-related issues that could potentially cause pain.
And speaking of health-related issues, we spent the rest of the night catching up on part three of The Bible series and I could have lived forever not seeing King Herod with those leeches on him. Good night of living. It was like a horror show.
On Saturday morning I woke up to a text from Gulley informing me that both her boys came down with the stomach bug overnight and there would be no baseball. I was not only so sad for them, but sad for us because I spent the rest of the day feeling a little bit like Caroline and I might be ticking time bombs. Every bite of food I ate was like a roll of the dice wondering if it was about to become a food I might never be able to eat again.
(Spoiler alert: As of this moment none of us have gotten the stomach bug. Thanks be to God.)
Caroline had a soccer game at 10:30 that morning. And in typical Texas fashion the weather was supposed to be in the 90s later that day but was only in the 60s with a strong wind and some drizzle at game time. Which made it feel like it was approximately FREEZING degrees outside. But the game was incredible. It was like Caroline had all this stored up energy and aggression from two weeks spent in a boot and she had the game of her life. Every time I looked up she was diving for the ball or sliding to get to the ball or running down the field dribbling the ball. At one point she kept shooting for the goal until she and the goalie both ended up on the ground and the goalie had a mouth full of dirt. I've never seen her that intense.
Girlfriend had the eye of the tiger.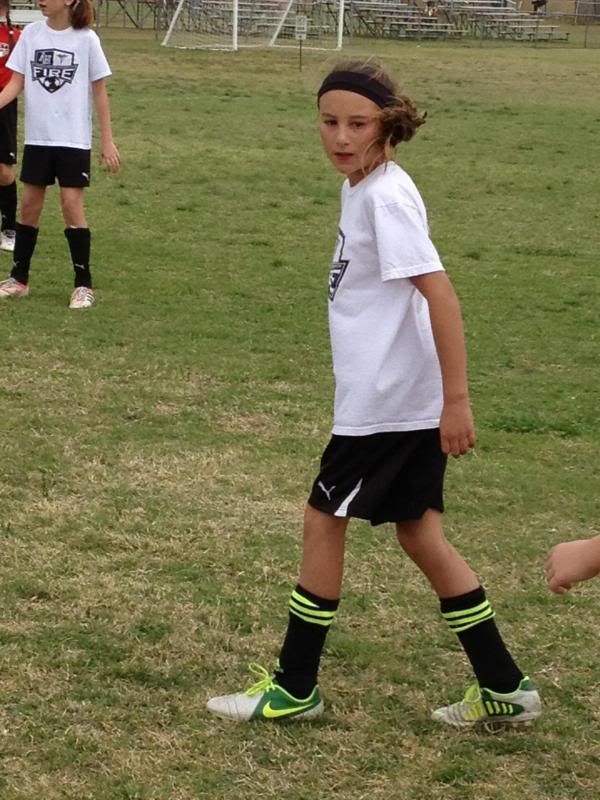 Clearly it skipped a generation.
After the game she went home with her friend Ella. And I went to the grocery store because I am forty-one and I guess that's what life becomes. Especially when you've spent the whole week before trying to avoid making a big trip to the store.
Then I came home and caught up on a few things around the house while P went to a gun show because OF COURSE. And then Caroline and Ella, along with Ella's parents, came over and P grilled quail and sausage for dinner. I boiled some eggs for the girls to dye because I felt like this killed two birds with one stone, festive Easter fun plus stuff to make egg salad for lunch this week.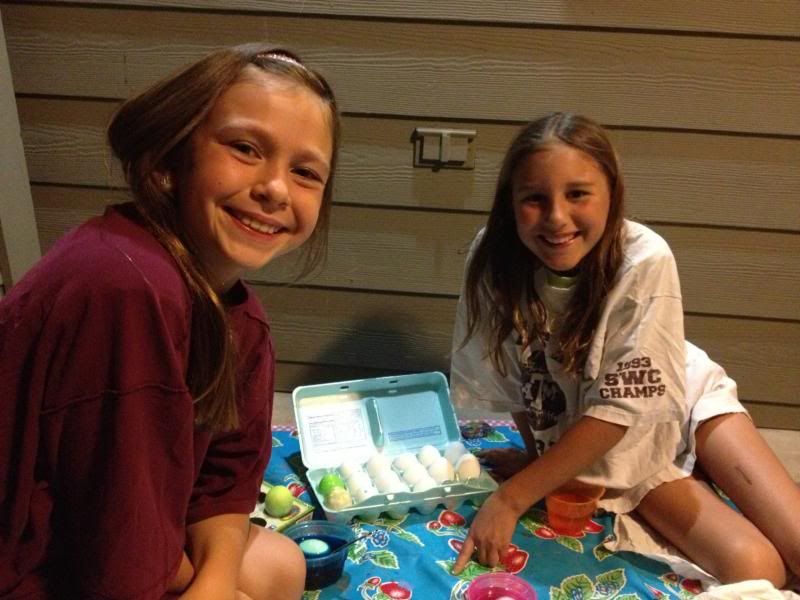 On Sunday morning I woke up with a little bit of a headache thanks to a cold front that blew through and brought every drop of pollen it could find with it. And so we slept in and then I took some Advil and a Sudafed. And then I lamented the sad state of my March Madness bracket.
I'm looking at you, Gonzaga and Georgetown.
And that was our weekend. Otherwise known as how to bore people out of their minds in 1027 words.
Copyright secured by Digiprove © 2013