I'm sitting here on the couch late Sunday night and I think I may be on the verge of a Reeses peanut butter egg hangover. Or it could be that I fell sound asleep for two hours this afternoon after an egg hunt and a brunch that basically consisted of nothing but carbohydrates.
But it was the perfect end to a great weekend.
On Friday, we slept in a little bit and then P's mom picked Caroline up to take her to see Rio 2. Truthfully, I wasn't a big fan of Rio 1 and so it didn't break my heart to miss the sequel.
While they were at the movies, I ran a few errands including going to Lowe's to buy potting soil so I could plant some flowers in the pots on my front porch which have essentially held nothing but dirt since some time in January. I also decided for some insane reason to go try on swimsuits for the summer and you can rest assured that it didn't end well. It didn't help that there was a teenage girl in the dressing room next to me who kept asking the saleslady, "Do you have these bottoms in an extra small?" It got to the point where I wanted to yell, "WE ALL GET IT. YOU ARE VERY TINY AND HAVE NO CELLULITE. CONGRATULATIONS!"
After Caroline got home from the movies we ran to the AT&T store because I'd finally had to accept that I could no longer put off getting a new phone. I'd actually started this journey at Radio Shack because they were running a special on iPhones, but then there was some issue with my old plan being "grandfathered" by AT&T which was going to require me to talk to someone there. And so I decided to just take the bull by the horns and go to the AT&T store so I could talk to an actual person and avoid getting on the phone with a customer service rep whose sole mission in life becomes to get me try U-Verse.
Thankfully, the AT&T store route was the way to go and they offered me the same phone deal that I was going to get at Radio Shack and helped me figure out a better plan. It was all fairly painless in a way these things never are.
Later that evening, P, Caroline and I went to go eat Mexican food and then ended the night watching Nacho Libre because we love the classics around here.
On Saturday P took Caroline and a friend to the ranch where they basically spent the day shooting guns at targets.
Meanwhile, I cooked everything for Easter brunch and even went out on a limb and believed Pinterest and baked our eggs that we were going to dye that evening instead of hard-boiling them. I have to say that it was a success and it seemed much easier than boiling.
(In case you're wondering, bake them at 325 for 25-30 minutes. You can place them directly on the oven racks, but I put mine in muffin tins because that's what someone suggested on Pinterest.)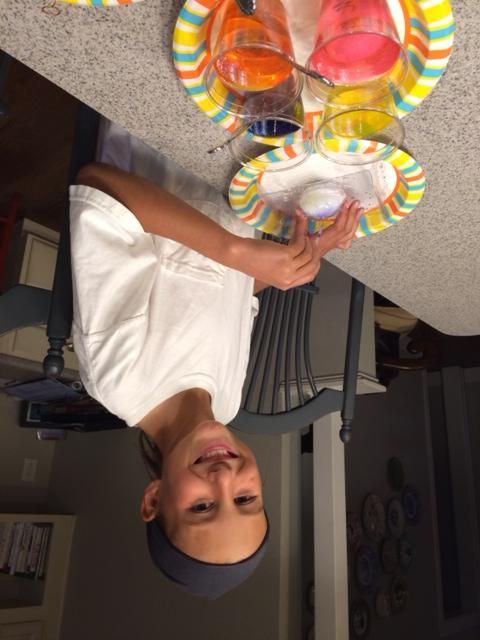 When Caroline and P got home we ordered pizza for dinner and dyed eggs. Then we all went to bed so the Easter Bunny could come and bring his usual assortment of candy, a pair of goggles, and a new swimsuit because the Easter Bunny is much more practical than Santa Claus.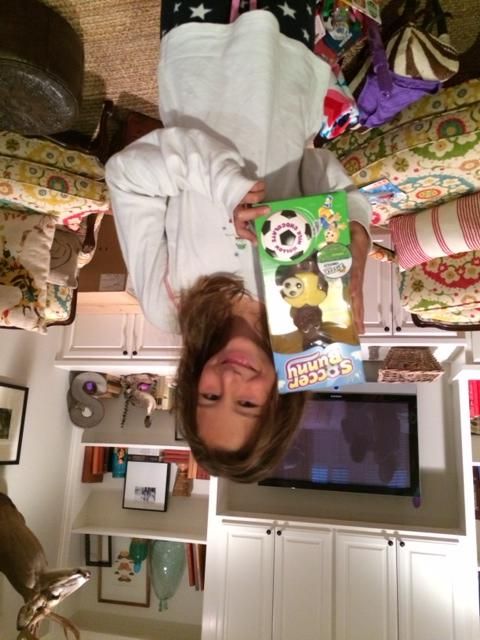 Then we all got dressed for church which was so much less stressful because I'd vowed after last year that I wasn't going to get worked up about what Caroline wanted to wear. And it worked out because she chose something perfectly lovely. She has just decided she is done with dresses for the most part right now and I can live with that.
Our church service was great and we headed home to meet my sister and her family and Mimi and Bops for brunch at our house. This was when all the carbohydrates happened, but I really have no regrets.
After lunch P and my brother-in-law, Chris, hid eggs for the kids and then we broke out the cascarones. Otherwise known as the reason I will still be finding confetti in my hair next month.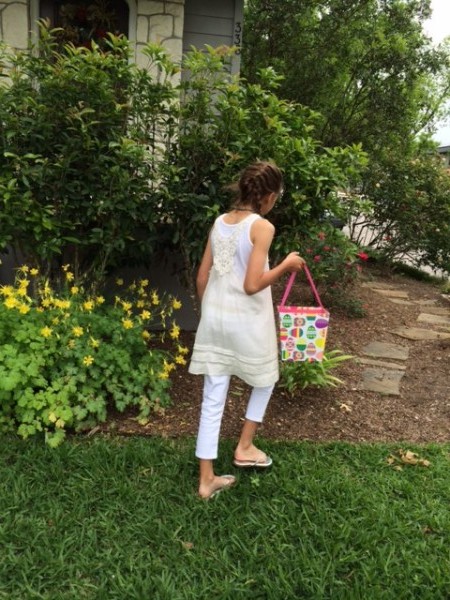 Here's Caroline with her carton of cascarones. Please note the look in her eye.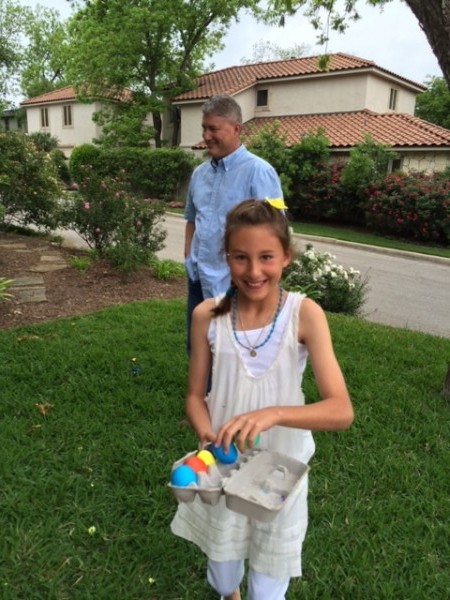 And this is when she ambushed me.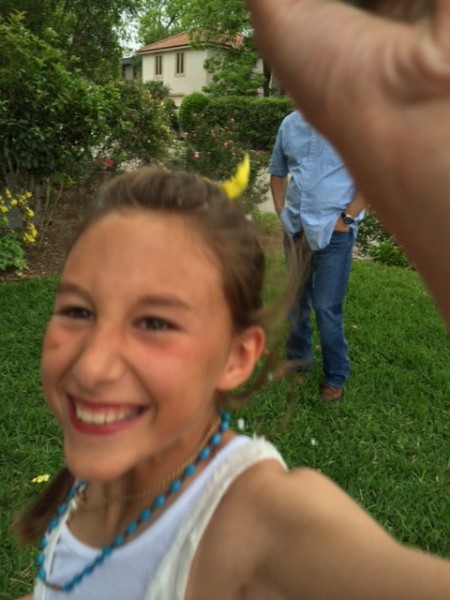 All in all it was a great Easter filled with all the things and people I love. Or in other words, pardon the Easter pun, my peeps.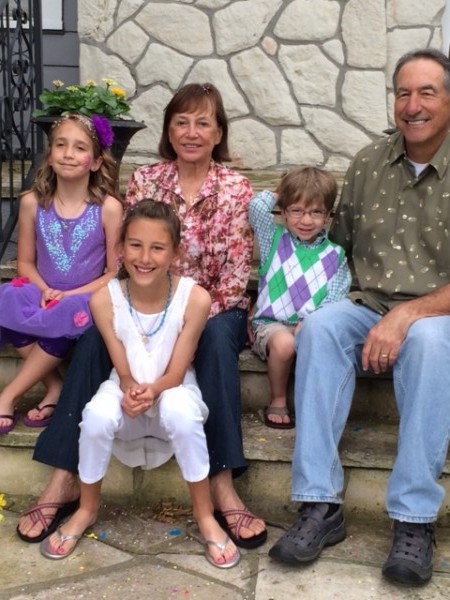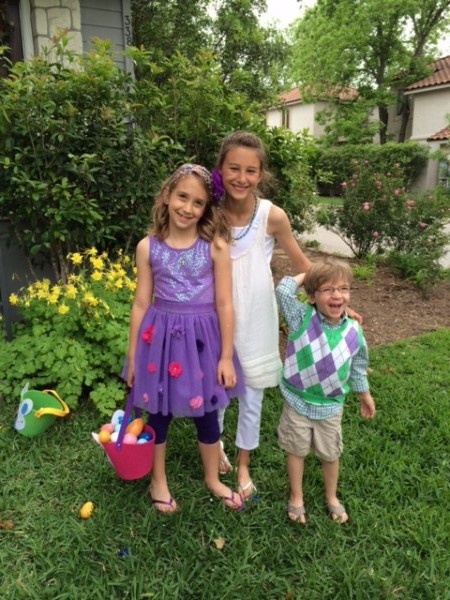 I think the only thing I am having a hard time with is how old Caroline looks in all these pictures.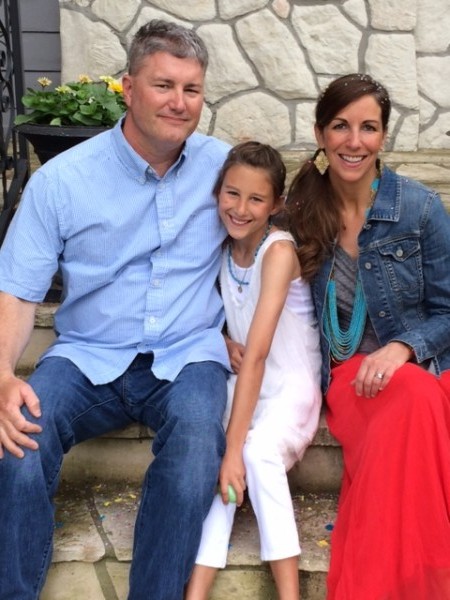 And getting the confetti out of my hair.
Hope you had a great Easter, too.
Copyright secured by Digiprove © 2014