I'm sitting here watching the Aggies play Kansas State in the Disappointing Season Bowl and am in need of a distraction. And since I accidentally took down all my Christmas decorations today, I decided it might be a good idea to wrap up all our Christmas festivities while it's still 2016.
(I say "accidentally" because I set out to just clean up a little and maybe take down our stockings and then got carried away and next thing I knew I was carrying our tree out the front door and throwing it on the lawn where there's a good chance it could stay until sometime in mid-January.)
Caroline didn't get out of school for Christmas break until last Wednesday at 12:45 and our kitchen was still in full construction mode at that point. But she had some friends spend the night which was a great start to our Christmas vacation.
The next night, P and I went out to dinner with some friends and Mimi and Bops took Caroline and my sister and her kids down to the Riverwalk to eat dinner and see the lights.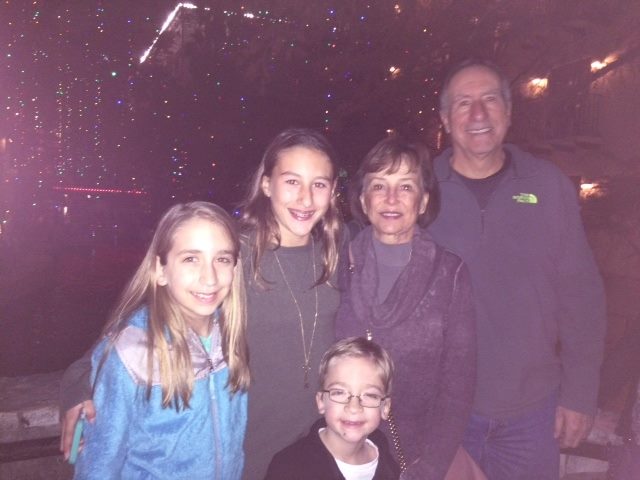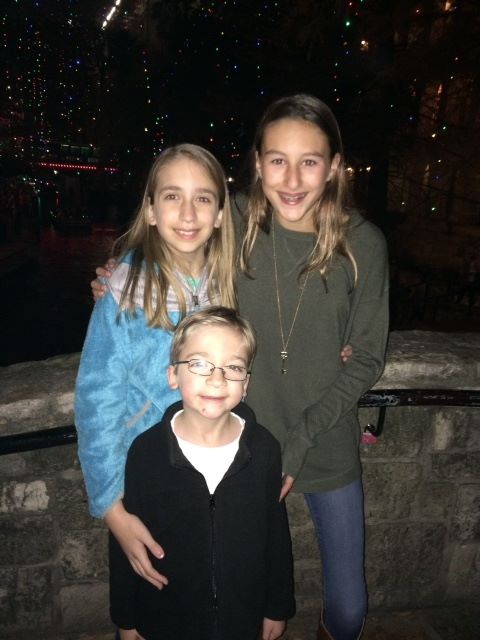 Friday morning the construction crew came to finish a few last things and finally cleaned up and were out of our house by 11:30 a.m. and Caroline and I were in the kitchen making our first batch of cinnamon rolls about three minutes later.
(I'll do a whole post about the kitchen at some point but I'm still waiting on a few more things to be finished which will hopefully happen about the same time we finally remember to get our Christmas tree off the front lawn.)
We've reached a point where all I basically contribute to the cinnamon roll process is making the dough and Caroline does all the rest. It feels like my reward for all those years I essentially let her destroy my kitchen all in the name of decorating sugar cookies that no one wanted to eat because each cookie was covered in half a jar of sprinkles.
That night P, Caroline and I went out to eat Mexican food and then drove around and looked at Christmas lights and tried to pretend it wasn't 75 degrees and terribly humid and gross outside. We love to look at lights and talk about all the ways we'll decorate our house the following year. This year we decided we want to do this to our yard.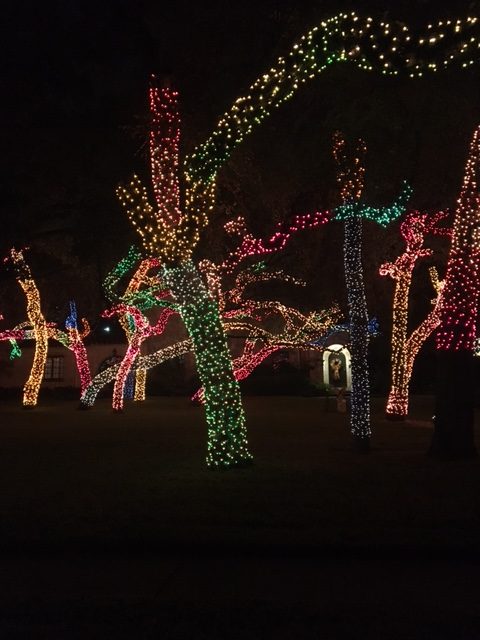 All we need to do is grow about twenty more trees between now and next December so we should be all set.
On Christmas Eve, P and Caroline delivered cinnamon rolls and ran a few other errands while I made a big pot of gumbo for us to have on Christmas Day. Gumbo is decidedly more festive when it doesn't feel like summer outside but what are you going to do about it?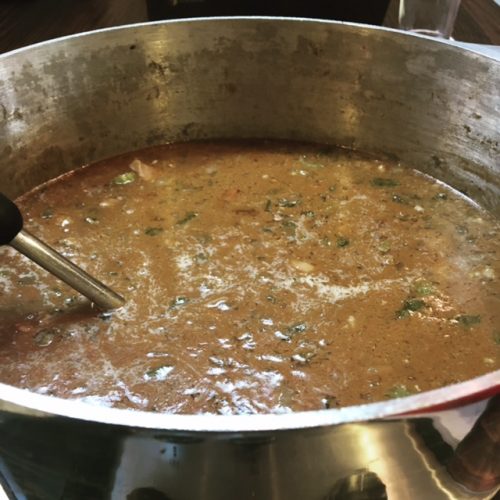 I mentioned on Instagram that I made my roux in the oven for the first time ever and wondered if I was the last person to know about this but was relieved to know there hadn't been a big culinary conspiracy to leave me in the dark. Or out of the dark as the case may be. (Sorry, that's a bad roux joke.)
So, in case roux in the oven is new to you, this is what you do. Mix your roux on the stovetop as usual in a dutch oven. Then put the whole thing in the oven at 350 degrees for about 1 1/2 – 2 hours or until desired color is reached. All you need to do is stir it about every thirty minutes. This is so much better than standing over the stove for an hour stirring constantly. Also, this is the recipe I use.
Later that afternoon we left to get everything ready for our church service that evening and I took a quick picture of Mabel and Caroline. Mabel really wanted to go to Christmas Eve service but she lacks basic social skills.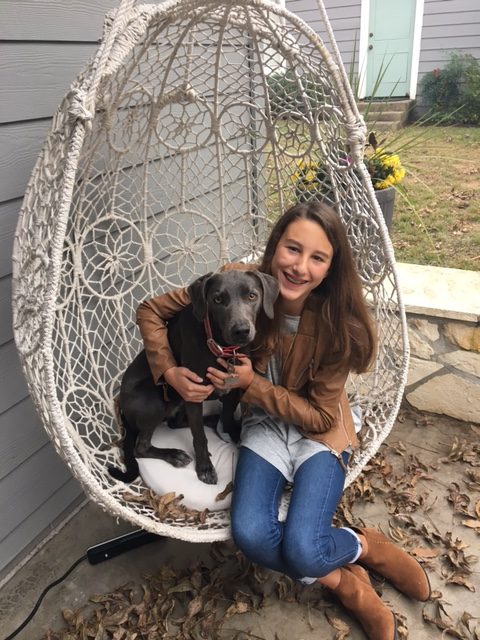 However, she did write a haiku.
Christmas is the best
Wish I could worship our Lord
Alas, they left me
Our service at Community Worship was so good and we loved getting to spend some time with our church family before we headed to Mimi and Bops' house for our traditional Christmas Eve tamales.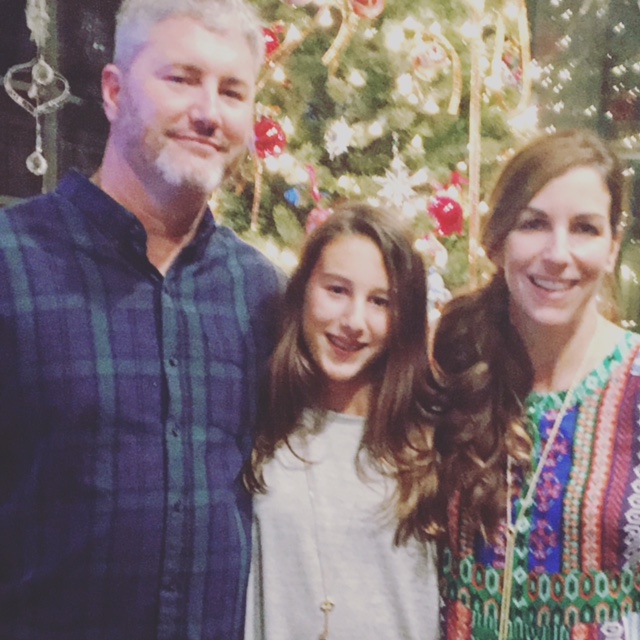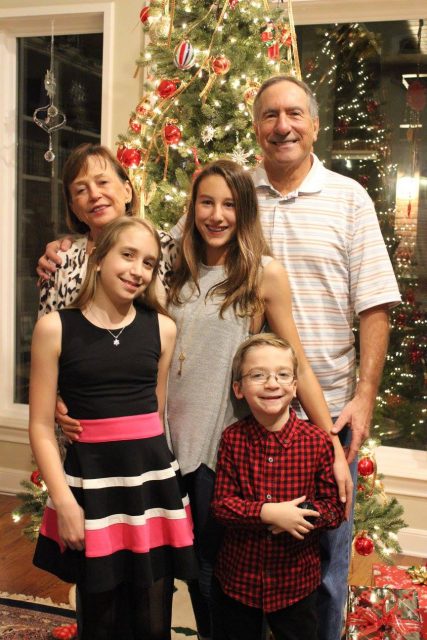 Caroline got a pair of Uggs from Mimi and Bops and I think she liked them. It was hard to tell.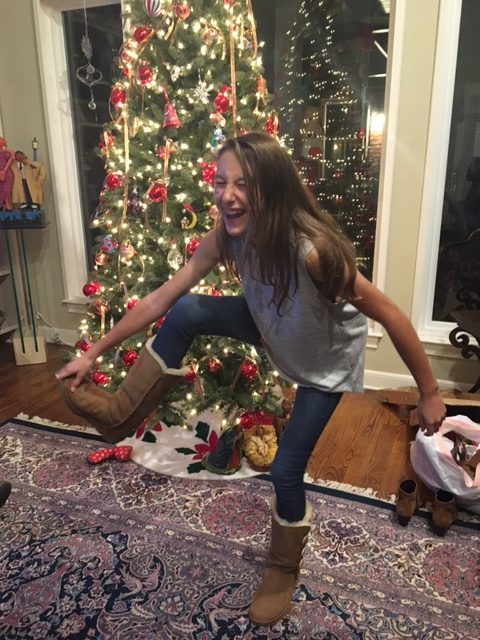 We headed home to get ready for Santa Claus and watched Polar Express before we called it a night. The good news is Santa didn't have one single thing to assemble. It was a day Santa could hardly have dreamed of back in the days when he had to spend four hours putting together a Polly Pocket Mall Rollercoaster.
This year Santa brought things like a pack of knives. Because of course.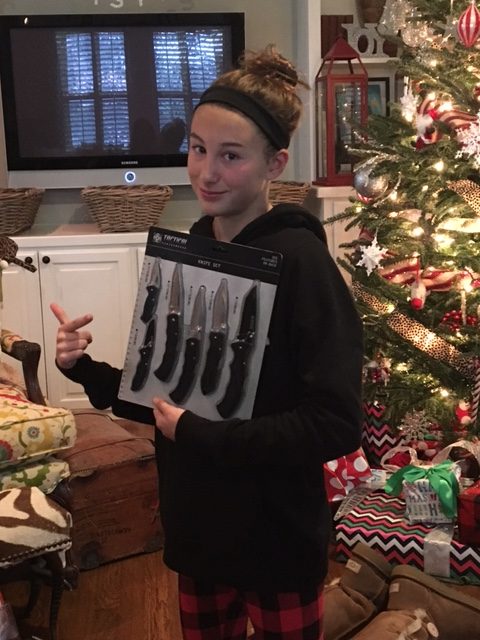 But one of her favorite gifts was a t-shirt quilt I'd had made for her. I've been saving her t-shirts for years and decided this was a good time to have one made.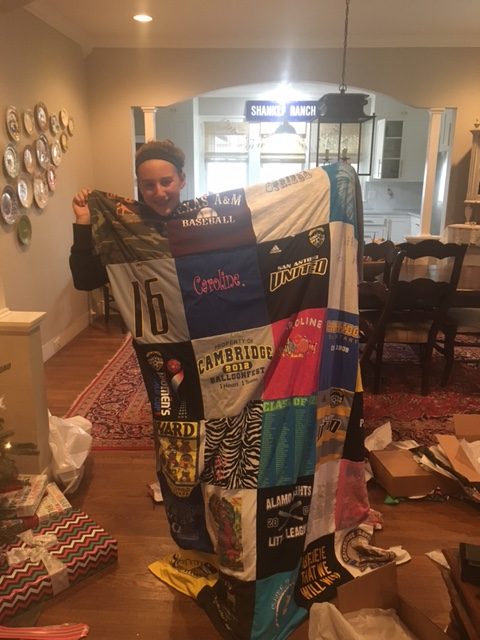 I used Project Repat and it was super easy and they did a great job. She loved looking back on some of her favorite shirts from when she was little and it's currently folded up on the end of her bed.
Later Christmas afternoon, P's mom came over and we had Christmas with her. She bought Caroline an essential oil diffuser along with a pack of various essential oils and Caroline has since become the chief aromatherapist in our home. She is constantly changing out the oils and providing us with various aromatherapy combinations. It's been delightful except for last night when she found some jasmine oil and I almost died from the sweetness. I've never been smothered by flowers but I have a feeling I experienced what it would feel like last night about 10:00 p.m.
However, even the scent of jasmine was preferable to the way the Aggies played this last game. (With the exception of Josh Reynolds and Keith Ford who were exceptional. They were the eucalyptus fragrance in a sea of jasmine.)
Christmas night we went over to Gulley's house to exchange presents with the boys. And we made good use of Honey's new selfie stick to commemorate the occasion.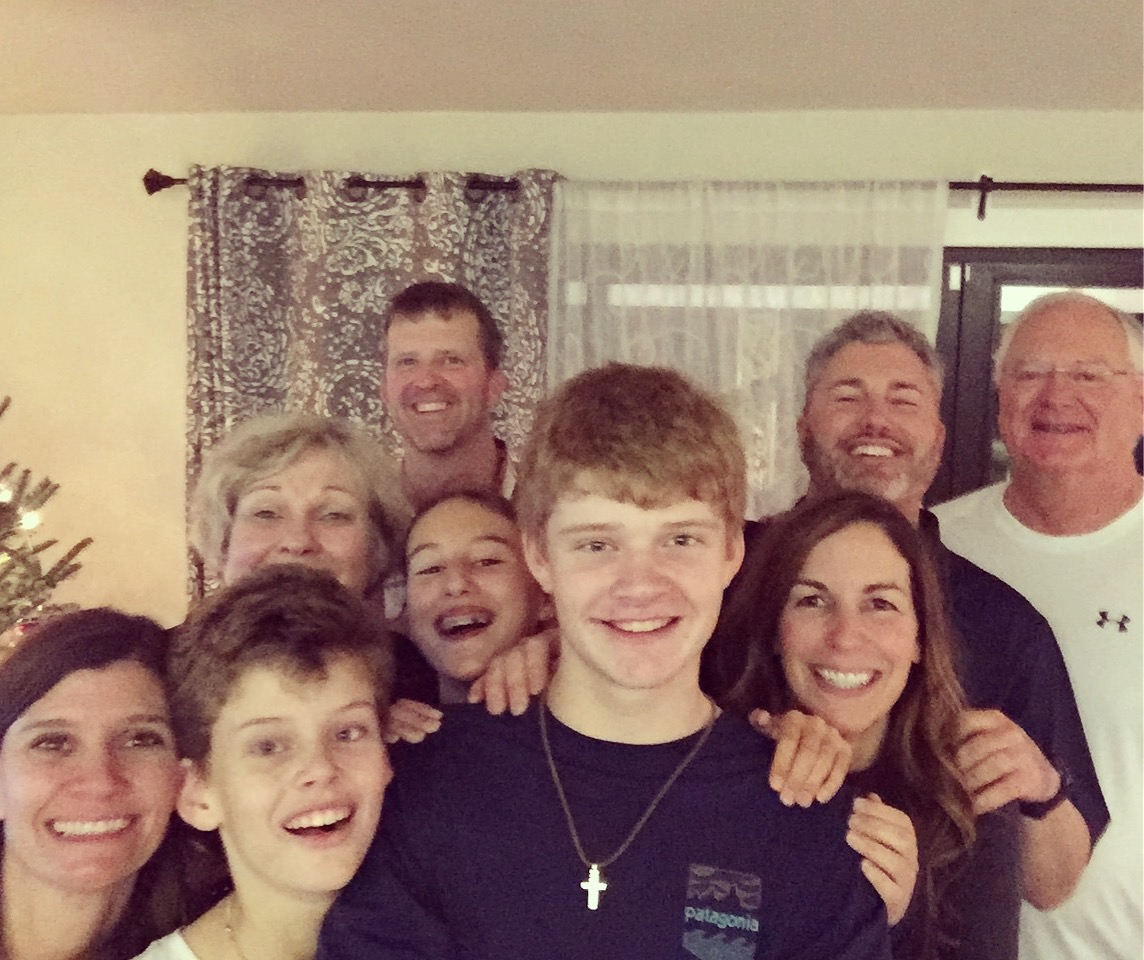 Yes, that's Jackson in the middle. He's approximately seven feet tall now.
And now we've spent the last few days doing a whole lot of nothing. This picture of Mabel about sums it up.
Although I did have the aforementioned energy boost today and put away all our Christmas stuff so that feels like I reached great heights of productivity. In fact, it's probably time for another sugar cookie. I've only had six today.
Hope y'all had a great Christmas.
Copyright secured by Digiprove © 2016