So I have this video I wanted to upload from backstage at the Travis Cottrell CD taping (Is taping even the right word? What do the kids in the industry say these days?).
Anyway, as we all know, videos never seem to go smoothly for me and I have encountered a glitch. But, GOOD NEWS, this time it's not my fault and I can totally blame Vimeo.
Apparently it will be 165 minutes until my video is ready and I'm not waiting that long because it's actually still Sunday night as I write this and I must go to bed because I am exhausted from all the fun.
I'll post the video later today but in the meantime let me say that the recording (taping? live session? laying down tracks?) was so much fun and the entire praise team did such a great job. It's going to be the best worship CD ever. Seriously.
In other news, I went to eat lunch yesterday with Sophie and Boodaddy. We went to a Mexican restaurant that appeared to be good because it was called "Restaurant Mexicano" and everyone knows that "O" on the end of Mexican signals authenticity. Sophie was smart and ordered nachos, which are always a safe choice.
I ordered Huevos Rancheros. Bad call on my part because I'm not sure the following picture features huevos or rancheros. If you have a weak stomach, I beg you not to look at this picture yet I am compelled to post it.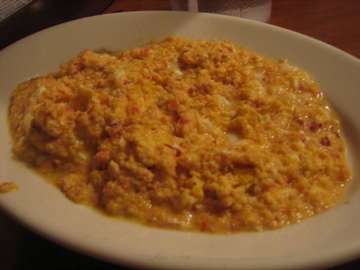 I believe those are the lesser cousin of Huevos Rancheros known as Huevos Feos, which translates to "Ugly Eggs" for those of you who don't possess my extensive Spanish vocabulary of four to five words. It will be a long time before I can eat eggs again.
And for the record, I didn't actually eat those. I just tore my napkin in half and covered them up so I didn't have to look at them.
It's too bad I can't use that same napkin to erase the image from my brain where it is now burned for eternity.