This has nothing to do with anything but we just watched the weather forecast and it's going to be 87 degrees here tomorrow. I don't even understand what is happening. But if it's 87 degrees on February 6, then what hope do we have for July?
The irony is that we spent most of Saturday in freezing cold drizzle watching Caroline play soccer. Because soccer is apparently a game that is either played when it's burning up hot or freezing cold. There doesn't seem to be a whole lot of middle ground. And in all fairness, it wasn't really freezing so much as it was about 55 degrees but there was no sun and it was drizzling which made it feel approximately 28 degrees.
I spent Friday night in Austin, but got up early on Saturday morning to meet my people in Canyon Lake for Caroline's soccer games. She scored a great goal in the last three minutes of the first game, but went for the ball just as the goalie raised both her fists in an attempt to punch the ball out of the goal and instead hit Caroline right in the stomach as Caroline kicked the ball into the goal. And so I had that moment as a mom when you look on the field and wonder, "Who is that just lying there in the goal? OH! THAT IS MY CHILD JUST LYING THERE MOTIONLESS IN THE GOAL!"
Caroline has taken some hits over the years and she always pops up like a Weeble Wobble, so I was really worried it was something serious. But after about two minutes which felt like thirty minutes, she got up and walked off the field while her teammates cheered loudly both because she had scored a goal and was alive. It turns out she just had the air knocked out of her and couldn't catch her breath for a minute. She also has a pretty nice bruise on her stomach to show for the whole experience and I have seventeen new gray hairs.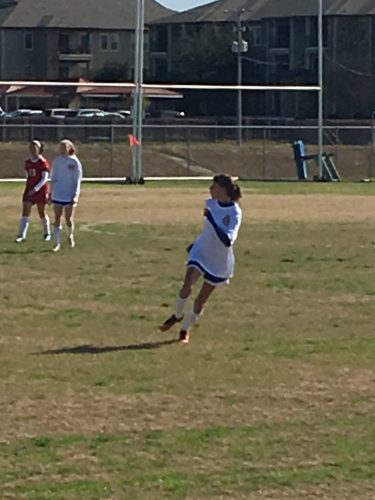 (That picture is actually from a game earlier in the month because I didn't take any pictures on Saturday because it was too wet and drizzly. I know you're wondering what I charge to come take action photos of your child's sporting events because this is stellar. We have about 750 photos of Caroline playing soccer that basically just show the back of her jersey.)
We made it back home around 4:00 p.m. on Saturday. I picked up barbecue for dinner on the way home from the soccer games and P built us a fire in the fireplace because we'd all been cold and wet since 8:00 a.m. and were in need of being drying and warm. We were all in our pajamas by about 6:00 that night and in bed by about 10. (You're welcome for the timeline of our lame Saturday night. I don't know why I feel like that was necessary.)
On Sunday morning we had church and my book editor was in town so she was able to join us which was so fun. Then after church I had some burst of unexplained energy and decided to clean out my bathroom cabinet, shelves and makeup bag. It had become abundantly clear as I packed for my last couple of out of town trips that I was holding on to way too many products that I don't use anymore. There was also an unfortunate incident where the dental floss in the bathroom cabinet got all tangled up in my hairbrush because I had ceased to have a proper dental hygiene/hair product boundary in my toiletry organization system. And when I say toiletry organization system, you need to know that my system is basically rummaging for what I need and then throwing it back in the cabinet because I'm always running late and don't have time to put things away in a neat fashion.
(Note to self: Maybe the reason you're always running late is because you have to spend ten extra minutes each morning looking for the mascara that's buried under sixteen free samples of various skincare products that you can't bear to throw away, yet have never used.)
I threw out mascaras that never lived up to their promises, various tinted moisturizers that didn't work out, eyeliner that I realized I've owned since 2010, and assorted hair care products that seemed like a good idea at the time. Ultimately it was almost a full trash bag full of hopes and dreams for a younger, more vibrant version of myself with flawless skin and lashes that make me people wonder if I was born with it or maybe it's Maybelline.
The good news is it totally paid off because I currently have a makeup bag and a bathroom cabinet full of only the products I actually use and I didn't have to spend time tossing aside all the blushes that never gave me the youthful glow they promised and instead made me look like I was hiding a case of jaundice. And maybe I've learned my lesson about getting suckered into buying beauty products that promise all kinds of fabulousness.
I can't even type that with a straight face.
But at least I'll have plenty of room for new contenders for greatness in my bathroom cabinet.
And no dental floss tangled up in my round hair brush.
Copyright secured by Digiprove © 2017