So if you've been following along here for a while, you may remember that we decided to get new kitchen cabinets last fall. Actually our original plan was to give the existing cabinets a facelift, but our friend and cabinetmaker looked at them and told us it might actually make more sense to just rip out the old ones and put in new ones since we plan on being in this house forever. And P jumped on board that train and I was happy to just nod my head and do an internal happy dance.
I knew I wanted simple shaker-style cabinet doors in white and a dark wood island top. The rest of it was up in the air because I am the worst at making house decisions. Put me in a clothing store and I can put an outfit together in ten seconds. But put me in a home decor store and I am paralyzed by indecision. You can throw out an ugly sweater but kitchen countertops are forever. Or are at least for a very long time. I know this because when we originally updated our kitchen fourteen years ago, we decided to put in laminate countertops for the time being because everything else was so pricey and that's what we lived with for the next fourteen years.
Anyway, I did what I always do when I need to make a home decorating decision and emailed my friend Holly Mathis from Holly Mathis Interiors. We met online years ago and have become real life friends over the years and she knows that dealing with me is going to be like "Decorating for Dummies". At one point in this process, she suggested I needed some ginger jars and she might as well have asked me to solve a physics equation. What I'm saying is I need a lot of help and guidance. So she put together a mood board with suggested colors, accessories, lights, etc. and then she even helped me as I texted her approximately 75 pictures of various marble slabs as I tried to figure out what was the best option.
All that to say, she is a miracle worker and I am so pleased with how it turned out. It's so bright and clean. It feels like we actually made it bigger but the truth is we kept the exact same configuration with all the appliances in the same place. We added the shiplap wall behind the desk in keeping with my life motto "What Would Joanna Gaines Do?" and kept our existing range and refrigerator because they're still in good shape, but replaced the ovens and the dishwasher. The white paint, some new true white light bulbs and the cabinets that go all the way to the ceiling make it feel so much more spacious than it was before and give me so much more storage room. The two floor to ceiling cabinets are a game changer because we don't have a pantry and the farmhouse sink is officially now in the top five loves of my life. And while remodeling a kitchen isn't inexpensive, I managed to find some things at Overstock and wait for other things to go on sale. I know I'm going to love it for a long time. I've even quit panicking over the marble countertops because they are so much more durable than what I feared. They aren't for perfectionists because you do get some etching, but no one has ever accused me of being a perfectionist so that works out.
The rest of this post is just going to be a series of pictures from various angles, but I'm going to do my best to list all of my sources for everything at the bottom in case there's something you see that you love and want for yourself.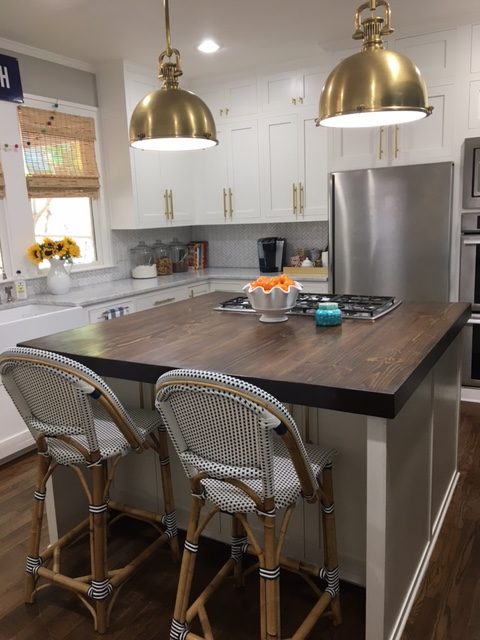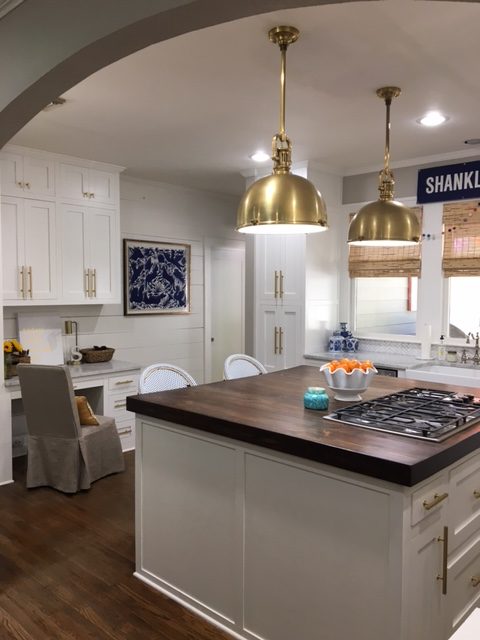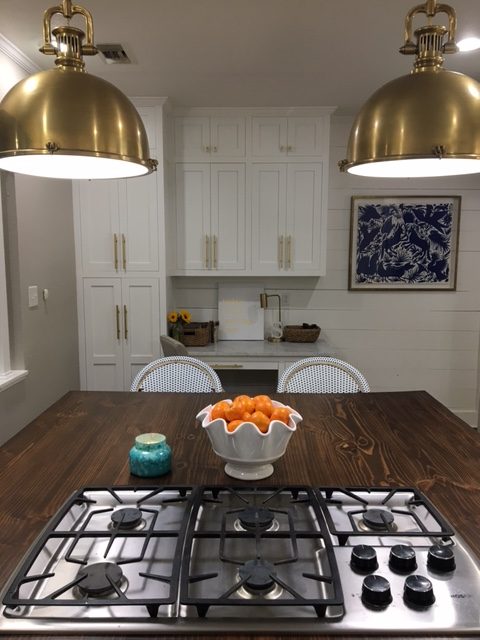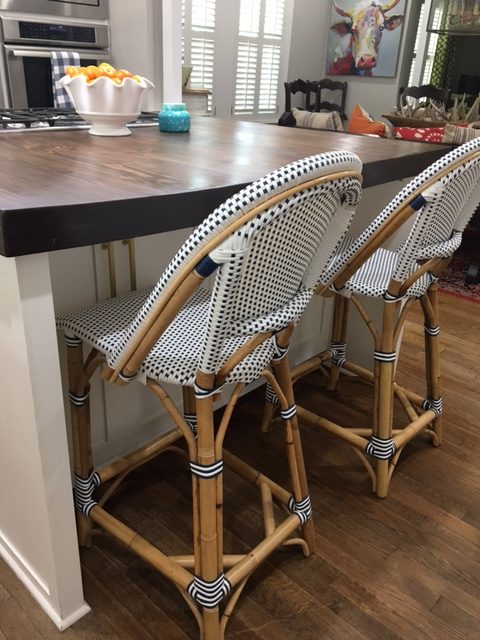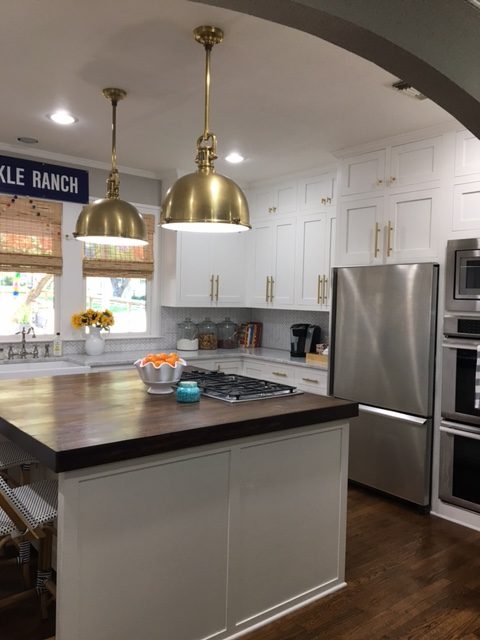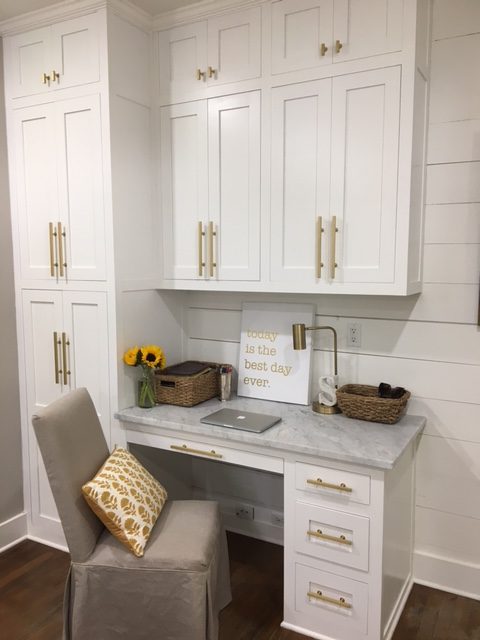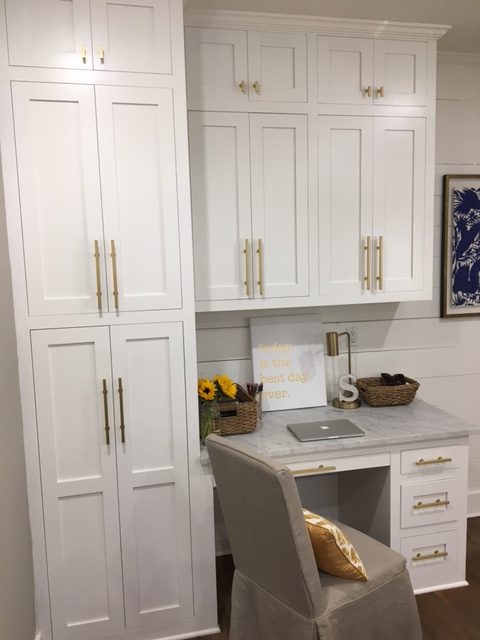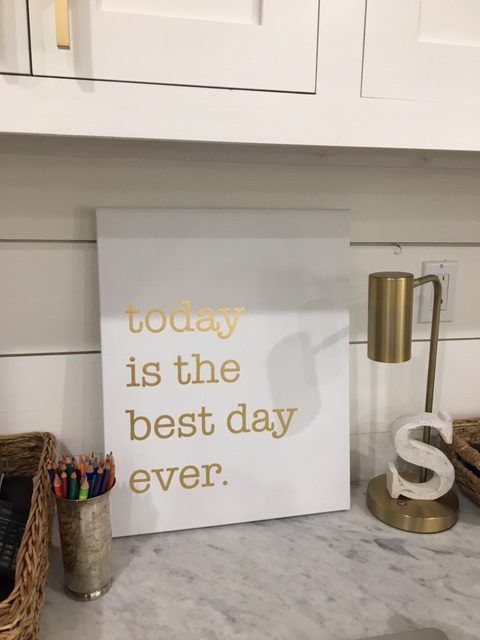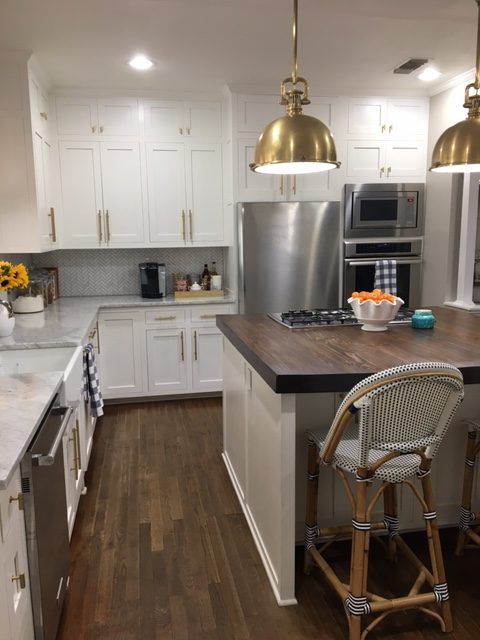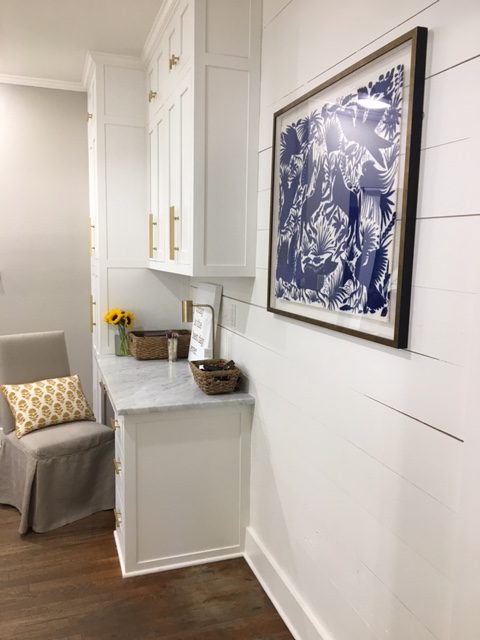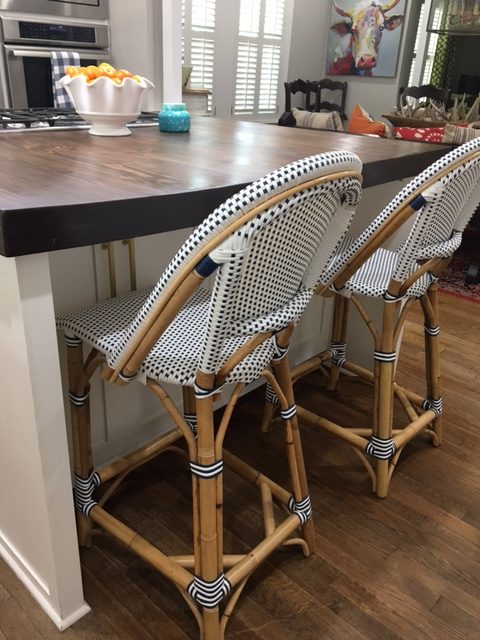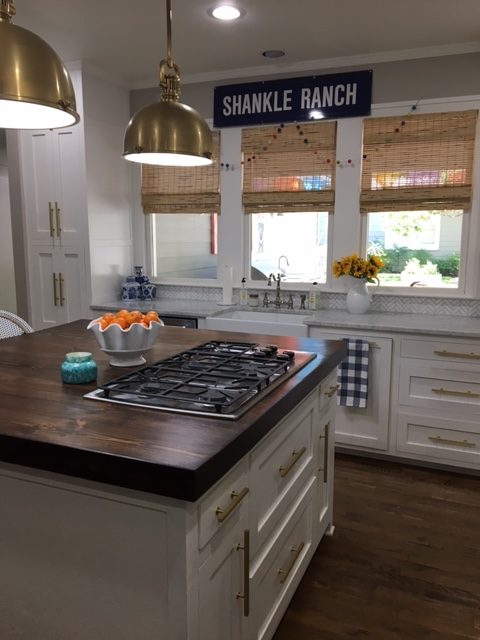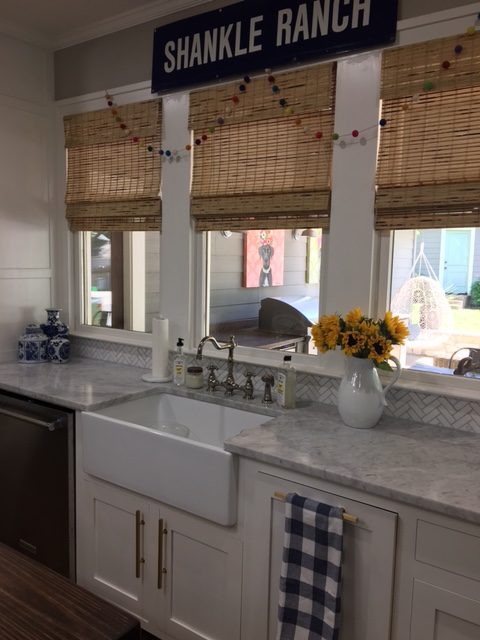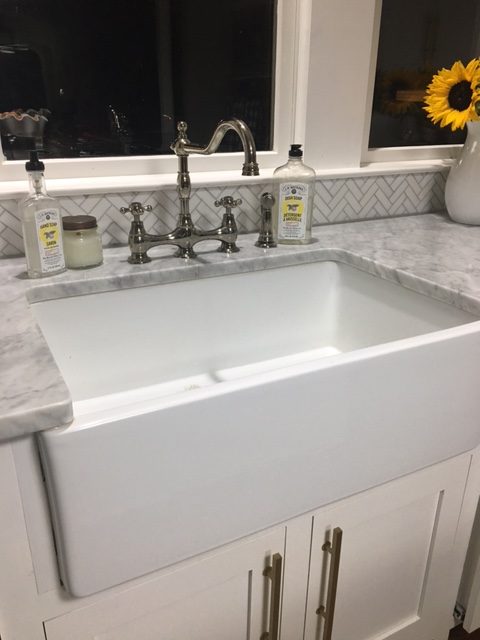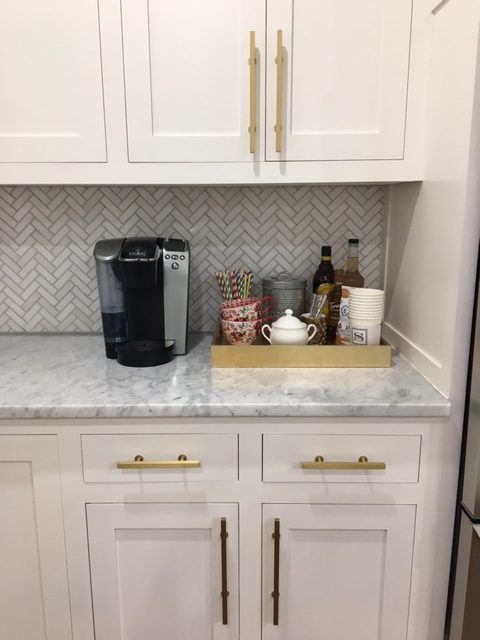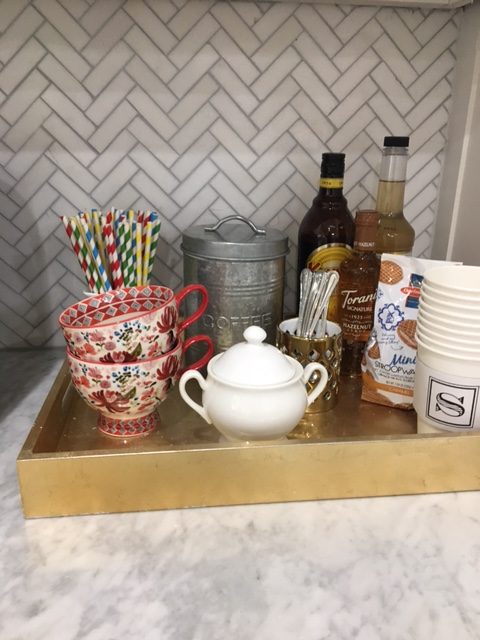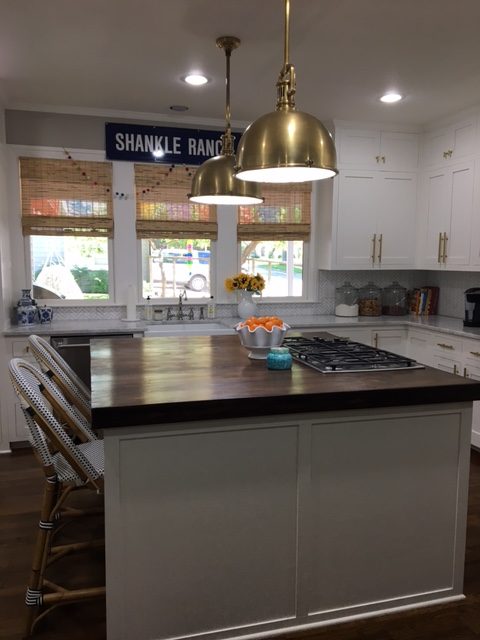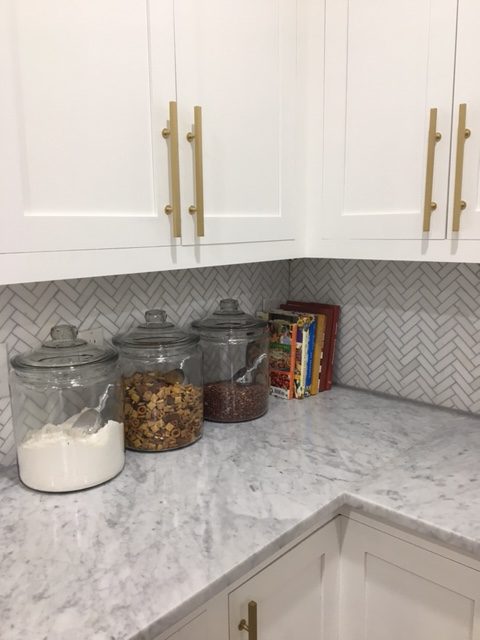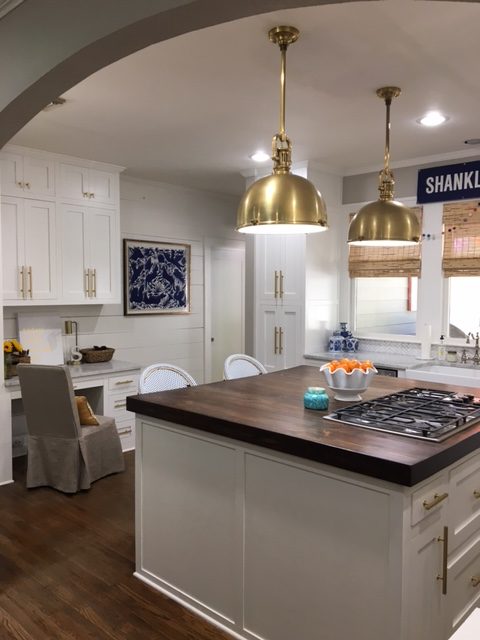 Sources:
countertops – honed carrara marble (local source)
cabinet paint color – simply white by Benjamin Moore (We used the Advance paint because it's water based but dries like an oil paint to a furniture-like finish.)
wall paint color – simply white by Benjamin Moore on the shiplap wall and revere pewter by Benjamin Moore on the other walls
backsplash – thassos herringbone marble mosaic
polished nickel kitchen faucet
antique brass pendant lights (similar) Actual lights are visual comfort pendants available through True Blue Home in Chappell Hill, Texas.
framed blue and white otomi textile from Emilia Collection
lew's bar series brass cabinet hardware
blue and white check dishtowels
large white bowl on island (similar)
gold lacquer tray next to coffeemaker
wing & petal mugs on gold tray
personalized to-go paper coffee cups with lids
felt ball garland over windows
today is the best day ever canvas from Homegoods (not online)
blue and white ginger jars (now I know what they're called) from a local store called Five Broads Off Broadway
Copyright secured by Digiprove © 2017