I am not kidding when I tell you that I am making myself sit on my couch write now and catch up on about six hundred and forty things, including writing a blog post. Caroline got out of school at 1:00 p.m. on Thursday, June 1st and I was under some sort of delusion that life would slow down and I would have completed all the projects on my to do list that are under impending deadlines. I couldn't have been more wrong about all of that. The good news is I did spend some time yesterday completely procrastinating on the actual things I need to finish to spend the afternoon cleaning out Caroline's closet so there's that.
So let's start at the very beginning (A very good place to start according to Maria Von Trapp). I picked Caroline up from the last day of school and we went to eat lunch at Down On Grayson to celebrate. It's quickly become one of our favorite places to eat and I'm in love with their chicken sandwich and their spicy margarita. I didn't have a spicy margarita at lunch that day because I knew I had to get us packed up and ready to leave for a soccer tournament in Houston the next day and literally needed to have my game face on.
Caroline and I left for Houston about noon on Friday and then hung out at our hotel until her first game that night at 8:00 p.m. The girls played great and the game ended up being a tie because the other team got a questionable (in my mind) penalty call and scored on a penalty kick. We got back to the hotel pretty late that night and crashed.
On Saturday, the team played at 1:00 p.m. And here's something I had forgotten or blocked out – how hot and humid it is in Houston. Yes, it's hot in San Antonio but it's mostly a dry heat. Houston is like a swamp inside of an oven. The girls won that game and then Caroline and I met my friend, Amanda, and her kids at a cute little ice cream parlor in downtown Tomball. Perhaps you are like me and unaware that Tomball has a downtown, but it does. Later that night the entire team went to eat at Pappasitos and, if you happened to be there, I apologize for how loud a team of teenage soccer girls can be.
Sunday we had a noon game and I was so excited about it because when we got our tournament schedule, I realized that we were playing one of my dearest and oldest friend's youngest daughter's team. (Did you follow that? I had to think about how to write that for like ten minutes.) They live in College Station and although all her girls play soccer, we've never run into each other at a tournament before. It was so fun to get to catch up with Tiff (as in Tiff from Nobody's Cuter Than You) and watch our girls play against each other. You might notice that her beautiful Zoe currently has a little bit of a size advantage over Caroline, but to give you some perspective I'll tell you that Caroline is now 5'4″.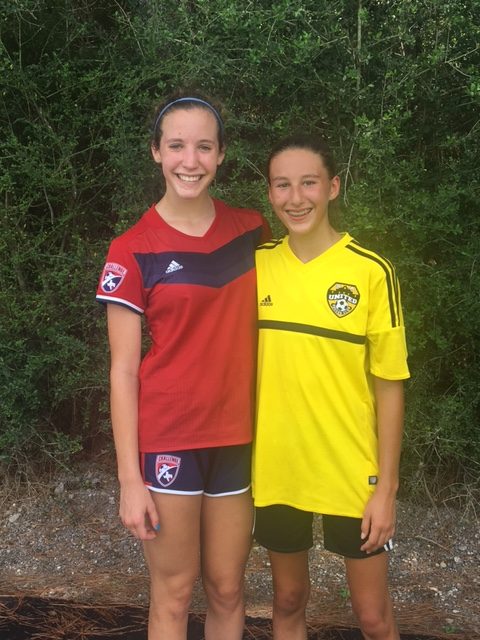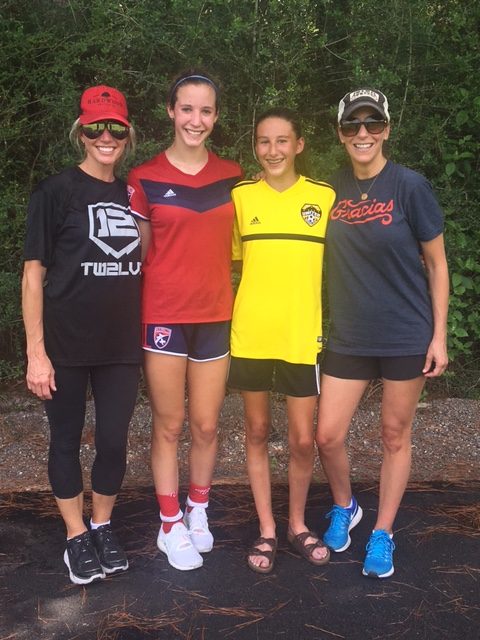 Gulley's mom, Honey, saw that picture on Facebook and commented that Tiff and I appear to be getting shorter. That must be it.
After that final game, Caroline and I drove back to San Antonio in the pouring down rain and then were basically home for less than twenty-four hours which we spent unpacking and doing laundry and re-packing. (Side note: I just found the soccer socks Caroline wore during that last game A WEEK AGO in her soccer backpack yesterday. We may have to burn down the house.)
Perry dropped us off at the airport at 11:00 on Monday morning for our flight to Nashville. I had to go for some work meetings, but we planned to stay longer to see friends and just have fun. The first night we ate pizza and watched the Predators' game at my friend Kelly's house with our friends, April and Paige, and then I had meetings Tuesday morning. We spent the rest of that day looking around the Vanderbilt campus, shopping and then getting pedicures when it started storming outside. We had a business dinner that night, but decided it was very important to stop at Jeni's Ice Cream on the way back to the hotel.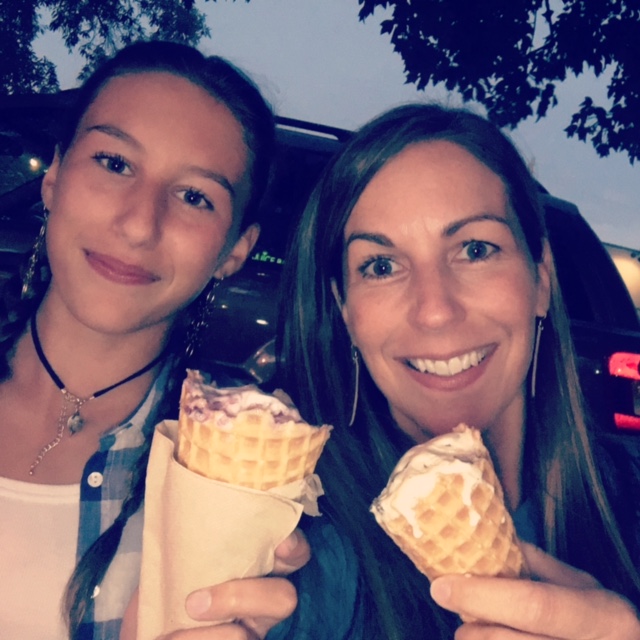 Caroline got bramble berry crisp and salted caramel and I got darkest chocolate with salty peanut butter. I could cry thinking about it good it was.
Wednesday morning, we headed to Franklin to meet my friend, Angie, and her girls for lunch. It was so fun catching up and the girls tried on about sixty-four different pairs of sunglasses.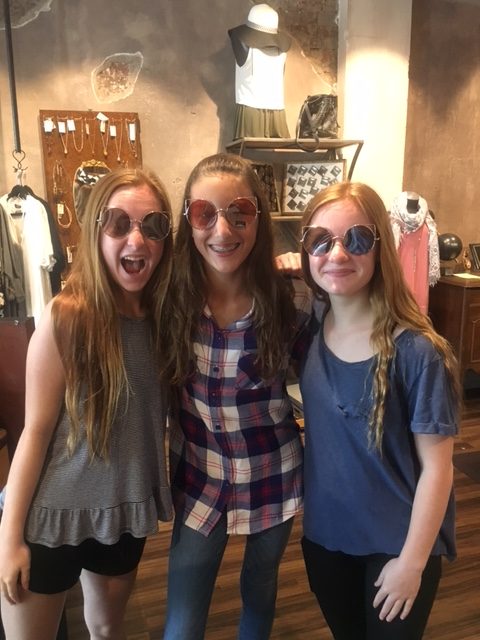 After a little shopping in Franklin, Caroline and I headed to the Carnton Plantation because she really wanted to see some Civil War sites. It was perfect timing because her American History class this past year ended with Reconstruction so all the Civil War information was fresh in her mind. We both really enjoyed the tour. The plantation and the gardens are gorgeous and I didn't really know anything about the Battle Of Franklin. I highly recommend it if you head that way.
This is Caroline in front of the hydrangeas in the plantation garden. I want this to be at my house.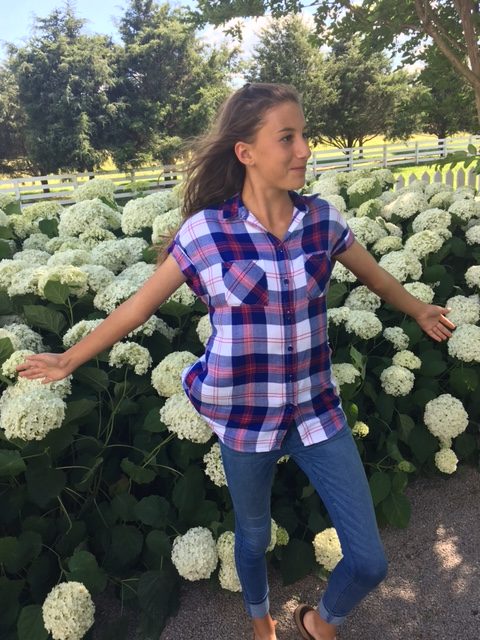 On Thursday we had one last meeting and then did a little more shopping before it was time to head to the airport and fly home.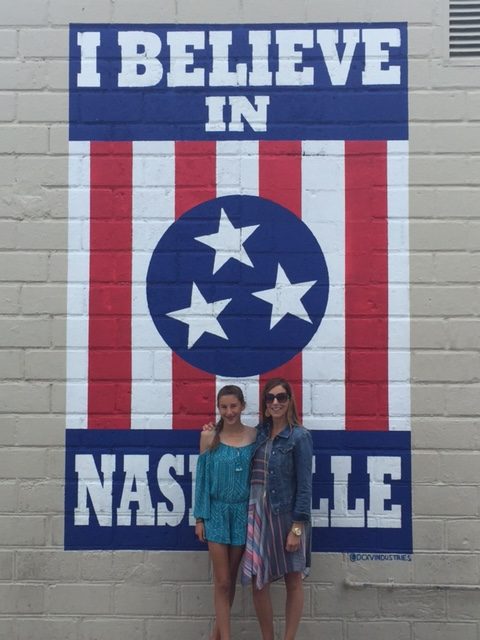 Oh, this is where I also need to mention that I had reserved a rental car for us for the week. Just a nice, mid-size car – nothing fancy. But when we got to the rental counter, the guy decided since we were from Texas that we'd probably want a truck. My mind didn't really compute that until I walked out and realized, well, yes. He did, in fact, give us a small truck. I also regret to tell you that I drove it in four wheel drive for an entire day before I realized why it was so hard to turn. Dear Rental Car Employee, Please do not stereotype people from Texas and assume we all want to drive a truck.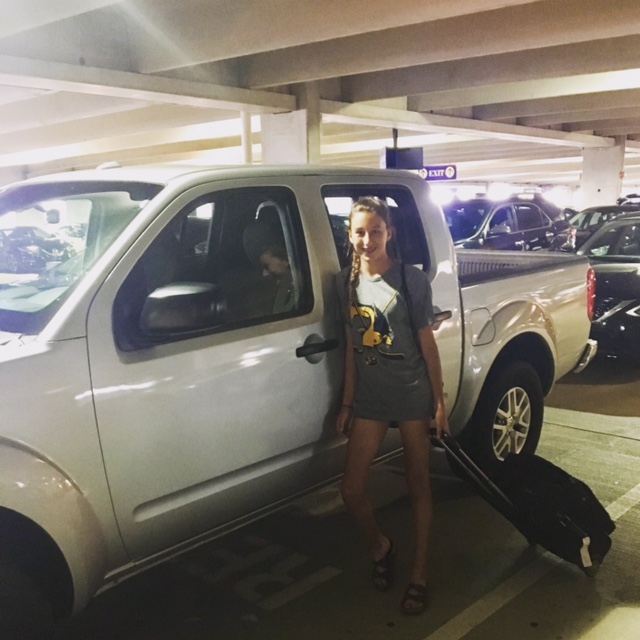 P picked us up from the airport and we were both so happy to be home and sleep in our own beds. We had so much fun on both of our trips but, in the words of Dorothy Gayle of Kansas, there's no place like home.
Copyright secured by Digiprove © 2017