So we arrived in Bryan on Monday night, full of various barbecued meats and plans to visit the drive through safari in Franklin, Texas on Tuesday. This wasn't really because we were dying to actually to drive through a large pasture full of camels in Franklin as much as just wanting to do something different than what we've done in the past because the kids had specifically requested that we take the road trip back to its hodgepodge roots of total and complete randomness.
But as we drove into College Station, we went right past the Texas A&M Veterinary School. Since we are unbelievably and incomprehensibly at a stage in life where our kids are thinking about what they might actually want to be when they grow up, we decided to see if we could schedule a tour of the vet school. Caroline has been wanting to do this for years, but tours are only allowed for kids ages 13 and up so this was our year. We booked a tour for 3:00 on Tuesday and no one minded sleeping in and being lazy until it was time to head that way.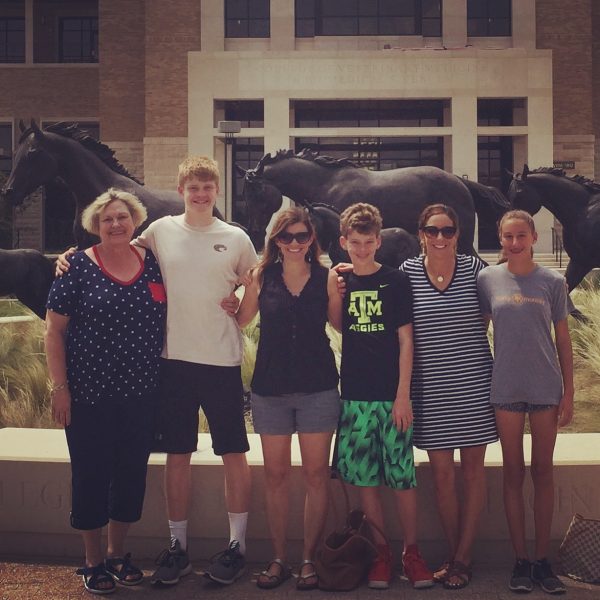 It was seriously so impressive. We all loved the tour and I think it gave Caroline all the incentive she needed to work hard to get there one of these days. They told us about an elephant they brought in for X-Rays who was so excited to be in an air-conditioned room that she swayed back and forth for six hours before they could get her to be still enough to finish the X-Ray. I believe that elephant is my spirit animal.
After that we went and grabbed a bite to eat and then went to see Wonder Woman. It was as good as I've heard it was and we all loved it. Wonder Woman has caused me to set some serious hair goals for myself because her hair was incredible throughout the entire movie but, you know, she's not called Wonder Woman for no reason. She is also a fierce warrior but that hair was a wonder all on its own.
Before we left on the trip, we had talked about going to Waco to visit the Silos at Magnolia Market and then I remembered hearing something about Waco having the world's largest lazy river. A google search confirmed this information and Gulley and I decided it was worth a visit even though we read various online reviews that said things like this:
"It consisted of me and another one of my girlfriends hopping on our blow up swan and crossing the water to meet the Lemurs. Coolest little guys ever. They love bananas and grapes and were just as excited to meet us."
"The water is probably the thing I had a problem with. It is a weird color! Why??? Why is the water a weird color? I'm not sure where the water comes from, if it is spring fed or not. But why is it that color?"
"The lazy river is disgusting. It's dirt water and warm and too long. We wanted to get out faster so we just started swimming."
I mean we are people who have willingly visited a Snake Farm so why are we going to let a few Yelp reviews that allude to dirty water and safety hazards and lemurs scare us away from a place? The spirit of the road trip is to embrace all that life throws our way and sometimes that can look like water that's been dyed a weird color. And lemurs.
Honey decided she'd make the trip to Waco with us because she is a fan of a lazy river and had also been wanting to visit Magnolia Market. We headed out about around 10:30 a.m. and made the hour and a half drive to Magnolia. We were in the blue Suburban and the benefit of the Suburban is that Gulley, Honey and I could all sit in the front seat and put the kids in the back.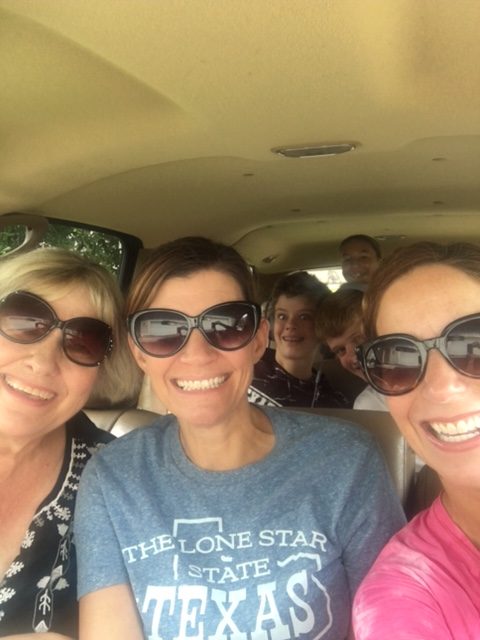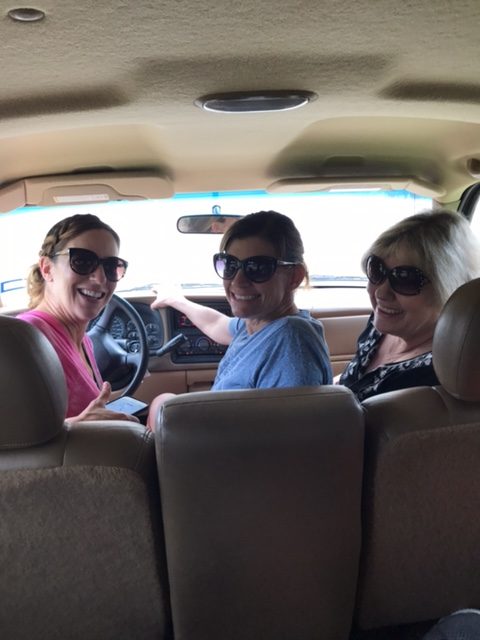 I'm going to be honest, we were all a little skeptical that Magnolia wouldn't live up to the hype. I mean I love Chip and Joanna as much as the next person but I've never viewed Waco as a tourist stop. All that to say, we were basically drinking the Magnolia kool-aid about three seconds after walking onto the grounds.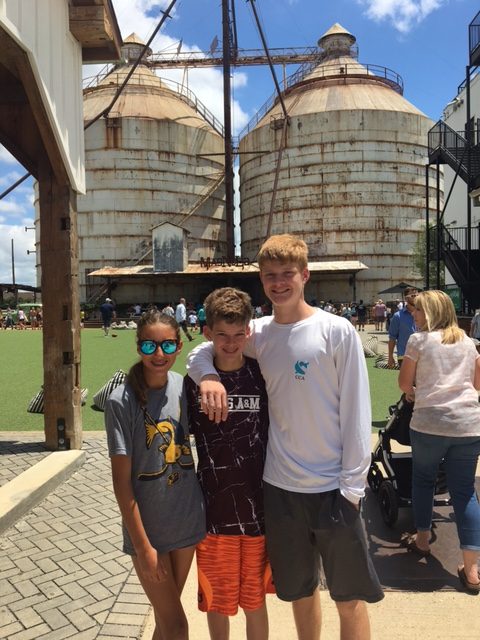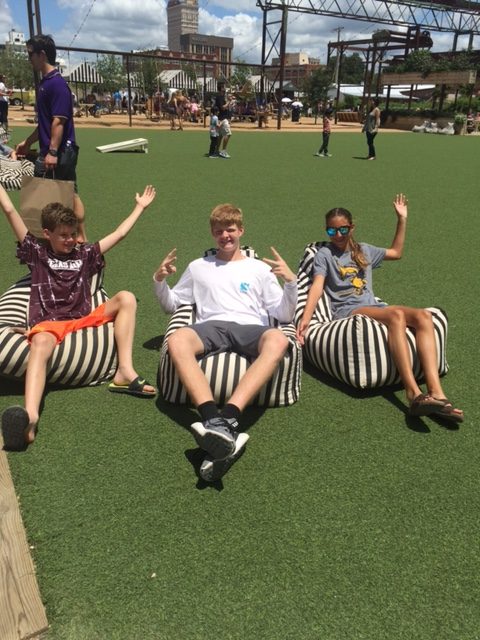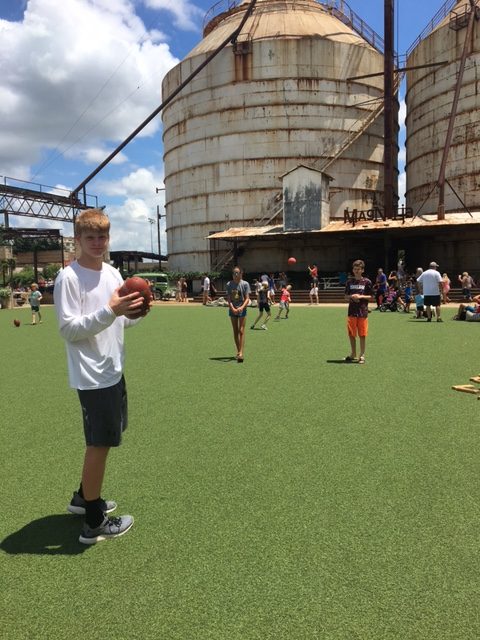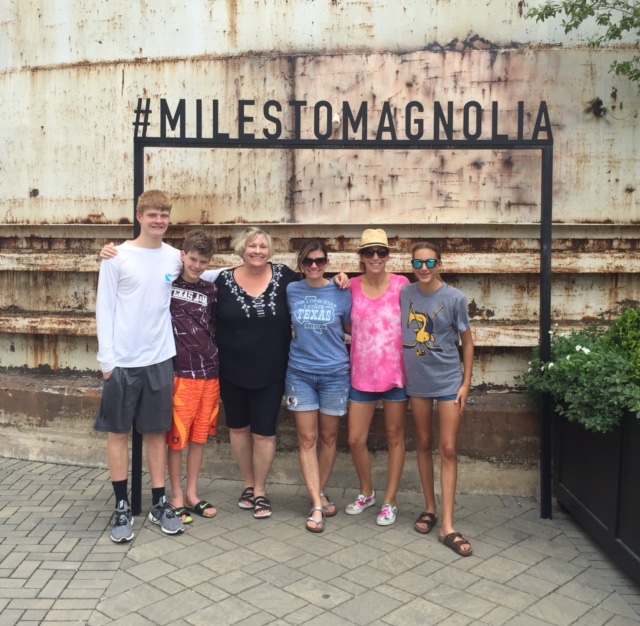 We walked around for a little while, checking out the various food trucks that are set up, and then went into Magnolia Market to shop. There was a leather bag there that I'm still thinking about and I'm a little sad I didn't commit at the time. After that, we decided that getting a cupcake or six from the bakery was totally worth waiting in line for and the line actually moved really quickly and the cupcakes and other baked goods were totally worth it.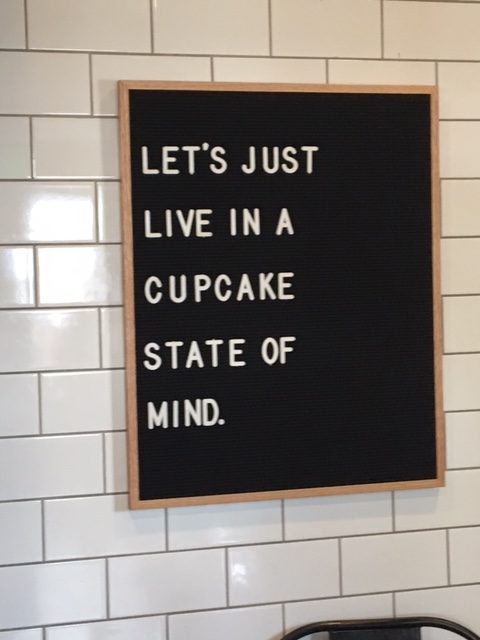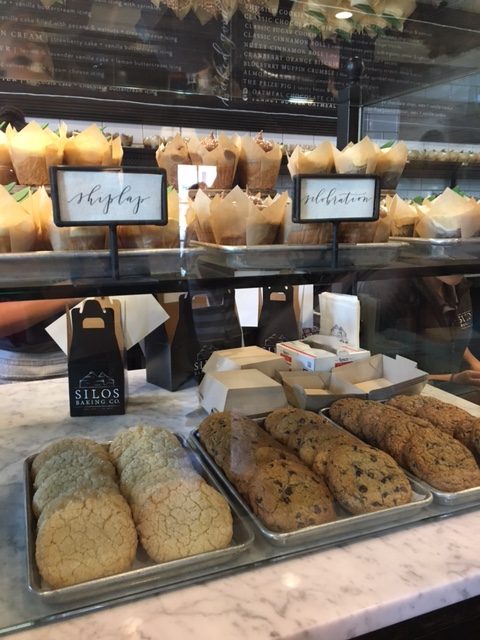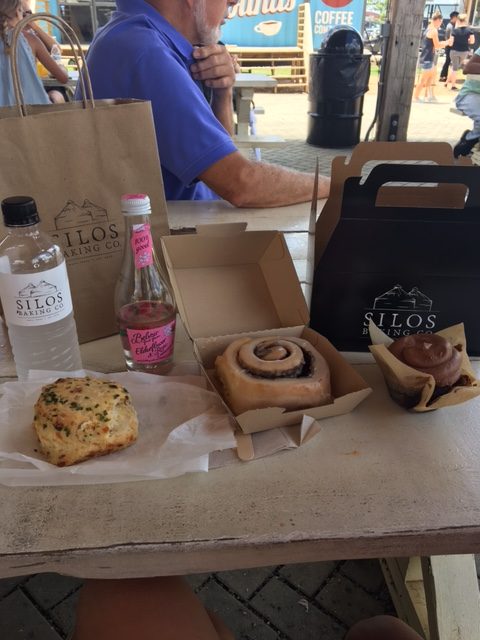 We ended up trying a bacon cheddar biscuit, a red velvet cupcake, a chocolate cupcake, a chocolate cupcake with white icing, and a cinnamon roll. They were all delicious but I think my personal favorite was the bacon cheddar biscuit because I am a fan of a savory baked good. Then we decided we needed to eat real food so the boys got pizza from one of the food trucks and Caroline found herself a watermelon slushy served in an actual watermelon.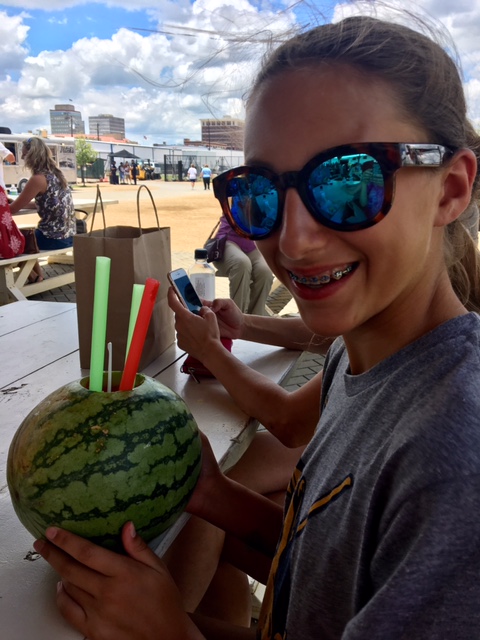 While everyone finished eating, I walked around to the garden section and found a small "shed" that I would like P to replicate in our back yard someday if we ever tear down our existing back house and build a new one.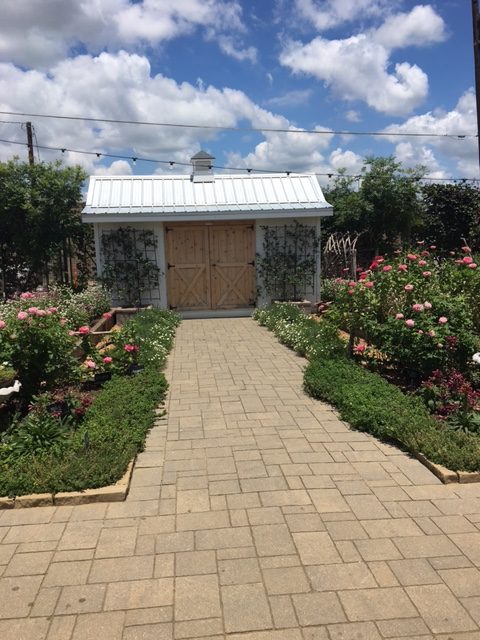 How hard could that be? It would take – what – like a weekend?
I'd also like this garden. I mean I would certainly kill it but it would look so pretty before I did.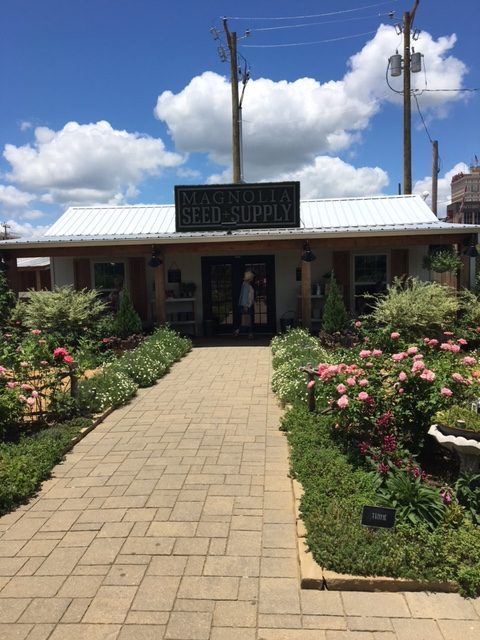 Gulley and I got so tickled because we started visiting with this nice lady from New Jersey (that was one amazing thing about Magnolia…there were people there from all over which I guess disproves my thoughts on Waco not being a tourist destination) and she was asking us if the cupcakes were worth the wait. We told her they were and she said, "I look at all this and feel like such a dope. I can't even bake and Joanna creates all this amazing stuff and can bake great cupcakes." And so I guess that elephant at Texas A&M and this lady from New Jersey are my spirit animals.
After that, we left Magnolia and drove to the outskirts of Waco (Mexia, Texas to be exact) to check out the BSR Cable Park, home of the world's largest lazy river and the Royal Flush slide. We followed Siri's instructions on how to get there and I am not kidding when I tell we all believed that Siri was taking us out to the middle of nowhere and leaving us for dead. We drove past trailer parks and small houses on a road that was barely wide enough for two cars to pass and I nearly ran over three dogs before we finally arrived. But, all of a sudden, it appeared on the horizon and we drove through the gates. We parked, went in and signed our waivers (We all agreed that we probably should've read them more closely than we did but whatever) and decided to float the lazy river first before deciding if the kids could attempt the slides.
I have no photos of the lazy river because I left my phone in the car but I just need you to know that the water is dyed that same blue color as the water on the log ride at Six Flags. It's a color not found in nature. It was a color so murky that you couldn't really see through it to see the steps down into the lazy river. You would think maybe we would've decided it wasn't worth the risk of looking like a Smurf to enjoy a forty-five minute float on a lazy river, but you overestimate us. We all hopped in our tubes and took off down the river. And while I don't know if it's actually the world's longest lazy river, it is certainly the slowest. I believe Gulley described it best when she said, "It's like someone dug a long ditch through the middle of a pasture, filled it with water, dyed it blue and decided people might pay $20 to float in it."
Yep.
We consider ourselves to be lazy river experts. We love a lazy river. We've floated the river at the JW Marriott, The Hyatt Hill Country, The Flying J Ranch, and The Hyatt Lost Pines. We've floated the actual Guadalupe and Comal Rivers but, prior to Wednesday, we had never floated a river that felt as questionable as this one. We didn't see any lemurs so that was either a plus or a minus depending on your thoughts on lemurs, but we did have one gentleman pass by us in a tube and he was filling up his tube with empty beer cans that he dug out of the trash bins located around the river. Honey asked, "Do you work here?" and he replied, "Nope" as he continued to fill his tube with more cans. I don't even know, y'all.
Once we made it around the lazy river, we decided an additional time around wasn't really necessary or maybe the word is sanitary. So we headed over to the Royal Flush and the kids spent the next four hours going down the slides over and over and over again. We kept thinking they would surely get tired of walking up that ramp, but we were wrong. They loved it. They slid down those slides and high-fived each other and ran back up to go again as soon as they got out of the water. I think they must have done it about fifty times and those slides represent the very heart of all that the road trip is intended to be; impulsive, a little scary and totally not a normal day. But so worth it because how else would we know that there is a cobra living in what appears to be old office furniture at a Snake Farm in New Braunfels or that you can swim in blue water all day and not actually turn blue?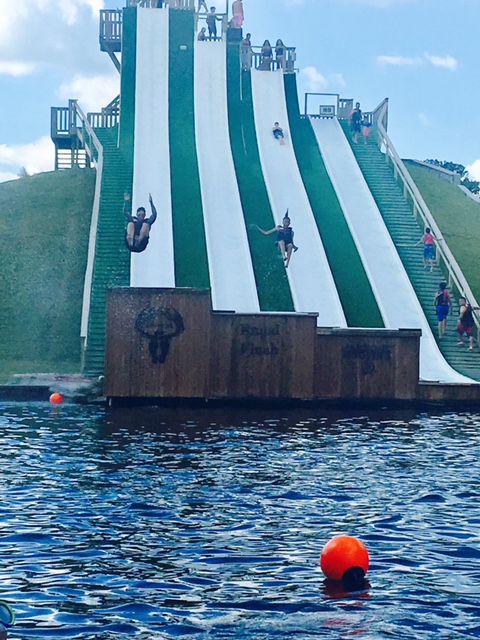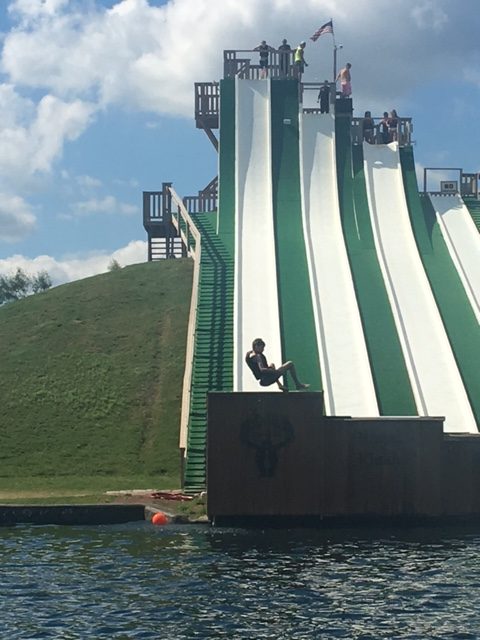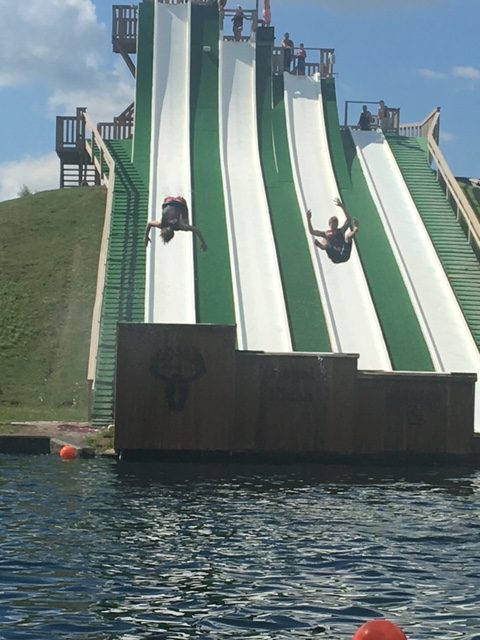 Meanwhile, Gulley, Honey and I learned that there is still a place in America where it's socially acceptable to walk around in your swimsuit in a public place while smoking a cigarette and holding a six pack of beer in the other hand. We also learned that many people will ignore signs that warn "No Cussing" and that there is still a place where cussing is forbidden, yet floating down a man-made, artificially blue river with large quantities of alcohol and bags of Doritos is encouraged. And to that I say, GOD BLESS AMERICA. It may even explain why several people opted to wear string bikinis that looked like the American flag.
We finally got back to Honey and Big's house about 8:00 p.m. and agreed that we all needed a hot shower and dinner in that order. Also, that it had been a really great day even though we didn't get to feed a lemur a grape. In fact, you could say we were all as happy as an elephant getting an X-Ray in an air-conditioned room.
Copyright secured by Digiprove © 2017