Caroline loves to spend the night with her Mimi and Bops . It's something she's done since they moved here a little over two years ago.
It's what I like to call a golden situation, because she loves staying with them and I love getting to go out with P, then sleep late the next morning.
Not to mention, not being awakened in the middle of the night to serve as a bathroom escort.
She is a high-energy kid. She literally runs, and jumps, and runs some more, until she drops. She rarely admits to being tired.
In fact, one time this summer we finally had to drag her out of the pool and tell her she'd had enough. She argued with us until she finally just collapsed on her little swimmed-out legs.
Fortunately, for her, Bops is a gamer. He runs, he plays chase, he plays hide and seek. Then she says, "ONE MORE TIME, BOPS!"
And I'm pretty sure he collapses on the couch for a nap as soon as we leave.
We came home last Saturday and Caroline walked in her room as I was unpacking her bag. She said, "Mama, I am so TI-RED!"
"Well, you played hard over at Mimi and Bop's house."
"I know. Bops just makes me run and chase him the whole time. He just wears me out!"
I'm fairly certain that's not the real story.
Here she is after spending a day having to play hide and seek with Bops.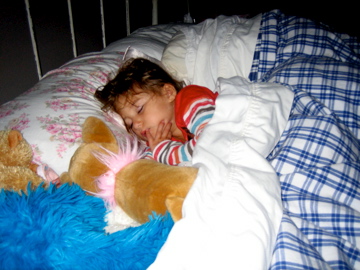 Bless her heart. It's not easy keeping up with a 62 year old man.
Happy Birthday, Bops.