We went down to A.J.'s ranch on Saturday after the mighty Rainbows won their soccer game. It was really no surprise that they won given their intensity for the game as depicted in this photo.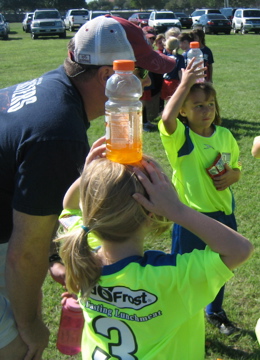 I'm not sure if it was P's pep talk or their pride in being able to balance their Gatorade bottles on their head that pushed them to victory, but they came from behind to defeat the Purple Flakes.
As soon as the game was over, we loaded up our gear like a modern-day version of The Beverly Hillbillies and headed south. There was barely room in the back of P's truck for our suitcases due to all the weaponry. I wanted to point out that it seemed like overkill since a person can only shoot one gun at a time, but I knew he'd turn it around on me and my multiple pairs of boots. Which is totally different by the way because one gun goes with any sort of outfit but black boots with a brown sweater? So wrong.
We arrived at the ranch a little after lunchtime and I hopped out of the truck to open the gate because I have been chief gate opener since the day P and I started hanging out over fourteen years ago. He gives me the combination and I jump out, search the area for any rattlesnakes hiding in the grass, open the gate and close it after he drives through. We are a well-oiled machine.
I walked up to the truck and discovered another driver had taken over the wheel.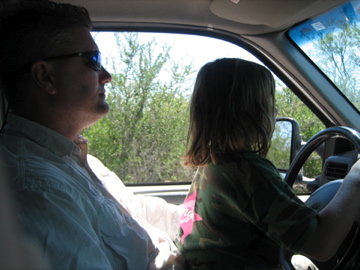 It's our very own Toonces the driving cat.
After Toonces got us safely to the ranch house, we unloaded all our stuff and spent some time visiting with A.J.'s friends. This was important because Caroline had composed a list of our scheduled ranch activities and the number one thing on it was "Chat for a little bit". The next thing on the list was "Go fishing" but we decided to wait just a little while.
P was on the riding lawn mower (I could tell you why he was mowing, but it's a long story that involves needing to see any pigs that might come to a feeder) when he saw a rattlesnake. He attempted to run it over with the lawn mower in what would have been a truly grisly experience, but the snake flattened itself out so P jumped off the lawnmower, stomped on the snake's head with his boot (hence the need for tall snake-proof boots) and killed it with his knife. He's my very own Bear Grylls.
Best of all, A.J.'s friends told him they wanted the dead snake because they were going to cook it (I will spare you the sight of smoked rattlesnake because there are some things that just aren't right), and they were sweet enough to cut off the rattle and give it to Caroline.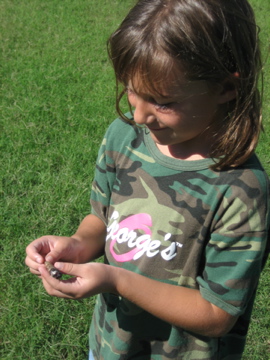 Look at the pleased look on her face. It's the same way I used to look at my Ballerina Barbie when I was a little girl.
But the fun didn't stop there.
We played some pool.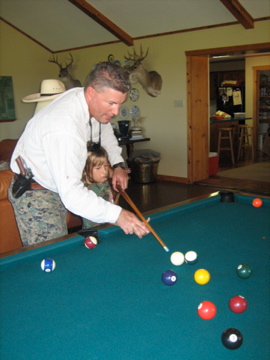 Caroline and A.J. found something they wanted to show me.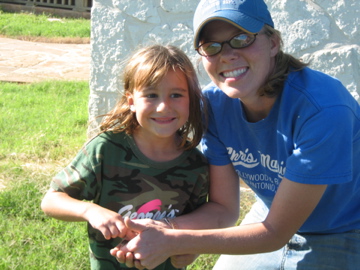 What is it? Maybe a bouquet of wild flowers?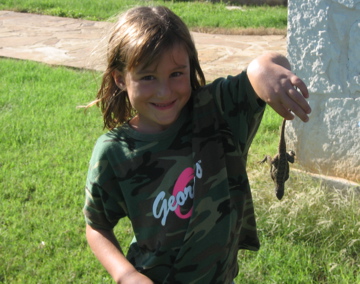 It's a giant Iguana that's about to eat my baby.
Or maybe it's just a Texas spiny lizard.
Either way, make the screaming in my head stop.
P missed that precious moment and when I showed him the picture I said, "Can you believe that?"
He replied, "No, I can't believe it. How did that thing's tail not fall off?"
Because, clearly, that's the biggest wonder. Not the fact that I have a daughter who will hold an enormous lizard which is just a distant relative of a snake.
Later they went hunting because Caroline desperately wanted to shoot a pig. While they were gone I took a Tylenol Allergy and Sinus pill because I'm either coming down with a horrible virus, a terrible cold or just suffering from seasonal allergies. Unfortunately I didn't pay attention to the part of the package that said "Nighttime Formula" and so I fell into a dead sleep due to my low tolerance of diphenhydramine, otherwise known as Benadryl.
(I know stuff like this because of my drug rep days when I was practically a doctor but without the eight to twelve years of school. I learned all I needed to know from a workbook and two week training sessions, otherwise known as just enough to be dangerous.)
Anyway, I woke up just as the hunters were coming back from the evening hunt and happened to catch a glimpse of the Texas A&M vs. Kansas State score. I was sure the cold medicine had made me delirious and there was no way we were losing by that wide of a margin, but unfortunately after I sobered up from my Bendadryl hangover yesterday morning I realized that it was real. We are just that bad.
And I'd had such hope that maybe we were pretty good in spite of getting killed by Arkansas since Arkansas almost beat #1 Florida on Saturday. But, alas, it was just my optimism getting the best of me.
P and Caroline didn't see any pigs on Saturday night so they were as sad about their loss as I was about the Aggies loss. Fortunately, they went out Sunday morning and she made a perfect shot on a javelina, which is like a pig but uglier and with bad teeth.
(Picture to follow. Do not look if you don't want to see a dead javelina.)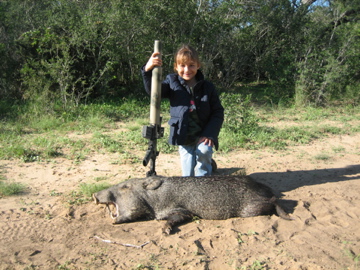 Thanks for having us down, A.J. It was the perfect weekend.
Except for maybe when I overdosed on Benadryl.
And when the Aggies got destroyed.
Love,
Melanie, Bear Grylls, and Toonces