I have never been more grateful that my daughter got a Snuggie for Christmas than I am at this moment. Mainly because I have commandeered it for my own personal use. And while, yes, I still believe that it is nothing more than a backwards robe with a clever marketing campaign, it's hard to deny the warmth it provides while sitting on the couch and typing a blog post.
(Oh, my twenty-something self would be so sad at that entire paragraph. Writing a blog? On the internet? While draped in a zebra-print blanket that's nothing more than a backwards robe? There is a queen of the nerds and it is me.)
(I also need to disclose that my Snuggie and I just got off the couch to glare out the back door at our neighbor who has been loudly revving the engine of his vintage Mustang in his driveway for the last ten minutes with no regard for children who may be sleeping. Apparently the queen of the nerds lives next door to the king of the idiots.)
And speaking of nerd, Sophie and I have been trying for weeks, WEEKS, to record a podcast. This used to be something we could do without much effort at all, which kind of makes me wonder in hindsight why we only recorded them about once every six months. But lately there have been all sorts of technical issues and I won't bore you with all the intricate details. Largely because I don't really understand the problems in spite of spending at least five minutes on various message boards attempting to troubleshoot and ultimately realizing that I don't really know much about the internet.
However, yesterday, we decided to give it a go one more time since she was stuck at home in the middle of ICE STORM 2011 and I was at home because that's what I do. Sure enough, after about thirty seconds of conversation, the iChat kicked us off. I suggested that she call one of our friends in an attempt to pinpoint the origin of the technical issue. In other words, I was hoping she'd have the same problem and I wouldn't have to shoulder the blame all alone.
Alas, she had no problems with the iChat. Which could only mean that the internet issues are on my end. Which meant that I was forced to call AT&T customer service and spend an hour of my life in utter frustration as I reset my modem and waited while they ran diagnostic tests on the internet.
(Is this the most boring post ever? Because it feels like it from this end.)
To make a long story short, two hours later we were still unable to get the podcast to work and I can no longer access our home email.
Perfect.
Like I haven't suffered enough at the hands of AT&T and their Cotton Bowl.
If anyone has any idea what the issue may be, I'd appreciate your input. The error messages keep saying something like "Remote ip blah blah blah trying to connect to remote ip blah blah blah" and I'm about to suggest that we get out one of those old-fashioned cassette players and just record something on a tape.
In the meantime, my podcast microphone has been turned into a device to secure balloons to the floor.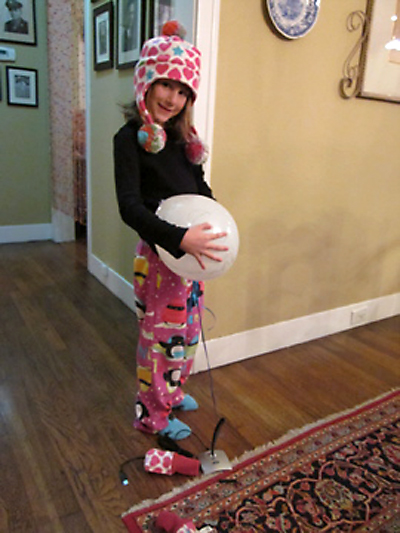 At least it's good for something.