Dear Friends from the Internet,
I don't know that I've ever loved y'all more than I did yesterday when y'all went above and beyond to tell me all about your preferred television shows. Although I have to say that many of you way underestimated me by assuming that I don't watch Glee or Modern Family or Chuck. I merely mentioned the new shows I'm auditioning to become part of my regular rotation because who has the time to read all my various programming choices and the reasons why they are dear to my heart?
And I do become invested in my shows. Hence the reason I am already mourning the imminent end of Friday Night Lights. I don't know what I'm going to do without Eric and Tami Taylor. The sky won't be as blue.
Not to mention that I found out yesterday that Brad is leaving Rachel Zoe, Inc.
I DIE.
I AM DEAD.
Oh, and that Brad Womack is going to be the new bachelor. Which just goes to prove that there are a lot of single women out there who think they are going to be the one to make a handsome bar owner with commitment issues settle down and change his ways. Here's a secret, play the lottery instead. The odds are better.
But enough about television. For now.
Yesterday was such a gorgeous day. In fact, the whole week here has been absolutely perfect. I've even worn sweaters for about three hours every morning before the temperatures get back up to the mid-80's and I remember that October is too early to wear sweaters in Texas. I've only been a Texan my entire life so it's understandable that I have to relearn this same principle every single fall.
Anyway, I went to our church in the morning to help register women for Bible study, even though I am completely paranoid about being in charge of any type of administrative duties. That is not one of my gifts. Mainly because it involves things like details. And numbers. And sometimes even basic math skills.
After I finished up, I decided on a total whim to drive out to Boerne (It's a little town outside San Antonio and is pronounced like Bernie. As in Bernie Mac, but without the Mac.) I'd gone out with my friends from Birthday Club the night before and a few of them were talking about some great little boutiques in downtown Boerne. So I turned up a little Pat Green on the stay wag stereo and made the thirty minute drive out there intending to only stay for about an hour.
So, naturally, I found myself finally heading back home three hours later. I had the best time looking in all the antique stores and home goods stores and clothing boutiques. And I found some treasures that you can't find just anywhere.
Like this vest.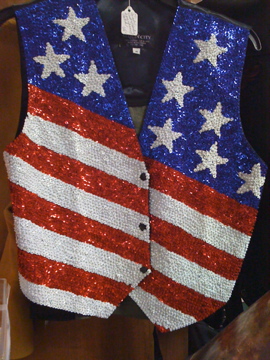 No, I didn't buy it. But GOD BLESS AMERICA that it exists.
And speaking of America, the land of opportunity, check this out.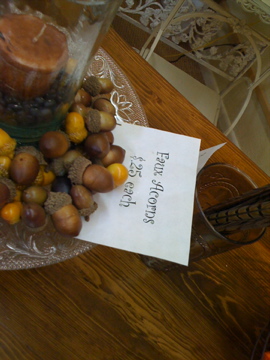 Acorns. Twenty-five cents apiece.
Caroline totally cut me a deal on the acorns she sold me. I had no idea the acorn market was so lucrative.
Then I saw this framed Lonesome Dove Trail map and fell in love.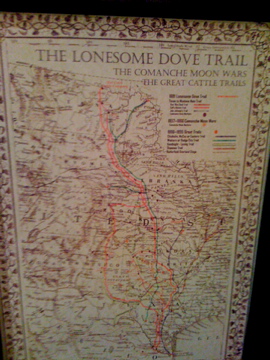 I've decided I want some type of vintage Texas map to frame and hang in my living room, but this one was more than my standard $15 price limit so I had to pass.
I also passed on these melamine plates that I debated buying to hang in the kitchen.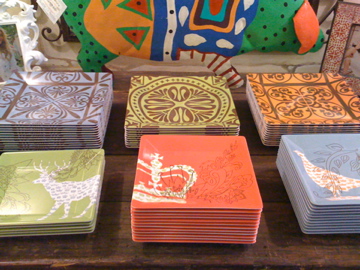 And now I think I regret that decision.
However, I did make one purchase.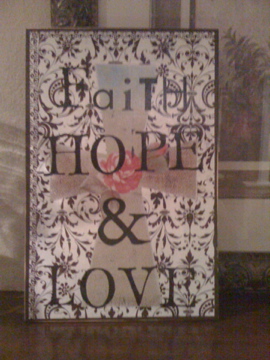 I'm not even sure where I'm going to put it, but I loved it immediately. The picture really doesn't do it justice. The store owner told me it was made by a local Austin artist, but she couldn't remember her name. Which makes me sad because I'd love to see her other stuff. This was the last piece in the store.
Then I bought myself a veggie sandwich made on homemade wheat bread and drove back home to pick up Caroline from school.
When we got back home I showed P my new piece of art and he asked, "Is it supposed to look like that?"
I realize it's no roll of toilet paper on top of a toaster oven, but I guess beauty is in the eye of the beholder.
_____________________________________
My friend, Travis, released his first book a few days ago. It's called Surprised by Worship and I can't recommend it enough.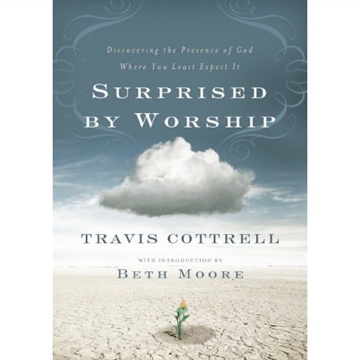 It's on sale on Amazon. Just click on over to order a copy. And no I'm not getting compensated or anything to mention it. It's just a great book written by a dear friend.
____________________________________
There's a new Kellogg's giveaway on my giveaway page. Click over here for a chance to win $100 gift card.