I'm just going to go ahead and prepare you that this week may be a week of schmaltz and sentiment. Maybe it's because I've had a lot of emotional moments this past weekend or maybe it's because I'm in the middle of a horrendous bout of PMS. Or maybe it's because I had to go to church yesterday morning without sufficient time to fix my hair the way I wanted because P thinks the bathroom is a place to catch up on his reading.
Most likely, it's some combination therein. Just be warned, SCHMALTZY.
Which is actually the word I need to use instead of just plain schmaltz since I just looked up schmaltz on wikipedia to make sure I wasn't going to inadvertently offend anyone and discovered that schmaltz refers to rendered goose fat. Rest assured, there will never be a week that I will focus on rendered goose fat. Especially in light of all my issues with poultry.
Last Thursday night, my friend A.J. had a date. She's been in town for all the Fiesta events because she is the official photographer for King Antonio, but on Thursday she was actually attending a party in a non-official capacity. She was just going as a girl with a date.
She told Gulley and I about the event weeks ago and we begged her to let us do her hair and makeup because we enjoy living vicariously through people who have a social life. It's not that she isn't capable of doing her own hair and makeup, but she is a little bit of a tomboy and just can't be bothered with all that girly stuff most of the time.
And, honestly, it works for her. She is a natural beauty.
This is her before shot: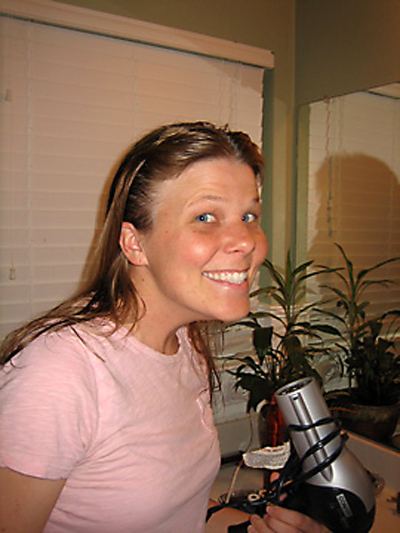 Can you tell she was so pleased that I wanted to document the experience with photos?
She showed up at Gulley's house with freshly washed, damp hair, so I told her we needed to blow dry her hair before we could do anything else and asked, "Did you already put some product in it?"
"What do you mean product? I used shampoo and conditioner."
"You know product? Like volumnizer or some type of styling serum?"
"I don't even know what you're talking about."
Clearly, I have heretofore failed her as a friend and a mentor.
We introduced her to the power and wonder of styling products and then Gulley began to blow dry her hair. And then I got serious with the hot rollers because that's how I roll. (Every time. I'm powerless against the pun.)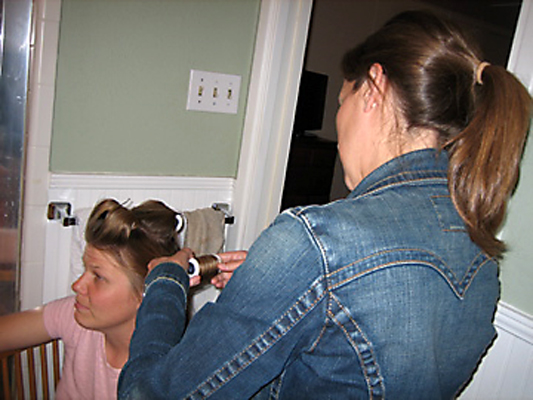 She began to look a little nervous so I assured her that it was not my intent to make her look like a member of the cast of Hee-Haw and she said, "What's Hee-Haw?"
Then I cried because I am old. And I vividly remember a day (yesterday) when I would openly mock people who make dated cultural references.
After I secured all the rollers in her hair, Gulley took over with the makeup. Because while I feel secure in my ability to do good hair (name that movie), I'm not as confident when it comes to doing anyone's makeup other than my own. And, honestly, I could use a lesson in the proper application of eye makeup.
Gulley began to apply foundation to A.J.'s face while I sat on the edge of the bed and watched. All of a sudden I looked down and noticed she was wearing a pair of camo Toms. Knowing she had open-toed shoes for the party I asked, "Have you painted your toenails?"
"Yes."
Oh, but I know her.
"When?"
"I don't know. A few weeks ago."
We made her take off the Toms and the polish was totally chipped and unacceptable. At first she attempted to paint them herself. Even though she totally balked at the hot pink polish I picked out.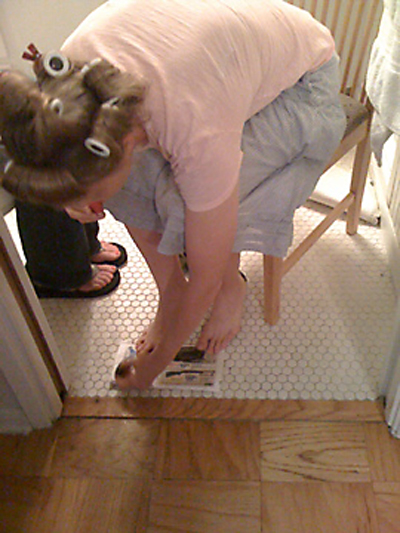 But eventually Gulley couldn't stand it and took over.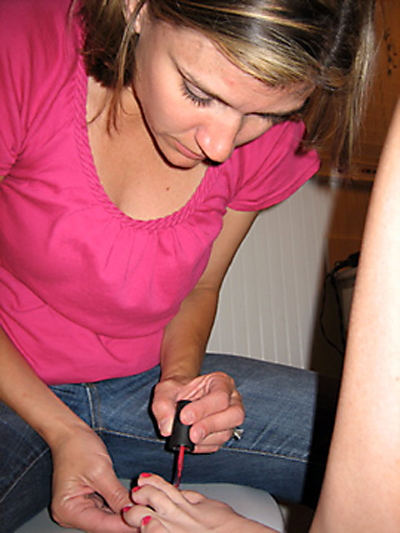 We are nothing if not a full service operation.
It was around this time that Caroline and Will came running into the bedroom, stopped right in their tracks and Will yelled, "What are you doing to Alissa?"
I said, "We're making her look pretty. She has a date tonight."
As they ran back out of the room, I heard Caroline tell Will, "Dates are disgusting. She might kiss a boy. I don't EVER want to go on a date."
Don't think I'm not going to remind her she said that when she's fifteen and begging to meet some boy at the movies.
Ultimately, the makeup was applied, the hair was teased and sprayed until I depleted the ozone, and she was ready to go. We wanted her date to pick her up at Gulley's house but she declined for some reason. I hope it didn't have anything to do with the kids' belief that a whoopee cushion is the best way to break in a new acquaintance.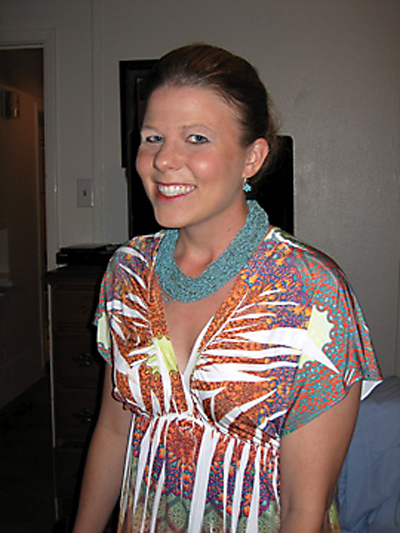 Here's the back of her hair. I only stabbed her with about sixty bobby pins before it was all said and done.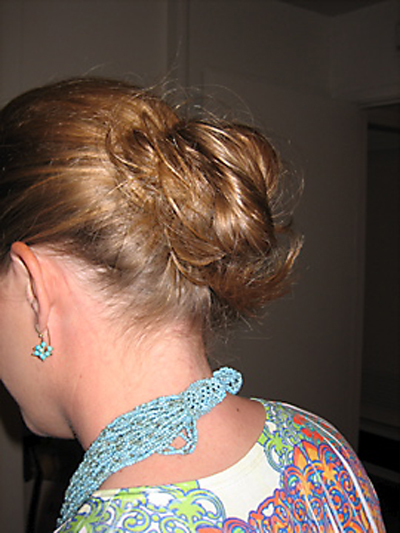 We made her put on one more swipe of lipgloss, hugged her, gushed about how beautiful she looked and sent her on her way. And then we cried just a little bit.
Because here's the thing. Thursday night was the three year anniversary of her mother's death from pancreatic cancer. And her mother was one of the most loving, beautiful women I've ever known. She had a smile that could light up a room and a way of making everyone she came in contact with feel like they were the most special person she'd ever met. In the time that I knew her she taught me so much about being a good wife and mother just by her actions.
A.J. is such a tomboy, but her mother was more of a girly girl. There were many times when we'd walk out the door to go somewhere and she'd holler, "Don't forget to put on some lipstick!" or "Get back in here and put on some earrings!"
At the time Gulley and I pleaded to do A.J.'s hair and makeup for the party, neither of us realized the significance of the day. We just thought it would be fun. And when it did dawn on us, neither of us knew if we should even bring it up.
But that night as we rolled her hair and helped her with her eyeliner, she said, "Kay is up in heaven dancing with Jesus because y'all are making me paint my toenails hot pink."
This story isn't about Gulley and me helping A.J. get ready for a date. It's about God's faithfulness.
Gulley and I met A.J. twelve years ago when we were chaperoning a ski trip and she was a fifteen-year old girl who fascinated us with her stories of spending summers doing Outward Bound Adventure camps and using leaves as toilet paper. Honestly, I think we got on her nerves with all our questions, but she was the closest thing to a pioneer that we'd ever encountered and we were fascinated.
Back then none of us could have known what the next twelve years would bring. We couldn't have imagined that her mother would be gone and she might need a few women in her life to fill just a little bit of that gap. But God knew.
Even though Thursday night was just about some hot pink nail polish and lipstick, it was a reminder for me of how faithful He is even in the small things. A reminder that He sees the whole picture even when we don't and to everything there is indeed a time, a plan, a purpose.
And plenty of hair product.