At some point on Friday morning I finally got over the fact that I'd managed to delete almost my entire Fashion Friday post and the whole host of links that I'd worked tirelessly on throughout the day on Thursday, but then Sophie texted me and asked if I'd checked my auto-save feature to see if a copy of it might still be saved there. And, lo, I had no idea such a thing existed and THERE IT WAS. Not in its entirety, mind you, but enough of it to restore my faith in computers and the internet and humanity.
I debated putting up the post late Friday afternoon but decided to wait until later on this week because I don't know why. It just seemed like a good decision. Plus, I finally found my copy of the 30 Day Shred DVD and, after two days of Level One, I had been rendered almost completely incapable of any movement and could hardly bear to speak on Friday unless it was to complain about how incredibly sore my muscles were and lament that I have apparently failed to use my delts or whatever those muscles are in my arms for the better part of the year. My theory that carrying in the groceries is all the workout my arms need has been proven totally false.
I also may have had to tell P that if he came home and couldn't find me he should probably check the bathroom because there was a 78% chance that I might sit down on the toilet at some point and not be able to get back up.
Is that too much information?
Probably so.
Anyway, it was a good weekend and not just because my fears of getting stuck on the toilet were never realized. On Friday afternoon, Caroline's school had their annual school carnival. It just so happened that it was the hottest April 1st on record since 1939 which made it extra special to be working at the snow cone booth. By the time Caroline and I made it home at 6:00 p.m., I was covered in cherry syrup and have a pair of shorts that will never be the same. My only consolation was that she failed to win a goldfish even after spending the bulk of her tickets in what turned out to be a futile attempt. Instead, she won the cakewalk on her first try and we came home with a pan of brownies. And everyone knows that homemade brownies trump a goldfish any day of the week.
P didn't get home from work until late that night because 'tis the landscaping season, so Caroline secured herself a dinner date with Mimi and Bops while P and I ate a late dinner of takeout Mexican food and promptly fell asleep on the couch. We live in the fast lane over here.
Caroline had a soccer game Saturday morning. I don't know if I've mentioned it but the Cheetah Girls changed their name to the Magic. I'm not totally sure why they felt the need for a name change, but I'm just grateful they ended up with the Magic instead of their original choice, the Lizards. I think they would have had some lingering regrets over being the Lizards.
They played a great game and Caroline scored two goals. It was a big day. She had the eye of the tiger.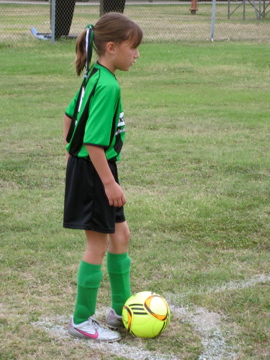 Later on we attended a birthday party complete with ice cream cake and an enormous bounce house.
On Sunday morning we woke up for church and P made the comment that we had to drive his truck because he needed to take a pig to church. I got on the Twitter and said I was afraid to ask why we were taking a pig to church and if it was dead or alive. For those of y'all who wondered, it was dead. And in a cooler. And will go to provide meals for the homeless. Which is so much more socially acceptable than showing up at church with a live pig. Isn't it? Or have I just been completely desensitized to what is normal behavior? I mean, there was probably a time I would have believed that showing up at church with pork in any context other than in the form of a honey-glazed ham for a potluck dinner was a faux pas.
But those days of pork innocence are gone.
And then there was this.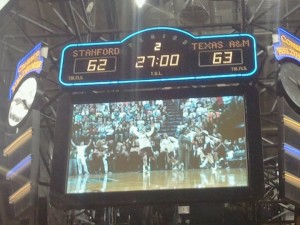 The Texas A&M women's basketball team beat top-seeded Stanford and is going to play for the National Championship on Tuesday night.
Gig'em Aggies.
And that was the weekend.