I'm sitting here on the couch, hoping I can still manage to write an entire post about our weekend now that I just found out that Duran Duran has cancelled their concert tour. The official reason given was something about Simon LeBon needing to rest his vocal cords, but I think all of us who spent the better part of the 80's listening to "Hungry Like the Wolf" know that's probably just public relations code for "hip replacement".
It's not easy watching your teen idols become eligible for Medicare.
Okay, so we had a great weekend. Caroline spent all last week going back and forth to day camp and so most of our mornings looked like some version of this.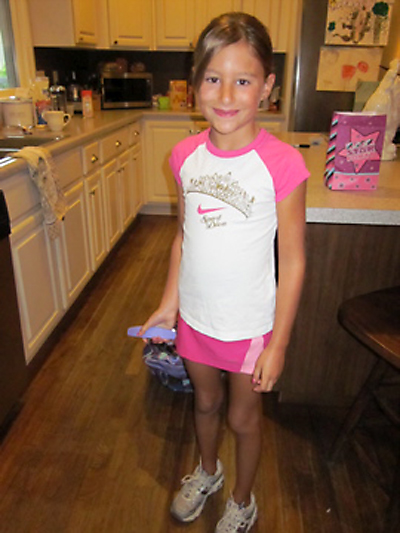 It's not easy re-training yourself to wake up at 6:45 when you've been in full on summer mode but she had a great time and I was able to accomplish at least seven things that I wrote on my Summer To-Do list. None of which are interesting enough to tell you about.
On Friday afternoon, P and I drove to camp for the closing ceremonies and got caught in horrific traffic that made us run late even though we'd given ourselves what we believed to be PLENTY of time. Naturally, this sent me into some sort of internal panic featuring Caroline standing by the camp gates waiting on us to arrive.
Fortunately, she didn't even realize we were late. And so we didn't volunteer that information because DRAMA. But we made it in plenty of time to meet her counselors and hear them describe their week. Then we went to eat Mexican food with several friends.
Most of Saturday was spent recovering from camp until it was time for Caroline to go to a friend's birthday party. And Sunday is a total blur. I think I may have taken a nap. I'm also certain we went to the pool.
Then came the fourth of July.
We started the day getting ready for the neighborhood parade.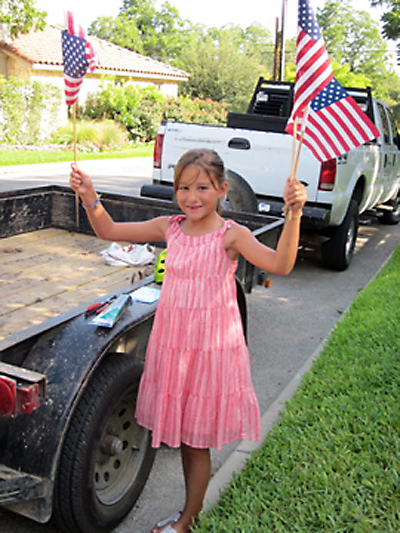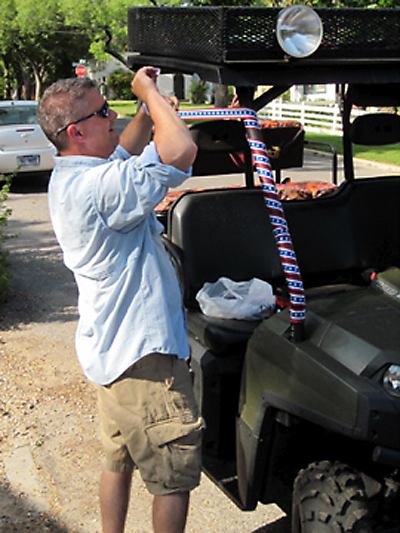 And then we headed out for the festivities.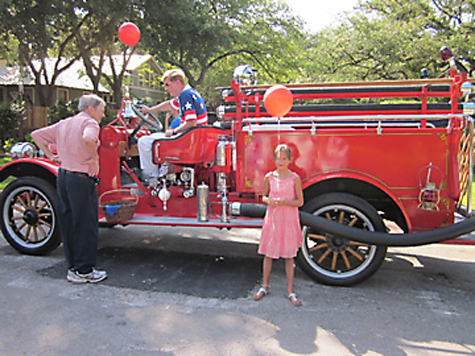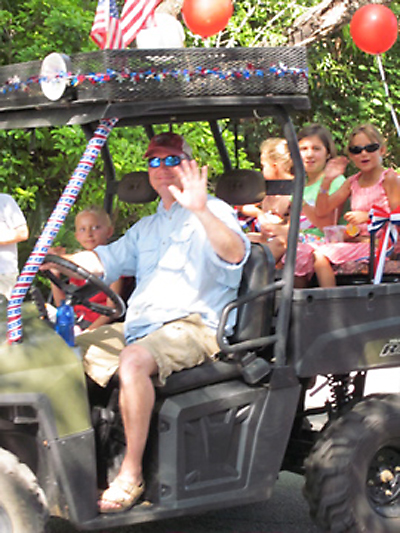 I adore the neighborhood parade because it feels like you've stepped back into a simpler time. The neighbors all gather, they pass out song sheets and everyone drinks lemonade and eats cookies while we sing a few rounds of God Bless America and America the Beautiful. It's a perfect little slice of a Norman Rockwell painting.
Except Norman Rockwell never featured a decorated all-terrain vehicle in his work.
After the parade, we went home to change into our swimsuits and made our way to the pool for all the big fourth of July fun. Caroline was SUPER EXCITED about the belly flop contest which wasn't being held until 6:00 p.m. so we knew we were in for the long haul.
However, what we didn't know about was the Watermelon Seed Spitting Contest being held at 3:00. They announced it shortly after we arrived and it immediately piqued Caroline's interest. And so she got in line to be part of it. And in case you're wondering, the Watermelon Seed Spitting Contest or the WSSC for short, is all about accuracy. There is a chalk drawing of a target and it's all about hitting the bullseye.
My point is that, CLEARLY, it's a game of skill. And, as Coach pointed out, THIS IS NOT THE YMCA, ONLY THE WINNERS RECEIVE A MEDAL.
Here's Caroline picking out her seed.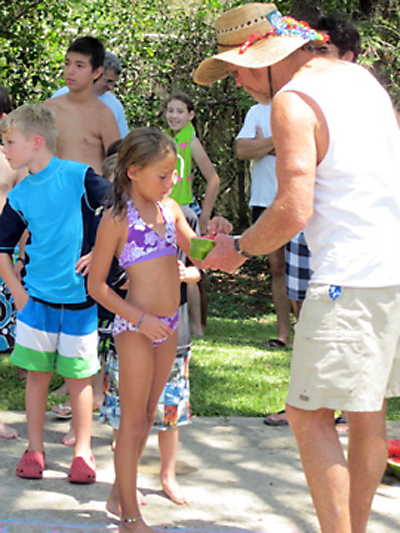 The spitter steps up to the line and spits the seed. (Please read this in a golf commentator voice.)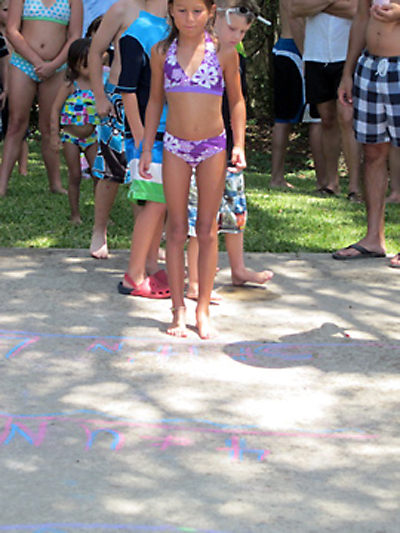 I realize I cut off her head, but the seed-spitting tension distracted me.
The official measurement landed her in first place. But there was still a whole line of kids left to spit. Including several teenage boys.
Gulley's husband was the first to point out the tension on Caroline's face and she watched to see if she would maintain the lead.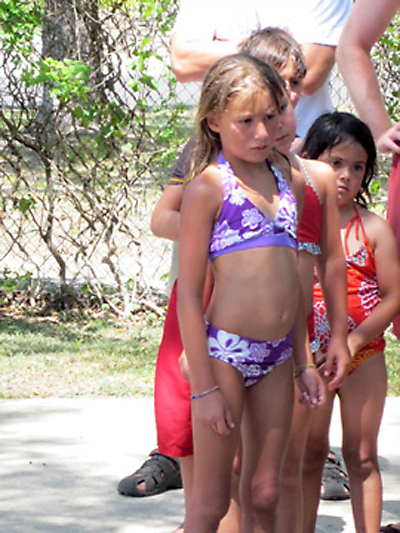 Finally, with only one spitter left, she started to crack.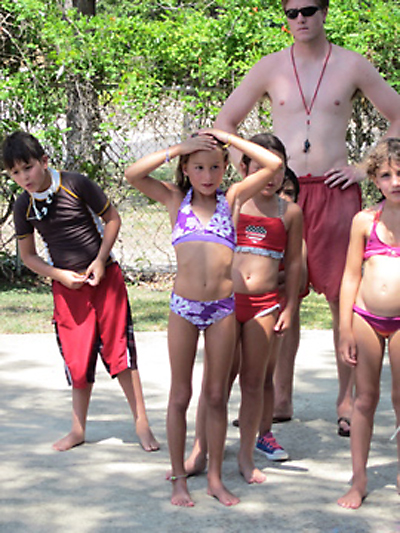 But all other spitters failed to measure up and she was announced the winner.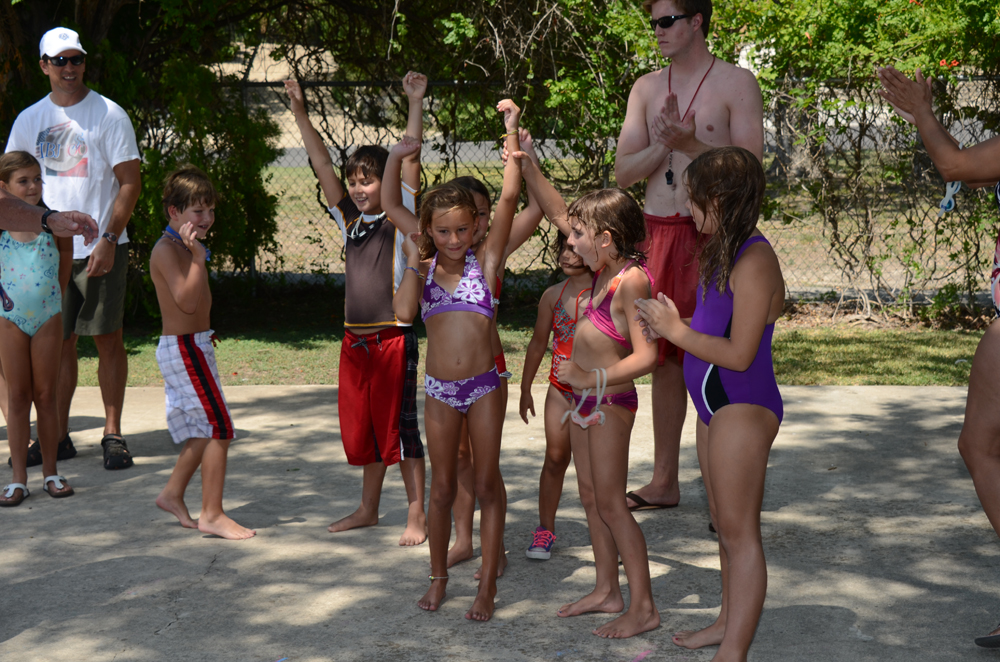 And what did she win for her efforts? A cruise? A $500 scholarship? A new pair of goggles?
NO.
The rest of the watermelon that they'd used for the contest.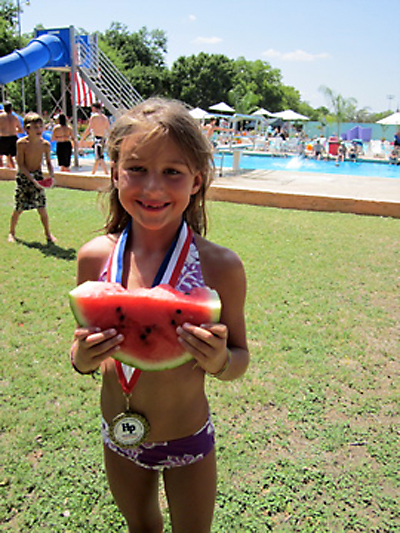 Not to mention a shiny medal and the bragging rights that come with knowing you've out-spit every boy at the pool. And you can't put a price on that because it's the kind of thing you can put on future Miss Texas pageant applications.
Later on the kids all participated in the coin toss. Here they are right before the official whistle blew.
I think they each gathered upwards of $1.27 for their coin-collecting efforts.
And, FINALLY, it was time for the much-anticipated belly flop contest. I wasn't nervous about it because I figured Caroline already had a medal for the day, but she had the eye of the tiger. She'd even put on her swim shirt, not because of my repeated warning about skin cancer, but in a strategic measure to lessen the pain of the belly flop.
She stepped up to the board.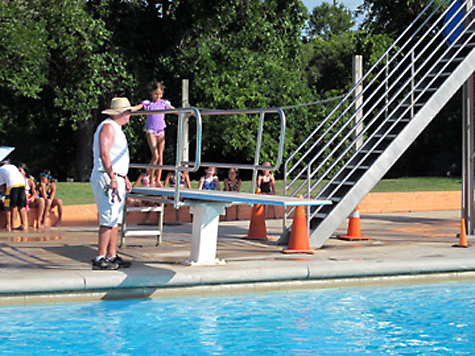 And executed a perfect flop.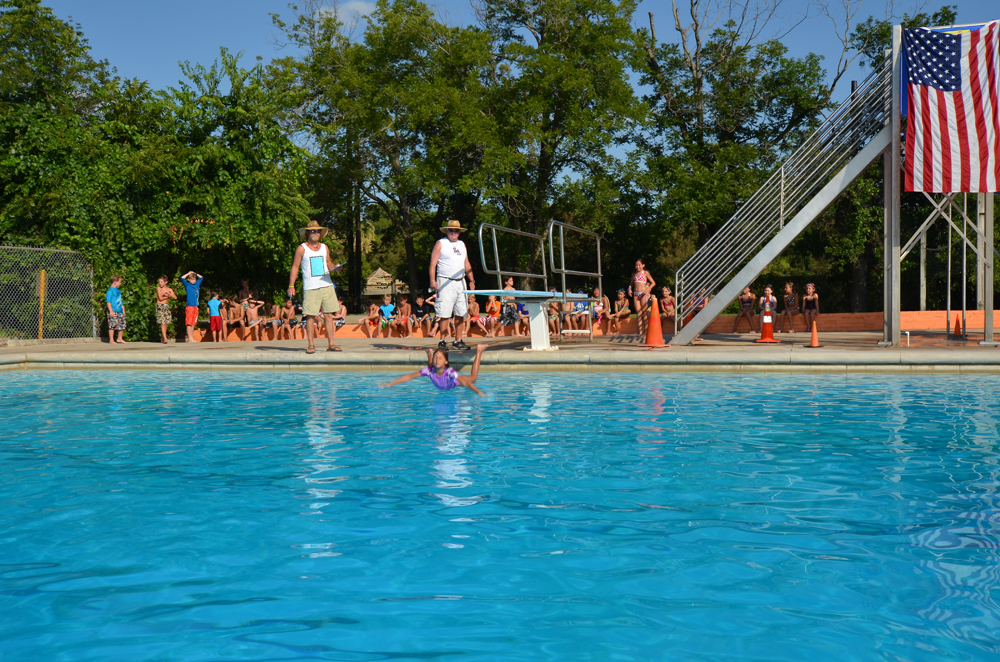 The crowd went wild. And she got her second first place medal of the day.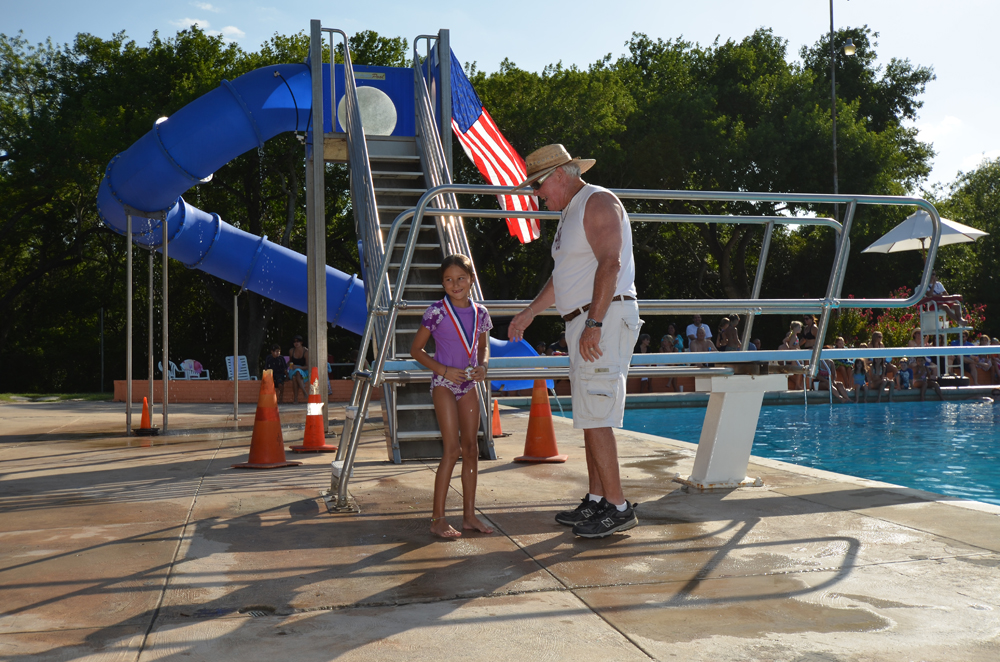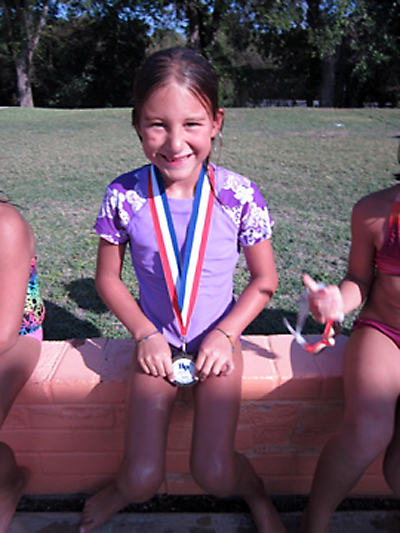 She said the key is to push past the pain. Which I believe is what I told myself seven years ago while I was in labor. Never could I have imagined that baby girl would grow up to be so delicate and dainty.
Then it was time for the boys' belly flop competition. Gulley's youngest, Will, had been practicing for hours. Honestly, I don't know how his stomach wasn't raw from all the practice flops, but he wanted a medal more than anything.
We were so nervous as he walked up to the board. This was his first belly flop competition. What if the nerves got to him? What if he cracked under the pressure?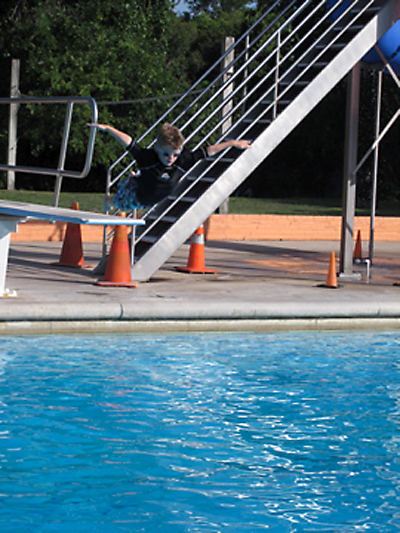 He didn't crack.
Will got his medal and if it's possible to strut while you swim that's exactly what he did as he made his way to the ladder to climb out of the pool.
Eventually we loaded up all our medal hardware and came back to our house to grill hot dogs and let the kids celebrate with some forbidden sparklers because we are just that rebellious and out of control.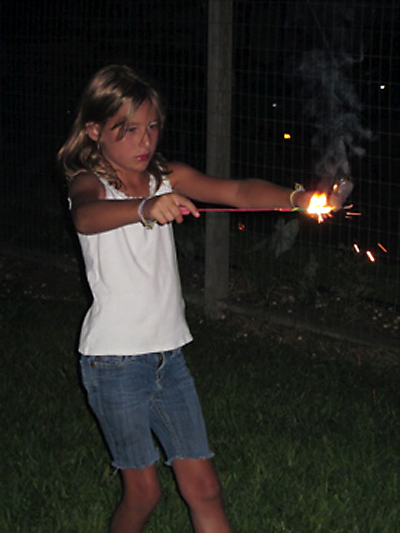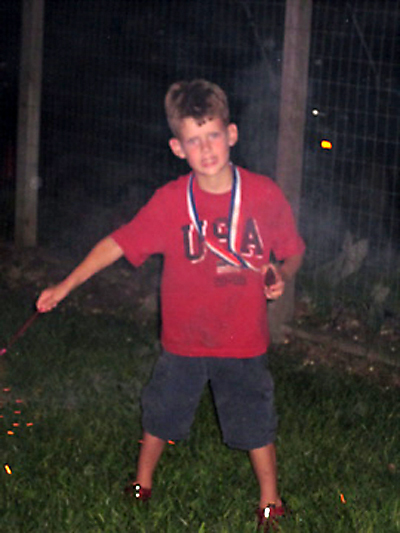 The city is in the midst of a major fireworks ban thanks to the drought, but we figured a few sparklers couldn't hurt. P really wanted to set off a few other things he had in the back house but I reminded him it's all fun and games until the police issue you a $500 ticket.
I called Gulley yesterday morning to recap the day. She told me that Will had slept late and eventually come staggering out his bedroom still half asleep and asking for his medal. At that moment he was laying on the couch in his underwear, wearing his medal and watching Phineas and Ferb.
I like to believe the Founding Fathers celebrated similarly the day after the original 4th of July.
Or that maybe it's what Simon LeBon is doing right now while his "vocal chords" heal.
Copyright secured by Digiprove © 2011