I took the day off from the blog yesterday so we could thoroughly celebrate Christopher Columbus Day in our traditional manner. We gathered as a family and made maps recreating the route Columbus most likely traveled on his way to discover the New World using all-natural materials we gathered on an early morning nature walk. And then we finished the evening with our individual interpretations of games that might have been played on the Nina, the Pinta and the Santa Maria when they weren't busy battling scurvy.
Or maybe we just went to the large outdoor mall and took advantage of the all the sales going on in honor of Columbus's brave voyage across the ocean and then ate leftover taco soup for dinner.
I can't really remember.
On a related note, I'd like to think there was a moment in their treacherous voyage when they felt all might be lost and Columbus stood on the deck of the Pinta (or maybe the Santa Maria) and said, "My fellow travelers, take heart. If we survive this adventure we will be immortalized forever by future generations of this new country who will take a moment on the second Monday each October to buy sheets and towels at up to 50% off. Now everyone head to the Lido Deck for some shuffleboard."
Except he probably would have said all that in Spanish.
If I cared about authenticity or knew how to write anything in Spanish beyond "El burro es un animal de Mexico" I would write the real version.
Anyway, this weekend was a first for me. P took Caroline to the ranch with him for the whole entire weekend. Like they left on Friday around noon and didn't get home until Sunday evening at 6:30 p.m. Honestly, I didn't know what to do with myself.
Caroline had me put flowers in her hair before she left for the ranch because she wanted to make sure she looked pretty in the pictures after she shot a hog. Boys are never going to be able to figure her out. And that's fine with me.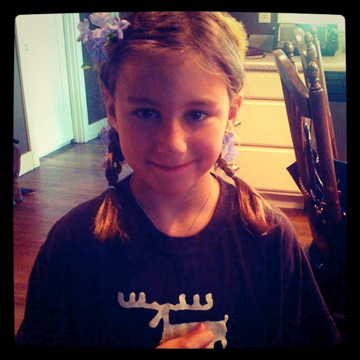 I spent most of Friday afternoon shopping for a friend and then Gulley came over for what we like to call "wine time" on Friday night. We solved at least 62% of the world's problems. Sadly we cannot help you with the remaining 38% although we are always willing to make something up.
On Saturday morning I slept until the crack of 9:30 after staying up way too late watching School of Rock the night before. I don't know why it always sucks me in, but it does. I blame Jack Black.
I was debating what to do with my day of freedom when Gulley called to tell me she'd gotten the thumbs up to go shopping with me. And so we ventured out to the mall in search of fall clothes for Gulley. Which felt like the perfect way to celebrate the spirit of Columbus. The mall was packed and confirmed my belief that malls should really be avoided on the weekends, but we did find a few cute things.
And then I went over to Gulley's to watch the Aggie game because I enjoy her company and also because she'd made pulled pork for dinner. There were a few moments when I worried that the pulled pork might be the best part of the evening, but I am relieved to say the Aggies pulled out it and we beat tech. Hallelujah and amen.
I made my way home around ten and was still wide awake. Which is how I ended up discovering the show Army Wives on Netflix. Y'all. I'm now a little obsessed with it. I'd nearly started watching it about six months ago but when I said something about it to Gulley she mentioned that Nena watched it and I didn't really take that as a ringing endorsement.
But late Saturday night I watched the first episode. And then the second episode. And I am officially hooked.
Sunday morning I woke up to the sound of driving rain and rolled over in the knowledge that God loves me. There are few things in life I adore more than a rainy morning when I don't have anywhere to be and, since we've been in the midst of a record-breaking drought, I can't remember the last time that happened.
It was delightful.
I spent the rest of Sunday trying to get some writing done. Or maybe I spent it watching episodes of Army Wives. It's all a vague memory now. But I am going to be so sad if something happens to Roxy's husband. Please don't tell me if you already know.
And then before I knew it, my people were pulling up in the driveway. They were sleepy, dirty, and smelled of gunpowder and hogs but I've never been more glad to see them. Especially after they both had a shower.
We all sat on the couch and spent the rest of the night catching up on all the weekend adventures. And I've never felt more grateful for Christopher Columbus. Because without him we might be living in Spain. Which would be really hard because I don't speak Spanish.
Except for the thing about the burro and how often does that come up?
Copyright secured by Digiprove © 2011