Do you remember when I mentioned about two weeks ago that I'd gone to get a passport photo taken because my passport was about to expire? Not that I expect you to remember. I can barely recall it myself and it's my life. But I do remember being kind of surprised that no one asked me why I needed a passport.
I guess all my attempts to convey how glamorous my life really is have paid off. Of course I guess it's obvious that a 40-year-old woman who spends an entire weekend by herself watching Season 1 of Army Wives on Netflix likes to live life in the fast lane.
Well I Fedexed my passport renewal application, two new passport photos, and my old passport to the passport folks about two weeks ago. I assumed everything was fine until they called me on Monday to inform me that the State Department requested that I send in two additional passport photos.
"But I sent in the required two passport photos. I'm the girl with the long hair who looks like she's in the middle of asking 'Where?'"
They replied, "Yes ma'am. We received those photos but the State Department needs two additional photos."
"Why?"
"We don't know."
Okay. Thanks. That's incredibly informative.
So yesterday I went back to CVS to take yet another passport photo. I knew I was playing with fire to wear my hair back in a ponytail because I wore a ponytail in my original passport photo taken ten years ago and I have never looked worse. Ever. In fact, the bright side to this whole passport expiration has been the prospect of a better picture.
I even wondered if the State Department needed an additional photo of me because the photo on my original passport was SO HORRIFIC that they didn't believe the new photos I sent in two weeks ago depicted the same person. Maybe they thought there was some sort of international scam afoot involving an awkward girl with long hair who asks too many questions while getting her picture taken.
But, thanks to yesterday's passport photo retake, I can rest assured that Customs Officials everywhere will continue to be rendered speechless by the horror on my passport. Honestly, I don't know that my self-esteem has ever taken a hit like the one it took yesterday when the lady at CVS handed me my new passport photos.
The worst part is I walked in there feeling fairly good about myself. I had on makeup. And a cute jacket. It was the ponytail's fault. Along with some unfortunate side-swept bangs that were too far to the side thanks to the humidity. In related news, my forehead is enormous.
But (452 words later) none of that is important. What's really important is why I suddenly need to have a passport.
I've been invited to travel to Ecuador with Compassion International this November 7-12th. Needless to say, I am excited and scared and alternate between feeling like I can't wait another minute to get my hands on those sweet Compassion kids and wanting to throw up. We're going to spend a couple of days in Quito and then eventually make our way into the Amazon rainforest.
Excuse me while I go throw up.
Y'all. There are snakes there. And monkeys. Monkeys that aren't in cages. And piranhas. Obviously Caroline is just sick that she's not old enough to go with me because these things are her love language.
But in spite of my fear and a lot of stepping outside my comfort zone, I am beyond excited to go on another Compassion trip. When I went to the Dominican Republic three years ago it changed a part of my heart forever. It humbled me and made me grateful in a whole new way. It also showed me that so many of us walk around in our first world comforts with a poverty of spirit these kids don't have because they get that Jesus is everything. Not a new Wii or a fancy pair of boots.
Humbling. Convicting. Life-changing.
Shaun Groves and Patricia Jones will be our fearless leaders, along with our amazing photographer Keely Scott. The bloggers going in addition to me are Amanda Jones, Kelly Stamps, Ann Voskamp and Sophie.
Y'all, there are so many times when I think about how silly blogging really is. I mean why do I feel like anyone cares that I started watching Army Wives this weekend? And that I can't stop?
But it's moments like this when it all feels worth it. It's about something bigger. It's about these kids that could have so easily been forgotten but for Compassion International and their desire to give them hope and a future. My prayer is that you would follow our trip and consider sponsoring one of these kids if you haven't already or even if you have. It doesn't take much to change a life.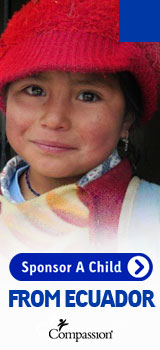 So if you want to pray that the State Department approves my new, even more hideous photos, for safe travel and easy trip preparations, and that God would use our words to make a difference, it would be appreciated.