YOU'RE WELCOME.
I'm just going to go ahead and get that out of the way because I am about to share an incredible fashion resource with y'all. It could change your life, or at least your closet.
This is even better than when I shared how to buy a bra and I happen to know that changed some people's lives. There were women who had been scared of wearing knitwear post-childbirth, but thanks to the proper use of underwire they now feel free to wear sweaters again.
And I won't even get into the women who were claiming to be larger than a B cup but were wearing tank tops with shelf bras as their means of support. Sister, either you're not larger than a B cup or you're putting your girls in serious peril.
Anyway, here's the tip. It's a site called SHOP IT TO ME.
The site asks for all your fashion information. The type of clothes you're looking for, brand names you prefer, and the sizes you wear in everything. You can even enter information for your child and your husband. I entered Caroline's information, but not P's because how many Columbia fishing shirts does one person need?
Once all your information is in the system, Shop It To Me will send you an email every Tuesday and Friday letting you know what's on sale in your size and where you can find it for any brand that you chose in your profile. It's BRILLIANT.
The internet never ceases to amaze and delight me. Next thing you know there will be a site where people can upload home videos for all the world to see.
On to the questions.
1. Jennifer asks: Alright, I have been putting off this question…What is the deal with WHITE…shoes, pants, when to wear them and when not?
The deal with white is that all good Southern girls are raised from birth to believe that wearing white shoes or carrying a white purse after Labor Day could lead to eternal damnation or worse, being permanently banned from Junior League.
However, while I would still never dream of wearing white shoes after Labor Day, or really EVER, the fashion world now smiles kindly on what is called Winter White.
Winter White can look very elegant and sophisticated, unless you are the mother of a child who may pat your bottom at some point during the day leaving behind a grape jelly handprint, then it just looks like an unfortunate wardrobe decision. That's why I save white clothing for child-free vacations or never.
This outfit from Ann Taylor is a good example of how to do Winter White.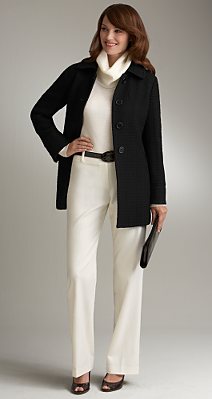 Please note that the shoes and purse are not white. If they were, this whole blog might actually self-implode and cause your computer to crash.
And also, your grandmother to gasp in horror.
2. Stacy asks: I have a question about pantyhose. I am from up north and was taught to always wear pantyhose, or tights for winter, with a dress or skirt for work. Is this just a northern thing?

I remember the first time I was allowed to wear hose instead of tights it was like a right of passage. I believe I wore them with my Yo-Yos which, if I remember correctly, were open-toe shoes. That's just unfortunate.
Tights are back in this year so I think you'll see women who live both north and south of the Mason-Dixon line wearing them. I think the fundamental difference is that Northern women wear hose and tights out of necessity whereas Southern women wear them according to if they are currently in style.
Nude hose, otherwise known as SUNTAN, are no longer in vogue. The days of the L'eggs Eggs are over and Southern women are now free to sport bare legs as God intended, UNLESS they work in a conservative work environment that still requires legs to be encased in nylon.
If you have to wear nude hose or just enjoy wearing them (does such a person exist?), then think sheer. The hose should be as close to your natural skin tone as possible. And for fashion's sake, do not wear them with open-toe sandals.
3. Beth asks: I'm in the cold North East where you can't really wear sneakers during the winter because the snow or slush is up to your ankles. What do I wear on my feet to go with a "sporty" look? Say I'm wearing yogapants, long sleeved layering T's and a ski jacket. Are there any kind of boots that look athletic enough for this? What would you wear?

Oh Beth. If you only knew how long I have deliberated over this question.
First, let me say that I wouldn't wear anything because if there was snow or slush involved I would be inside drinking hot chocolate with my feet as close to the fireplace as possible without causing them to spontaneously combust. However, that probably isn't a practical solution when you live in a place that has weather like that more than once every fourteen years.
So, I'm going to throw out a few suggestions for a sporty boot. At first I couldn't even imagine such a thing, but then I found these.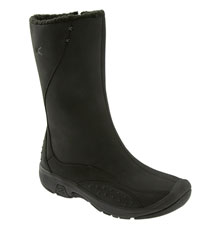 Or these.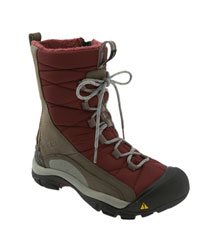 But as for me, on cold winter days, I will be wearing these.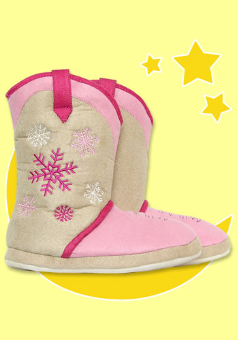 INSIDE.
4. Candace asks: I just realized that my husband's work Christmas party is "after 5 cocktail"- could you give me an idea of what this looks like. Do I have to wear a dress or skirt?

No, you do not have to wear a dress or skirt. Although you certainly can, as long as you don't wear white shoes.
Here's the best advice I can give you. Wear something you'll feel comfortable in. The last thing in the world you want to do is spend the evening trying to discreetly adjust your strapless bra in front of your husband's co-workers. Trust me.
And remember, you can never go wrong with a basic black dress. Unless you own a white dog that sheds a lot.
I would go fairly conservative since it's a work party, so maybe something like this.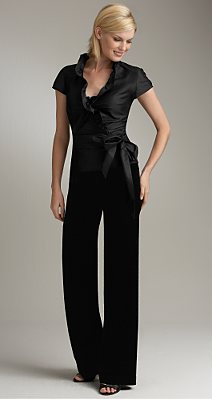 Or this.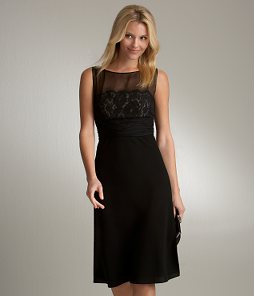 Or, for a little color, this.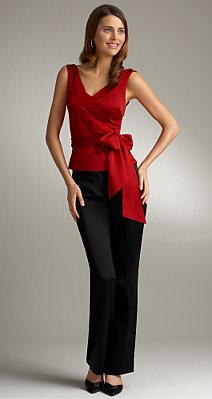 These are just a few ideas. The important thing is to find something you like.
And if that's none of these things, I won't take it personally. Although it is midnight and I am scouring the internet looking for things just for you.
That's it for this week. Don't forget to go sign up over at Shop It To Me.
There are sale items everywhere just waiting to be discovered.
If you have a question for next week, leave it in the comments.
Hope y'all have a fabulous Friday.