So about a month ago (or maybe longer but I can't really remember because the last two months have been a crazy blur and wasn't it just summer and why do people have Christmas lights in their yard when it's surely only August?) my sister called me with the news she'd found a hair product that had changed her life. Because in my family we don't believe in simply stating that something is really good, we like to go straight to IT CHANGED MY LIFE.
Naturally I couldn't wait to hear about the new hair product because, in the words of Truvy, there is no such thing as natural beauty. Amy told me all about a new clampless curling iron called the Conair You Curl and said it creates the best curls of your life. She informed me it doesn't make regular hot roller curls or normal curling iron curls, but curls that look like Kelly Ripa or Taylor Swift or Kim Kardashian.
Yes. I'd like to go to there.
Because Kim Kardashian may not know much about marriage but she has some good hair and Taylor Swift is just darling and Kelly Ripa kind of has a lollipop head but I do like her hair most of the time even though Regis and Kelly don't come on in San Antonio anymore because I guess our local affiliate is too cheap to pay for it. And I feel like I've watched celebrities on T.V. for the last year or so and thought their hair was doing something that I didn't know how to replicate, but couldn't figure out all the follicular logistics. I just chalked it up to a good stylist and maybe some tricky way of using velcro rollers.
But now Amy was telling me that she had created those curls for herself. And, not only that, the curl had lasted for two days. TWO DAYS. She warned me it was a little hard to use at first but that YouTube was full of video tutorials demonstrating how to use it and create fabulous hair in the comfort of your own home.
(I promise this isn't a paid advertisement or some kind of infomercial. I feel like I sound like an infomercial.)
(Buy one now for a limited time for only $29.99! We'll bill you in two easy installments and guarantee your money back if you're not completely satisfied after thirty days!)
So I drove to Target THAT VERY DAY and bought a You Curl for myself. But I didn't have time to try it out until the next day after I dropped Caroline off at school. I came home and watched a few of the tutorial videos on Youtube and decided it didn't look that difficult. It was just a matter of pinning up sections of my hair while I curled the back and sides.
This is where I need to interrupt myself to explain that I am a die hard hot roller girl. I have never been one to have the patience to curl my entire head with a curling iron. Why go to all that trouble when you can put in eight rollers at one time, do your makeup, take out the rollers and call it a day? I've always just used a curling iron as an auxiliary curling device to add some volume around my face.
However, there was a time in the late 80s when I may have used a miniature curling iron to enhance my spiral perm. And also to create bangs that were then curled and teased into oblivion. The 80s were a cruel hair time.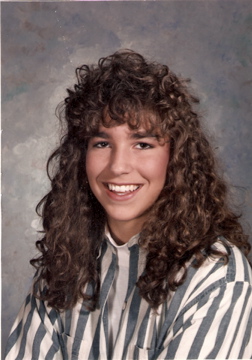 See what I'm saying?
Anyway, I opened up the You Curl box and was so pleased to discover it came with a heat-proof glove for me to wear while I curled my hair. Hair styling while rocking a glove on one hand like Michael Jackson? Yes, please.
And then I spent the next thirty minutes trying to emulate the curling technique I'd observed on all the tutorial videos. Only to discover that I am highly uncoordinated and couldn't keep the stupid Michael Jackson glove on my hand and that a ceramic curling iron heated to 360 degrees really hurts when you touch it with your fingertips.
All I managed to create were a few sad looking waves that were completely straight on the bottom because I never could figure out how to wrap all my hair around the clampless curling iron without it all sliding off before I curled the bottom. Granted, my hair is really too long right now. I'm in desperate need of a haircut and one chorus of "Don't It Make My Brown Eyes Blue" away from Crystal Gayle. So maybe that was part of my problem.
But I tried it on Caroline's hair the next day and managed to create some flawless, beautiful waves. This is where it would be so great if I'd taken a picture of it but I failed to document her perfect hair day and she hasn't sat still long enough to let me try it again.
And so the You Curl has sat on the shelf in my bathroom, taunting me with its promise of good hair and third degree burns, for the last few weeks.
Until Saturday night.
P and Caroline were at the ranch for the night and I decided I could take a break from my Army Wives marathon to make another hair-curling attempt. After all, it's humiliating to know there are videos of ten-year-old girls demonstrating how to use the clampless curling iron all over the internet when I couldn't even manage to get one lousy curl that wasn't reminiscent of the days when I'd crimp my hair with a waffle iron and throw it up in a banana clip.
So I washed my hair and blew it dry. Then I heated up the You Curl and didn't even attempt to use that stupid glove this time. And I'm proud to report I managed to create fabulous waves on ONE side of my head. For reasons that I don't totally understand but lean toward a diagnosis of hairstyling dyslexia, I couldn't quite manage to get the curls on the left side of my head to go the right way.
(I think a large part of the problem is explained by my need to tell you that I mean the left side of my head when I'm looking in the mirror. As opposed to what? The other left side of my head?)
But the results on the right side of my head gave me hope for the future. A belief that, with some work and perseverance, I can create a better hair tomorrow for myself.
And I think we all know that's what Kelly Ripa would want.
Copyright secured by Digiprove © 2011