I think it was last Monday (it might have been Tuesday) when I noticed that our old dog Scout wasn't putting any weight on his right front paw. I wasn't sure what was going on but P and I decided we should probably take him into the vet just to get checked out.
And the vet examined the leg and took some x-rays and called to say we could pick him up and that the diagnosis was arthritis. Well of course he has arthritis. He's thirteen years old. That's ninety-one in people years. Honestly, when you factor in that he had heart surgery as a puppy, he's a medical marvel.
But on Wednesday he was worse. All of a sudden he could barely walk at all. He had no energy and his leg was swollen and hot to the touch. So I took him back to the vet on Thursday morning and they called us to let us know he was running a high fever, needed a full blood work up to check for infection and high doses of antibiotics.
It's times like this when hindsight tells you pet insurance would have been a great idea.
And also figuring out a way to win the lottery.
Scout spent Thursday night at the vet and wasn't any better on Friday. The vet called with regular updates and P finally asked the question on both of our minds, "Is Scout going to pull through?". We were assured that they wouldn't be doing all this if they didn't think he could recover and then the doctor made a comment that we've been mulling over for the last few days. He said, "He could get through this and probably have a good eight months left."
Here are my thoughts on this in numerical format:
1. Eight months seems like an arbitrary number. How does he determine it will be eight months?
2. If you're a person, eight months is significant. If you're a dog, I'm not sure that eight months really means that much. It's not like Scout has to get his will and other financial affairs in order. Because, I assure you, Scout is flat broke.
Anyway, Scout spent the entire weekend at the vet. And he's still there. Caroline and I went to visit him yesterday and they think he'll be able to come home tomorrow. And I guess we'll live it up for the next eight months. Maybe we'll take him to Disney World or the dog equivalent which is to go to the ranch and roll in fresh cow poo.
But in all seriousness, I'm glad he's going to be okay for now. I wasn't ready to say goodbye.
In other weekend news, we had a big Cinco de Mayo celebration here. Or as we called it, a Crawfish de Mayo celebration.
Caroline and I even made a sign.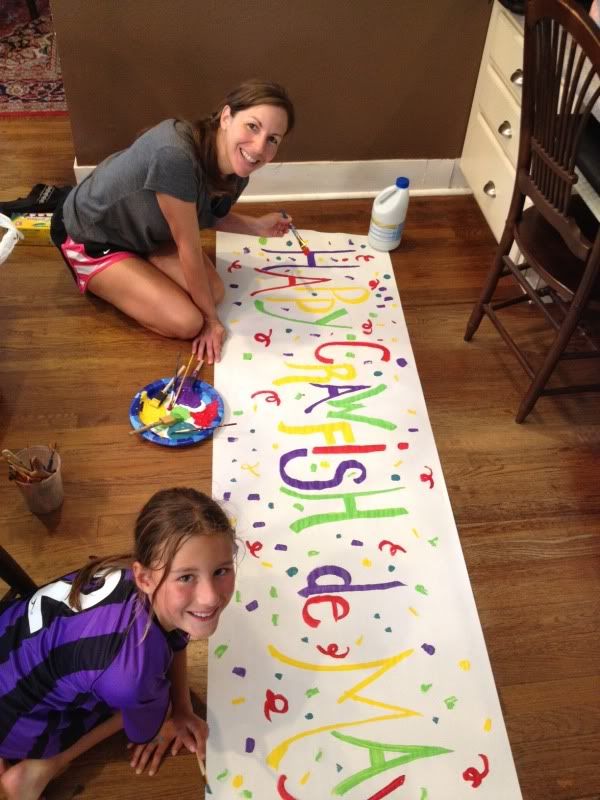 And then she made another sign all by herself on her chalkboard.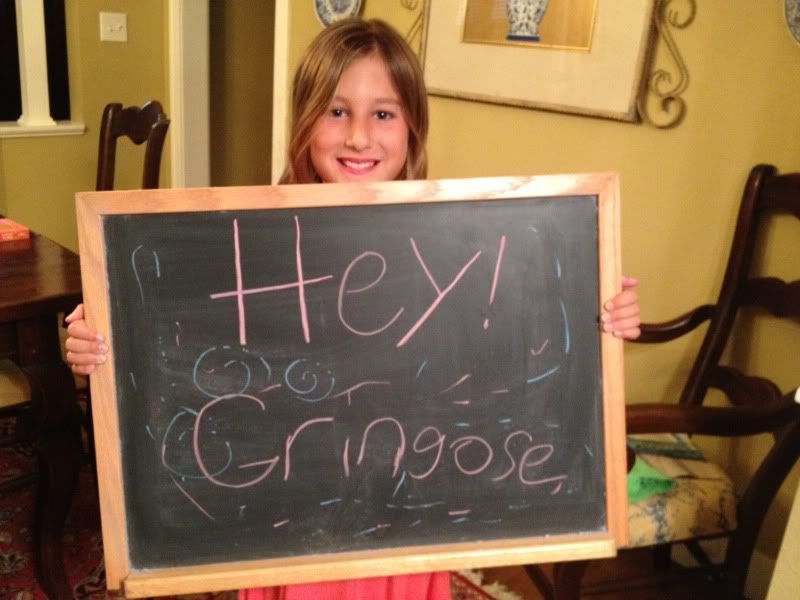 We hung both of them up.
A few weeks ago P decided to order a bunch of crawfish from Louisiana and have a big crawfish boil. And then we realized we'd set the date for Cinco de Mayo. And, lo, a tradition and a party theme were born.
A theme where guacamole and crawfish walk hand in hand or claw in claw in peace and harmony. But not together because gag.
Best of all, the entertainment for the kids is built right in. It flies in the face of every time I've told Caroline she shouldn't play with her food.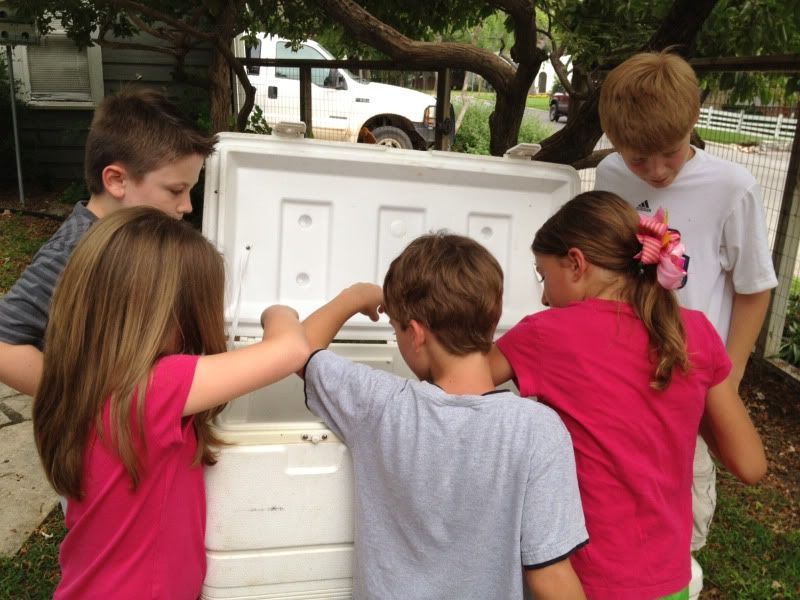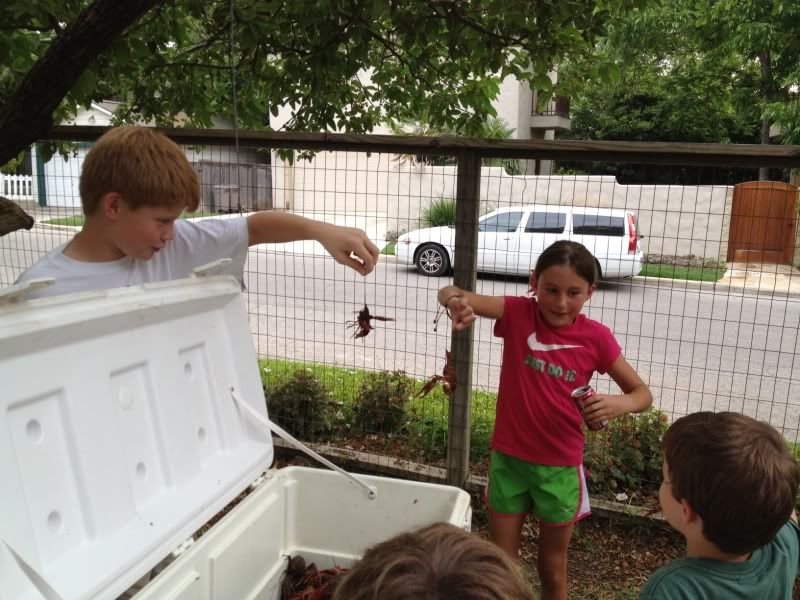 Of course maybe that apple doesn't fall far from the tree.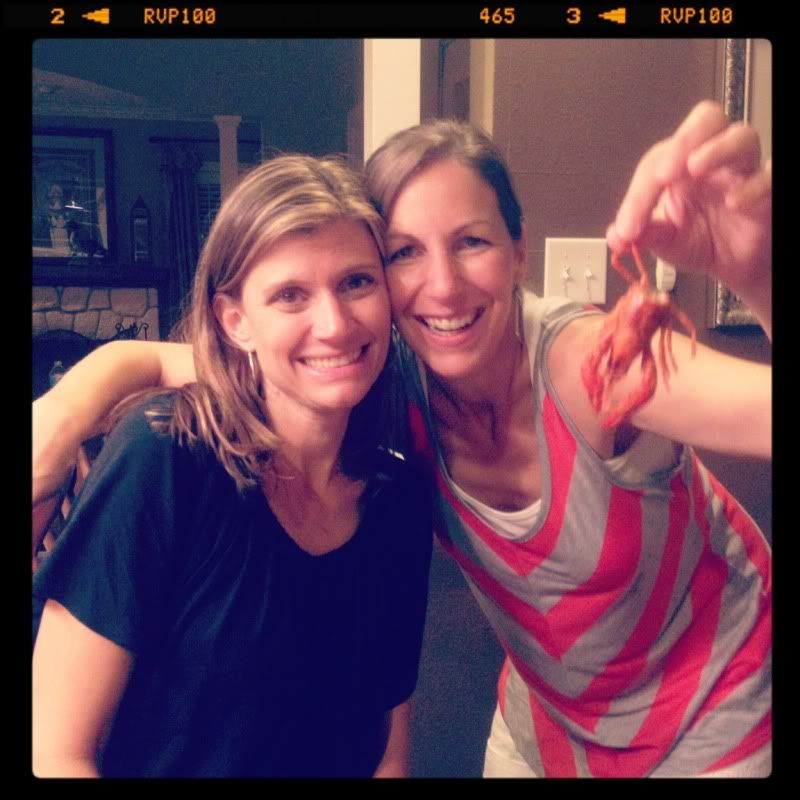 That's actually not a live crawfish I'm holding. That's a dead one that Gulley's husband found in our guest bathroom later that night.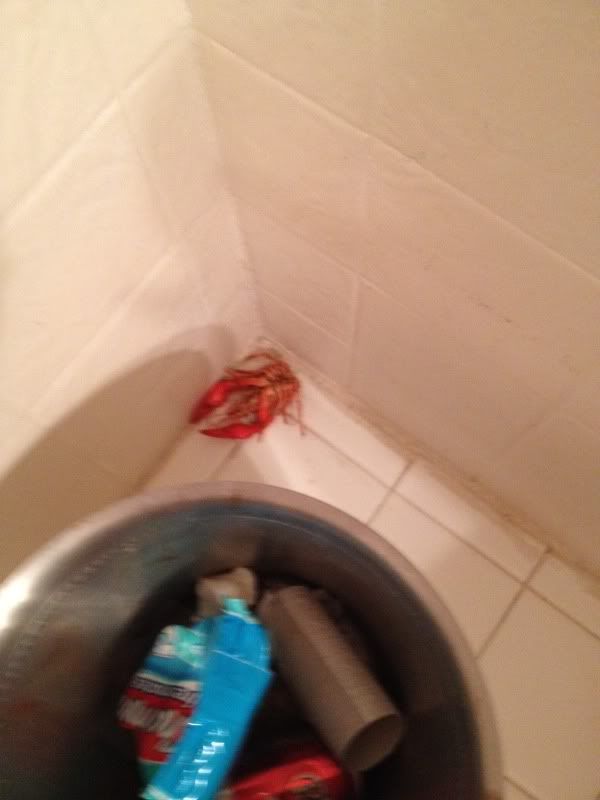 Please don't pay attention to my bathroom trashcan. The bigger issue is how a dead crawfish ended up in my house.
And begs the question, are there more I haven't discovered?
I guess I'll know in a few days.
__________________________________________
I loved this post by Kelli called Hope is Slow from the Tanzania Compassion Bloggers' trip.
Copyright secured by Digiprove © 2012