I'm going to attempt to tell y'all about our trip to Dallas to see Jen even though there is no way that words will do it justice. It's times like this that I wish I had a video that would just hit all the high points even though there would probably be a lot of inside jokes that no one else would understand.
About two months ago Gulley and I began to attempt to figure out a time to visit Jen. And we finally came up with the first week in June. Our original plan was to drive to Dallas but since gas is about $74 a gallon it made more sense to fly after we realized Southwest was running some kind of special fare. So I booked our flights and we counted down the days because when one of your best friends is sick you just want to get there and see them in person and know that they're okay.
I'd never thought about it much before this trip, but in all the years Gulley and I have been friends we have really never flown many places together. And travel by air is a different animal than a road trip. Normally when I fly I like to bring a book or a bunch of magazines, but I know Gulley well enough to know that she was going to ask me why we were even flying somewhere together if all I was going to do was read a book and so I didn't even bother to pack one.
Over the last few years I've flown quite a bit. I've kind of gotten it down to a science. At least as much of a science as you can get when dealing with finicky airplanes and overzealous security and four ounce containers of liquid. At some point I've also apparently voiced my objection to having to check a bag instead of carrying one on since Gulley kept apologizing to me for not having a bag that was small enough to carry on. I finally asked, "Why are you so worried about it?" And she replied, "Because you hate traveling with people that check bags. You told me that."
I have no recollection of this but I know it's true because I tend to go off on passionate rants about things that I really don't feel that strongly about in the whole scheme of life. And I guess at some point checked luggage fell into that category. Other favorite rant subjects include Chinese food, pizza with thick crust, the way library books smell, and motorized carts at the grocery store.
So after many conversations assuring Gulley that she could check her bag and that her purse didn't really count as a carry on item, we finally made it to the airport on Tuesday morning. And it turned out that all that discussion was for naught because her bag was small enough to carry on even though she worried it didn't fit in the Southwest air carry on "Sample" bin. I've always believed that sample bin is just a suggestion and not a rule. How else do you explain some of the monstrosities they allow people to put in an overhead compartment?
We wheeled our bags through the security line, but then Gulley's bag got flagged for a hand check. They had to confiscate her bottle of Big Sexy Hair Volumnizer. Which meant two things. First, Gulley was going to have flat, unsexy hair in Dallas. Second, she apologized to me again for being a high-maintenance traveler.
(Related note: You would think that security wouldn't be concerned about a bottle of Big Sexy Hair flying between two Texas cities. It seems a given.)
As we walked to the gate I assured her it was fine. That kind of stuff happens. But then she confessed that she didn't want to be a pain to travel with because she really wants to go with me on my book tour. And this is why I love her. She believes in me enough to think there's going to be a book tour. Where I'll fly to places. In reality I'm pretty sure the closest thing to a book tour I'm going to have is if I pack my own table and drive it to the neighborhood Walmart and put up a poster board that reads "BOOK SIGNING – FREE BOOKS HERE".
And four or five people will drive over in their motorized carts to check it out.
Anyway, we made it to Dallas. Jen's friend, Angie, picked us up from the airport and had Jen's baby, Lincoln, with her. We squeezed his fat little thighs and made him laugh all the way to Chuy's where Jen met us for lunch after a doctor's appointment she'd had that morning.
The rest of the afternoon was spent catching up while Linc took a nap and then walking to the park where we met some more of Jen's friends and Gulley and I were reminded of how hard it is to have a group of toddlers. Especially toddlers who thought they were going to get to swim only to discover that the pool was closed and their only option was hot playground equipment. Sad times. But Linc got to crawl around and eat some playground mulch so the adventure wasn't a total bust.
Later on that evening Gulley and I made a run to the store to stock up on essential snack items for girls' night. Chocolate chip cookie dough, spinach dip, cheese and crackers, and chips. While we were visiting Jen's friend, Missy, came to pick up Jen's wigs to wash and style them.
A sweet woman that had cancer several years ago gave Jen her wigs. The original wig is named Pinky. And then she gave Jen a second wig that isn't quite as nice and we just referred to her as Pinky's cheap sister. She told Jen she could cut them or do whatever. Jen's goal was to have one cut into a simple bob and have the other one long enough to pull into a ponytail or messy bun. It's always good to have hair options.
Anyway, Missy stopped by to evaluate the wig situation. She explained that she isn't a licensed hair stylist but has been cutting hair forever and also styles people's hair for weddings and special events. And so she was so excited to be able to help Jen with Pinky and Pinky's cheap sister. While we were talking I couldn't quit looking at Missy's bangs. They were kind of the bangs of my dreams. I felt like they were the bangs I've been looking for.
So I asked her if she thought she could cut my bangs to look like hers. And she said she could but didn't have her scissors. Then she offered to come back the next morning and cut my bangs for me. It was like a dream come true.
And that's how I ended up having my hair cut and styled by an unlicensed beautician. I've never been so happy about it. Even though I forgot that humidity is not a friend of bangs. I still don't regret it. That's what bobby pins are for, to get you through the bad bangs days.
This is Gulley and me holding Linc after Missy cut my bangs and gave me a cute fishtail braid. Please disregard the fact that I have no makeup on and my eyes are droopy and I look like I have antlers growing out of the top of my head. I believe that's what they call irony.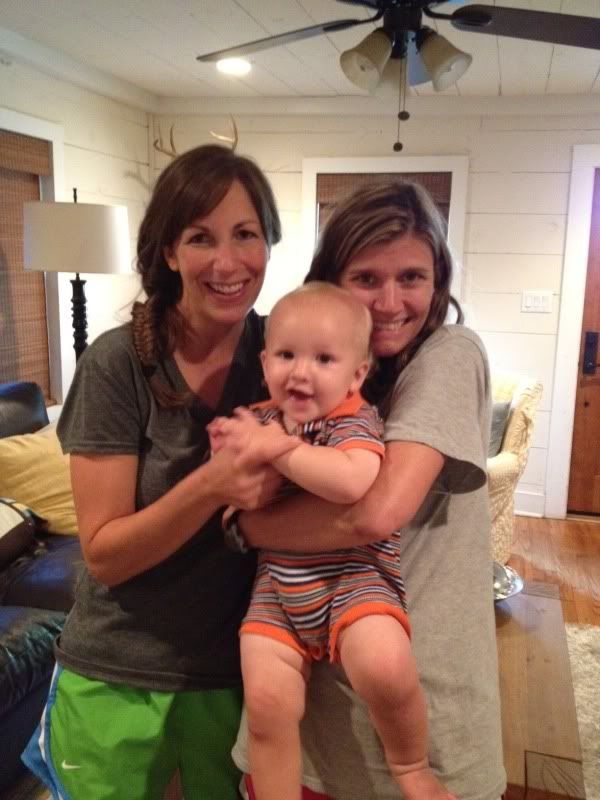 Since this post is so long I'm going to wrap it up for tonight and tell you more tomorrow. Which I realize is assuming you care to hear the rest. But I'm going to tell it either way. So you can come back tomorrow. Or not.
Copyright secured by Digiprove © 2012