Yesterday morning P woke Caroline and me up bright and early. And, in what will be the only time for the next nine months, we jumped out of bed ready to start the day and I cooked eggs for breakfast. Not that I'm opposed to making a delicious home-cooked breakfast. I'm just opposed to going to the effort so that someone can just move eggs around on a plate and tell me they're full.
It's really best for all involved parties if I just whip up a bowl of dry Honey Nut Cheerios.
I'd made Pioneer Woman's prairie sushi the night before and I have to confess a little pride over how cute her lunch looked. I should have taken a picture but it was so early and my brain was still trying to compute what was going on.
Then she put on her first day of school outfit, put her hair in a side ponytail with a bow because "it's what all the fourth grade girls wear", and I made her go out on the front porch so I could take the requisite first day of school pictures.
(I know everyone on Pinterest makes you feel like you have to have one of those cute signs for them to hold, but we roll old school around here.)
(Which means someday I'll have to look at the date of the picture and do actual math in an attempt to figure out what grade she was in.)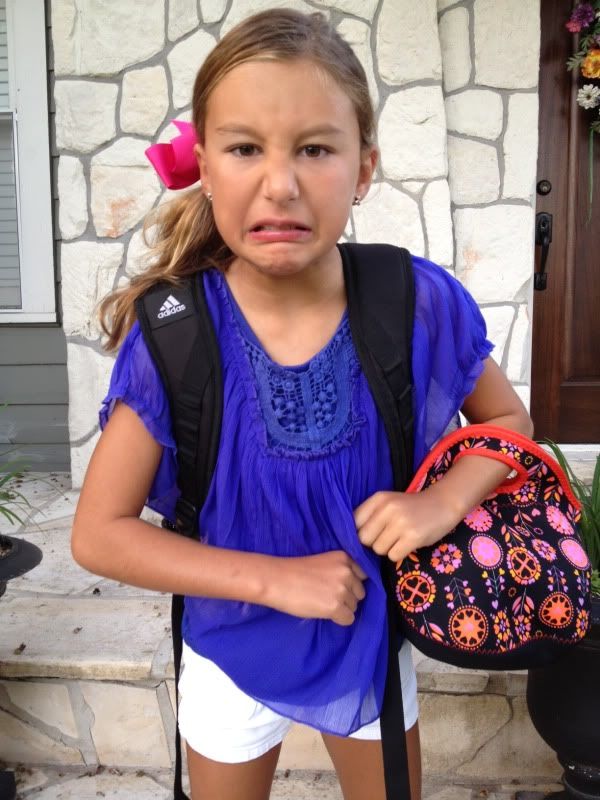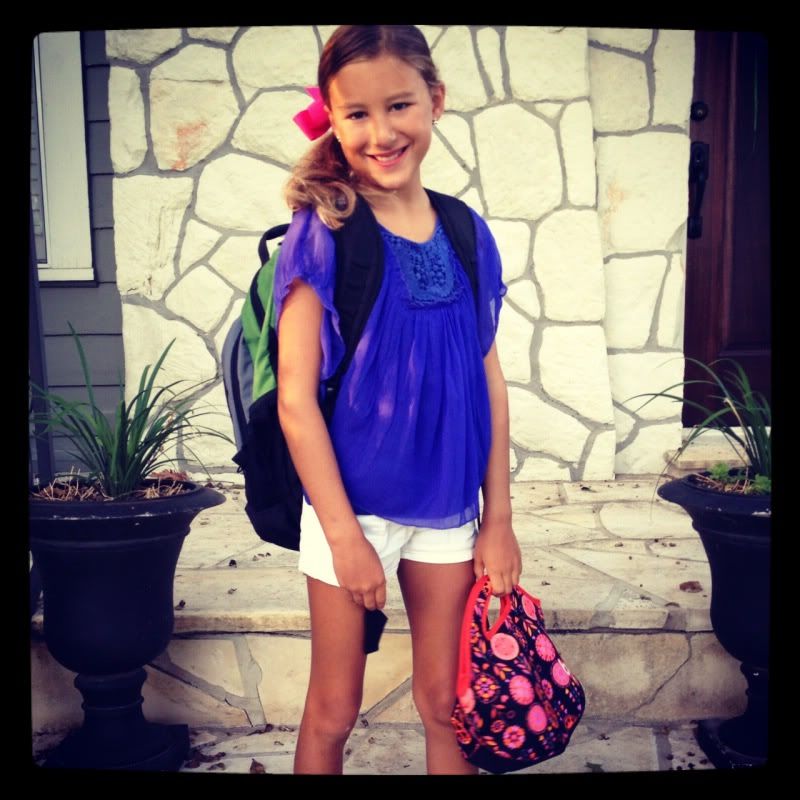 It's a shame she hates to pose.
And then P and I drove her to school. Her only apprehension of the morning was over whether she'd be the only kid whose parents walked her to her classroom, which I assured her would not be the case as evidenced by the massive amounts of cars parked within a mile of the school. So she agreed we could walk her in and even held my hand for about three minutes before she realized what she was doing and that this is fourth grade and she may move out and get her own apartment by next week.
I helped her unload her box of school supplies, said goodbye and walked out of the classroom. For a minute I thought I might cry because FOURTH GRADE, but I pulled it together, NANCY, and drove home and poured myself a strong cup of coffee.
For the next few hours I worked on a few projects and then I went to lunch with Mimi and Bops. After that I decided to be super productive and go put gas in my car and get it inspected since my inspection sticker expired two months ago.
Unfortunately, the nice man at the Mobil station couldn't inspect my car because my proof of insurance expired in May and he needed to see the current one.
I operate at a level of disorganization and procrastination that would put some people in a home.
So I drove back to the house but didn't have time to try to remember my online password so I could print out my proof of insurance and get the car inspected before it was time to pick up Caroline. But I figured I've waited two months and what's one more day?
After waiting in a carpool line that was more complicated and emotionally wrought than a journey to self-discovery, I finally managed to pick up Caroline from school. She announced that her day was great and everyone was happy to see her.
Of course.
I asked if she liked her prairie sushi for lunch and she informed me she didn't really eat any of it because she wasn't hungry. (See? This is why I don't cook eggs.) But then I remembered to ask a critical question, "Did you buy anything in the cafeteria line?"
"Well, I bought one Slim Jim beef jerky. I tried to buy enough for everyone in my class but the cafeteria lady told me that wasn't allowed."
Yes. Thank goodness for the cafeteria lady.
I appreciate Caroline's attempt at generosity but we really can't fund an entire fourth grade class's Slim Jim habit day after day.
We met Gulley and her boys for ice cream to celebrate the first day of school and then headed home to do homework before soccer practice because there is no rest for the weary. There's no easing into the reality of the school year. It's just like a headfirst plunge into ice cold water.
And it took about five minutes before we were arguing about her homework assignment like old pros. Apparently I know nothing about writing a summary. Even though that's essentially what I do every day.
Finally it was time for soccer practice. P loaded her up and drove my car to soccer practice. And here's where I need to tell you that our soccer practices are on an Army base.
Did you know Army bases won't let you on base if your inspection sticker isn't current?
Neither did I.
And so P had to call another soccer mom to drive out of the base and pick up Caroline and the other girls he drove to practice.
It's really these types of moments that make a marriage great.
I'll give you two guesses as to what I'm doing first thing in the morning.
Copyright secured by Digiprove © 2012