I'm not really speechless.
Nothing is ever that serious.
But I have to tell y'all that my day started off rough yesterday. It wasn't anything bad, but I didn't feel great. It was gloomy outside, I had cramps, my head hurt. I was chockfull of some first world complaints.
I met my sister and nephew for lunch and that perked me up a little bit, but then I ran into The Container Store to pick up some small boxes and pretty gift wrap. And I'm here to tell you that nothing will make a perpetually unorganized person feel a sense of deep shame and regret like The Container Store.
It made me want to buy every storage bin and basket they had and maybe some colored file folders in an attempt to get some semblance of order in my life. But I made myself face the harsh reality that all those bins would do at my house is end up sitting on top of my washer and dryer until I eventually donated them to Goodwill.
And so I ran a few more errands, popped some Advil for the aforementioned cramps and headache, and then decided I should start to pack my suitcase for DotMOM since I'm leaving at 1:00 on Thursday and clothes are probably an essential part of the weekend.
About that time, I heard my phone beep to let me know I had a text. It was from my editor at Tyndale and she asked if I was sitting down. I texted back, "No. Should I be?"
She replied, "Yes! Sparkly Green Earrings debuts at #27 on this week's New York Times Bestseller list."
Umm. Yes. Sitting down wasn't really enough. What just happened?
Y'all. You did this. You bought my book and told your friends and supported me and cheered me on and prayed for me. And this? Well, when God says he does more than you can ask or imagine he isn't kidding around.
I ran outside and screamed for P and he was so relieved I wasn't announcing I was pregnant. We jumped up and down, our sweet neighbors brought by a bottle of champagne and Mimi and Bops came by so we could have a celebratory toast. It will go down as one of my favorite moments.
I spent the rest of the evening in tears. And even now I'm getting all teary again. There just aren't words to say how grateful I am to you. There are times in life that bring you to your knees in gratitude and humility and this is one of those times for me.
Thank you. Thank you. Thank you.
And so to celebrate I'm throwing a huge party at my house next weekend.
Not really. But I wish I could and you all could come. How fun would that be? I mean other than that it would be really crowded and the fact that the floor in my guest bathroom is possibly rotting and about to fall through?
So that's out.
But I am giving away three signed copies of Sparkly Green Earrings (I'll sign them anyway you want me to!) along with three pairs of Towne & Reese Reynolds Green earrings from Carol & Company.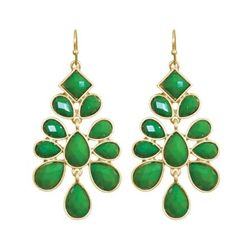 All you have to do for a chance to win is leave a comment on this post. I'll keep comments open until Sunday and then use Random.org to draw three winners.
(I'm not doing Fashion Friday tomorrow because I'll be at DotMOM and won't have time. I'm sorry.)
And now I'm going to have another good cry. I hope you all have a wonderful weekend and can't wait to see some of you at DotMOM.
Ephesians 3:20-21 "Now to him who is able to do immeasurably more than all we ask or imagine, according to his power that is at work within us, to him be glory in the church and in Christ Jesus throughout all generations, for ever and ever! Amen."