Where have you been? It's been forever.
It was actually nice to take a little blog hiatus. I did normal things like read books at night on the couch and watched movies and worked on book edits which isn't really a normal, relaxing thing but it was a necessity because I have a deadline to meet.
When I last wrote we were in the midst of getting our roof replaced. This is neither relaxing nor enjoyable because it's a roof. And so Caroline and I decided to spend Monday night at Gulley's house so we could sleep in the next morning.
Then, it got even better because Gulley's husband decided to take all the kids to a movie so Gulley and I could go eat dinner somewhere and have a real conversation that didn't involve taking bets on who could burp the loudest. We got back to Gulley's house later that night and discovered the kids were all hyped up on adrenaline because they got free popcorn refills at the movies. And, even better, you could pump your own butter.
Therein was the problem.
Will overindulged in popcorn and spent an hour throwing up. And when Will throws up, he doesn't just throw up. He screams and then throws up. Gulley asked, "Why are you screaming?" and he replied, "Because I think I'm having a stroke. I fear death."
At least no one will accuse him of being dramatic.
I will never throw up again that I won't fear death.
After the throwing up portion of the evening was finished, we all went to bed. Caroline and I slept in the guest room which is also home to Will's bearded dragon, Hank. And while I was fine with sharing my room with a lizard (as long as I didn't think about it too much) I wasn't prepared for the red heat lamp that Hank sleeps under every night. I felt like I was Kramer in that episode of Seinfeld when Kenny Roger's Roasters moves across the street.
But I really only have myself to blame since I'm the one who suggested to Will that a bearded dragon might be an enjoyable pet. See how those things come back around?
Thankfully, the roofers finished on Wednesday and we woke up Thursday morning refreshed and ready to enjoy all the Fourth of July activities. God bless America.
We started the morning marching in our neighborhood parade with some friends.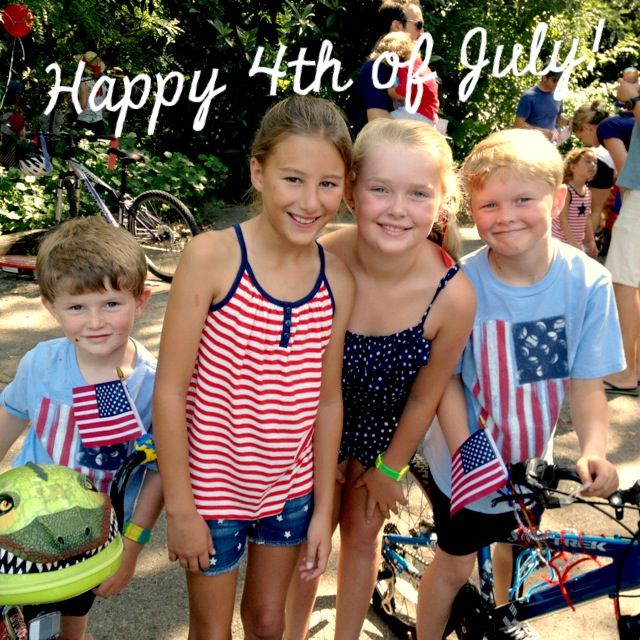 And then P took the kids to go pick out some fireworks for later that evening. We all rested for a while before we headed to the pool for big fun. I only wish I'd thought to take a picture of the pool's fancy new water feature that is essentially some old plastic pipes that spray water out of the pool like a broken fire hydrant.
The fun thing about 4th of July at the neighborhood pool is that there are all manner of contests and games. Egg tosses and sack races and things like that. Except there wasn't actually a sack race but there could've been and that's what really matters.
There was, however, a hula hoop contest. And Caroline decided she wanted to enter even though the ability to hula hoop isn't contained in our DNA. So she gave it a fair shot.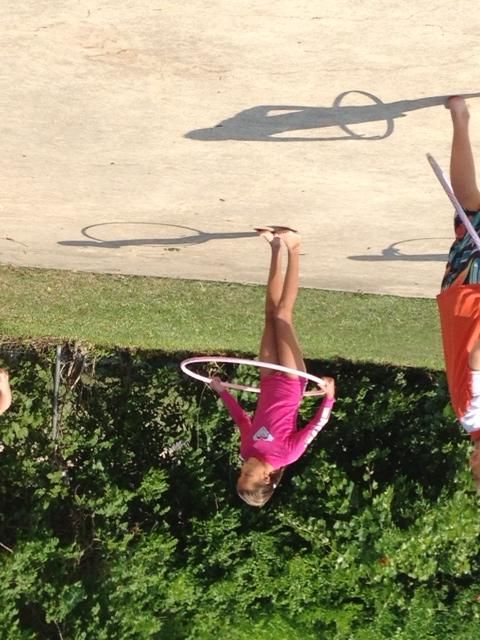 She didn't get a medal.
But look who did!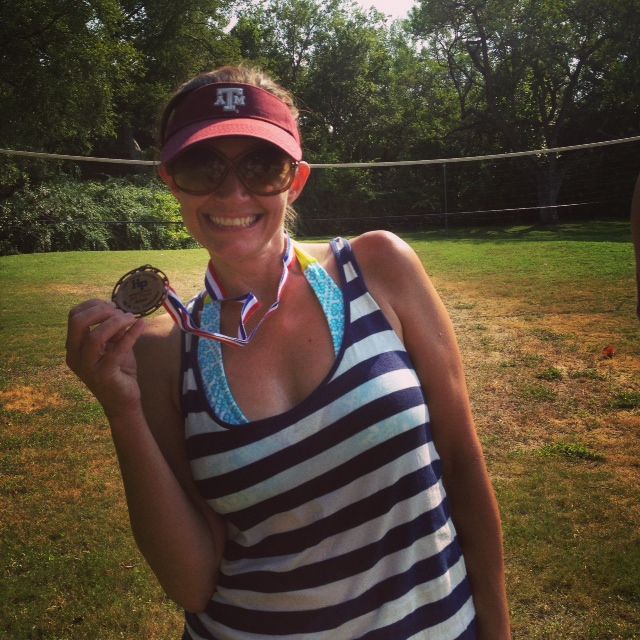 Gulley. She placed third.
And before you become concerned that Gulley was competing against children and taking theoretical candy from babies, I will assure you that there was also a sixteen and over age bracket.
Later in the day it was time for Caroline's event. The belly flop contest. She'd been practicing her belly flops for weeks in preparation. She really felt like this could be the year that she reclaimed the first place medal.
She was the last contestant. She walked up to the board solemnly, game face fully intact. And then she flopped.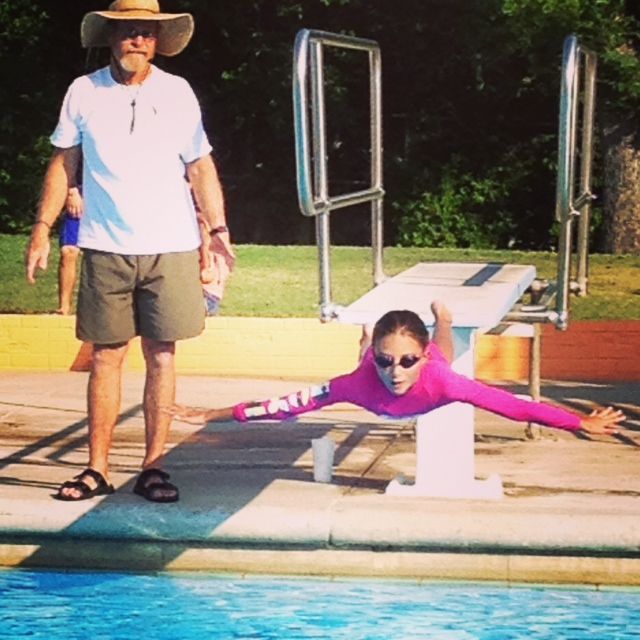 I smell Olympics 2016.
If only the belly flop was considered a legitimate event.
And can we also marvel that I managed to get that shot with my iPhone? I am a less than mediocre photographer on my best day so the fact that I got a mid-air shot at the perfect moment is astounding. I may start including this on my resume. Just as soon as I make a resume.
Her flop was perfection. And she got the first place medal to prove it.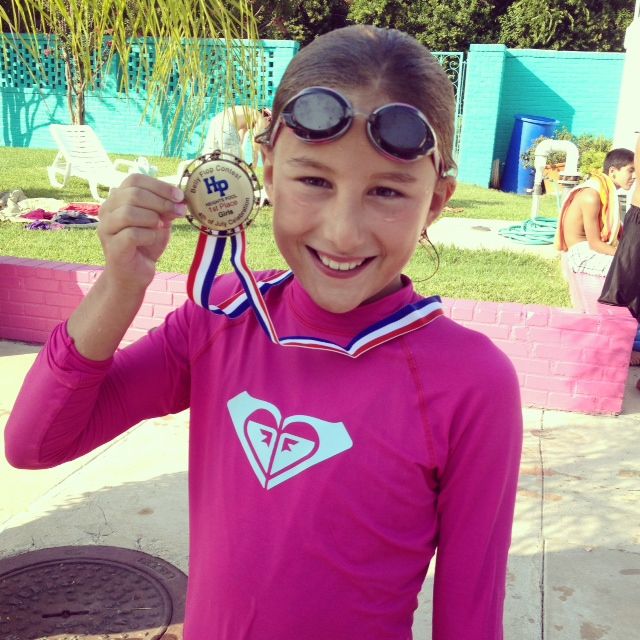 Victory in hand, we left the pool with Gulley's third place hula hoop medal and Caroline's first place belly flop medal and headed to our house to cook hot dogs and light fireworks. We also may have had some celebratory queso and guacamole, just like the Founding Fathers did all those years ago.
This next picture is a more accurate representation of my photography skills.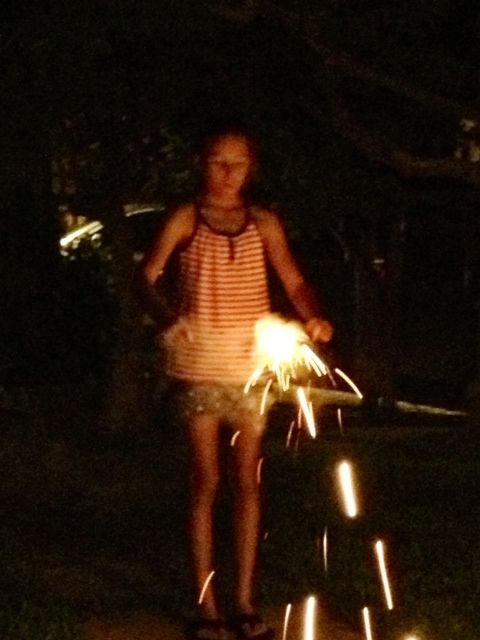 I just felt like I need to be honest.
And that's what we've been up to for the last week. I should also note that Friday, July 5 marked seven years since I started writing this blog.
Time flies when you're having fun. Or trying to make nothing sound like fun. Either way.
Thanks for reading all these years. Y'all are the best.
Copyright secured by Digiprove © 2013