P and I just watched the news. Actually we never watch all the news. We just watch the weather. We are full on weather nerds around here.
And to make it worse when I say we watched the news, I mean that we watched the six o'clock news. We record it every day and watch the weather report around 9:00 p.m. every night when it becomes inevitable that we aren't going to be awake for the ten o'clock news.
The upside is the weather forecast doesn't really change much in that four hour window. And it's not like they really know what the weather is going to do anyway. Just this past weekend they'd predicted we weren't going to get any significant rain from an approaching cool front and we got three inches.
Anyway, they're saying (Who? Who are they? I don't know. Perhaps a team of crack meteorologists that sit in a tower and measure barometric pressure and other such things.) that this coming weekend we might get our most significant cool front of the season thus far. Temperatures on Sunday morning might be in the 50's! The 50's! And highs only in the mid-80's. The mid-80's! My joy will know no bounds.
But I really didn't need the crack team of meteorologists to tell me that fall is officially in the air because this was the scene in my backyard today.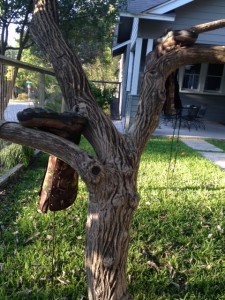 I thought maybe P had been raptured while hanging upside down from the tree in his snake boots. But then I realized if heaven was really going to be heaven for P then God wouldn't have left the boots.
It also made slightly more sense when I looked over at the neighboring tree.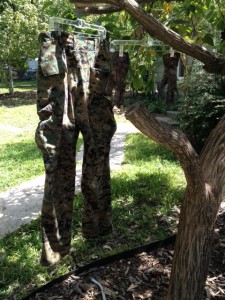 I think it's obvious he's just doing his part to ensure that property values in our neighborhood skyrocket due to the impressive upscale ambience.
Copyright secured by Digiprove © 2013