I need to make a confession.
I'm just not that into the Winter Olympics.
I think it's because I live in South Texas and, well, not a lot of snowboarding or moguls to be found around here. And I don't even understand the luge. At what point in your life do you willingly get in a small tube and decide to hurl yourself down a large apparatus at the speed of light?
My answer to that question is NEVER.
Frankly, the last Winter Olympics I truly enjoyed was in 1994 because you had the whole Nancy Kerrigan/Tonya Harding thing and it was more akin to a Lifetime movie than a sporting event. Not to mention that's when Dan Jansen won the gold medal in speed skating and he took a victory lap around the rink with his baby girl while they played "In Your Eyes" by Peter Gabriel. And now I'm crying just thinking about it because it was just that good.
I loved the '94 Winter Olympics so much that I even chose to watch them instead of going out with my friends to Hurricane Harry's and there was no greater sacrifice at that time in my life than to miss a night out.
Maybe I'm just out of the loop this time. I don't know the human interest stories and who I'm supposed to be cheering for and I tried to watch but Bob Costas has pink eye and I'm afraid I might catch it through the television and so that's the end of that.
Plus, those sweaters Ralph Lauren designed for the U.S. team are a travesty. Somewhere people all over the world who own Christmas-themed sweaters featuring cats wearing Santa hats feel validated.
And who knows? Maybe at some point in the next week or so I'll get sucked in because I'll hear some story about a member of the curling team who thought he'd never use his broom again, but he persevered and, BOOM, I'll be on my couch crying like a baby and lamenting that I could have had a curling career if only I'd learned how to properly use a broom. Or cared about curling. Or even knew that it existed prior to 2002.
But I'm also at a juncture in my life where I need to reserve my emotional energy because Caroline broke some news to me over the weekend that's going to require all my strength. She wants to get her hair cut to shoulder length.
I mean we haven't even finished growing out the bangs I begged her not to cut in August and now she's wanting to get six inches cut off her hair. Which, FINE. It's her hair. But I'm the one who ends up needing a Masters in Hair Psychology every morning before school as she laments its current state.
In other news, we had a nice weekend. I'm not totally sure that I'm caught up on my sleep. By which I mean that I am absolutely not caught up on my sleep. I blame most of this solely on the train conductor who decided to drive through town at 1 a.m. Saturday morning blowing his train horn as if his life depended on it.
On Saturday morning we went to Caroline's basketball game. Her team won and after a crazy week it was so nice to just sit there and watch her play. Every time I watch her I think of Shakespeare's quote "Though she be but little, she is fierce."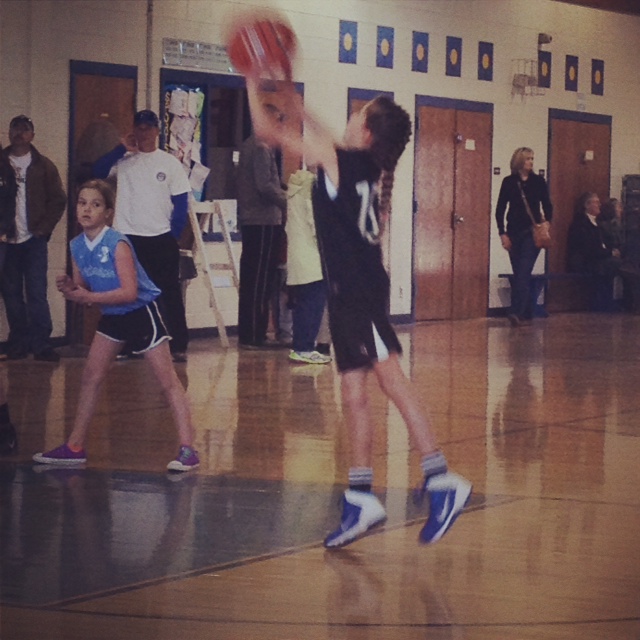 And then she left with P that afternoon to go to the ranch. I spent some time running errands and cleaning the house and paying bills and all the things I'd completely neglected in the midst of book launch week last week and got a text from P that read, "She's wiped out."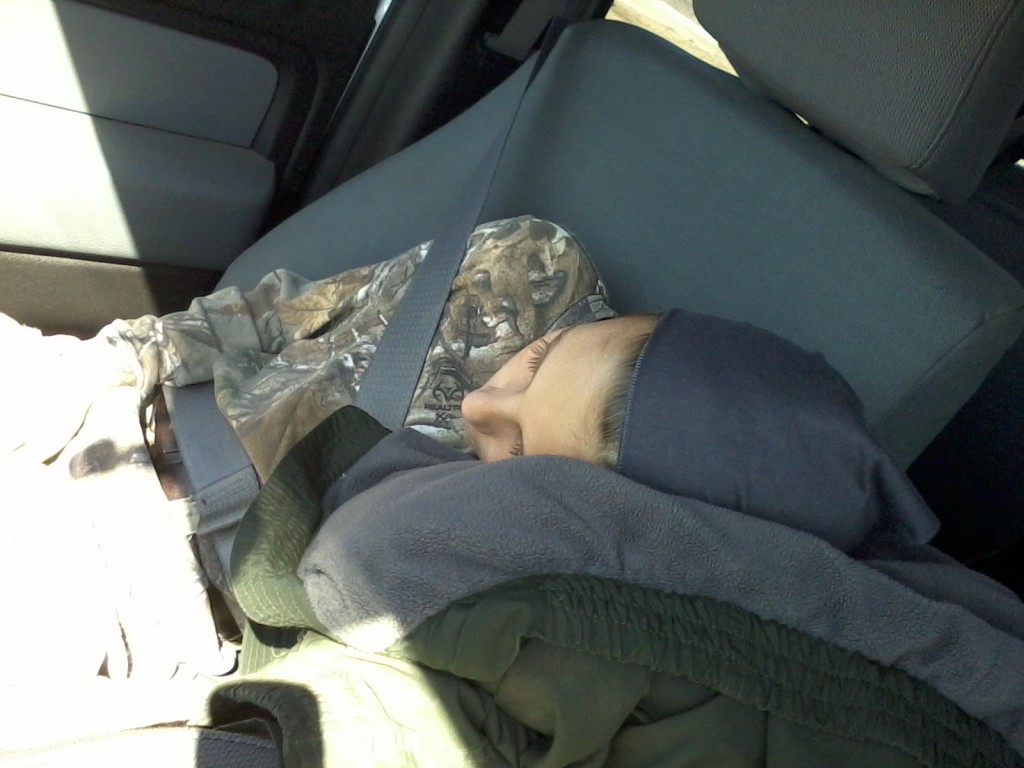 Yep. Sound asleep in the backseat on the way to the ranch.
It's so out of character for her to fall asleep in the middle of the day. Which was why I was even more disturbed later when P texted me this picture.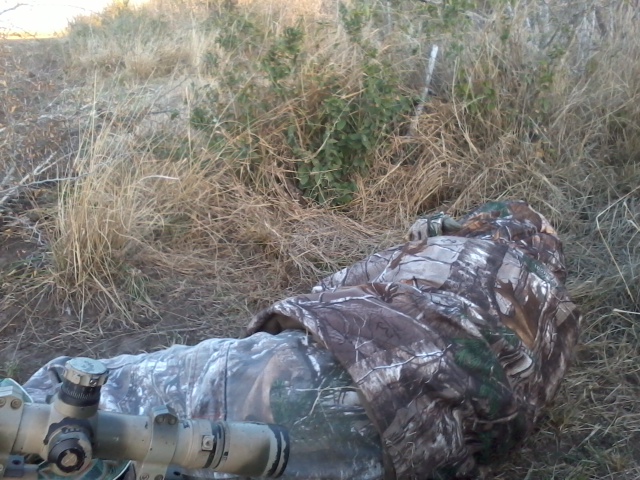 It's Caroline sound asleep. On the ground. While she was hunting.
On the upside, her camo appears to be working beautifully. You can hardly see her.
Sure enough, she woke up Sunday morning with a low grade fever and just generally not feeling well. Which totally fits because I'm leaving town on Tuesday and this seems to be the way these things have happened this year. It does wonders for my guilt complex. But I just tell myself that if I ever win a speed skating contest I am totally going to carry her while I skate a victory lap around the ice rink and Peter Gabriel sings "In Your Eyes".
So tomorrow morning she's staying home from school and I'm running to do a quick talk for a MOPs group while she stays home with P and then we'll probably be at the Med Clinic by noon because I have a good suspicion that it's strep.
And then maybe we'll spend the rest of the afternoon watching the luge competition.
But probably not unless Nancy Kerrigan is one of the competitors.
_______________________________________
A few quick Antelope in the Living Room notes:
Tomorrow I'm going to announce a fun contest for Antelope. You don't want to miss it.
I'm going to be in Virginia Beach at Princess Anne Country Club this Wednesday, February 12. You can find out more here.
I'm going to be signing books from 10:30 – noon this Saturday, February 15 at Books-A-Million at Katy Mills in Katy, TX.
On Friday, February 28th, I'm speaking at Grace Bible Church in College Station, TX. You can find out more details here.