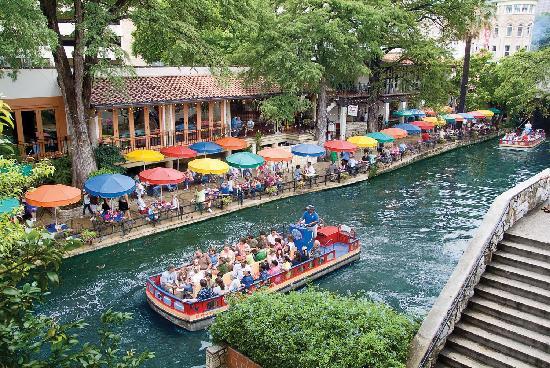 So today's post is going to be a little different from what I normally write. Which means there may actually be some useful information to be found.
I actually wrote this several years ago, but this is the time of year when I get a lot of emails asking about places to eat and visit in and around San Antonio.
And I try to think of the things we enjoy doing but then decide it might be awkward to invite total strangers to come sit on our couch and eat takeout Mexican food while we watch Friday Night Lights together.
Thus, I've always thought it would be such a good idea to write an entire post about things to do and places to eat in San Antonio. A sort of informal, possibly uninformed, tour guide if you will. Then I'd forget all about it and just sit on the couch and drink my large drink from Sonic instead. Until the next time I'd get a similar email and start the entire process all over again.
But all that has changed. IT HAS CHANGED. Because today's post is my official guide to vacationing in San Antonio. And, OH THE PRESSURE, because I'm sure I've left out some fun things and great restaurants in my very limited scope of all there is to do in this city.
So, to my San Antonio peeps, feel free to add your suggestions and/or thoughts in the comments. Then we will have one handy and, lo, even dandy guide to the city that I can refer to whenever someone asks me what they should do when they visit and I stare at the computer blankly until I finally email back, "Have you been to the Alamo?"
Let's start with restaurants. There are a million of them in the city, but these are some of my personal favorites. Yes, most of them are Mexican food.
1. Rosarios
Great food and fun atmosphere. Love their guacamole.
2. Soluna
You can't go wrong. And they have a great patio when the weather isn't 115 degrees.
Ditto on the patio. I LOVE their fish tacos.
4. Acenar
This is a fun place because it's on the Riverwalk. And, apparently, people enjoy the Riverwalk.
5. Patty's Taco House
Patty's doesn't have a website. And it's only open for breakfast and lunch. And it is some of the best Mexican food you will ever eat. If you can find it. It's on Hackberry Street past downtown. Make sure you order the cheese enchiladas.
6. Mi Tierra
Total tourist spot, but tortillas to die for. It's located in the Market Square so it's a perfect place to stop and eat while you shop.
7. Teka Molino
I bet we pick up food from Teka at least once a week. P likes the puffy tacos and I like the crispy tacos.
My second favorite food group is barbecue. And I think this is the best barbecue in San Antonio. The creamed corn will make you cry.
Order the tostada burger. And be prepared that you will never again be satisfied with a normal cheeseburger.
10. El Mirador
I haven't been in forever, but when I used to work downtown I'd eat lunch there about three times a week. They have these puffy tacos with shredded cabbage on top that make me want to drive there right now and eat six of them.
The Pearl Brewery is located close to downtown and has become a great spot in the last few years. There's a Farmer's Market every Saturday and some of the best restaurants in the city including:
ARCADE MIDTOWN KITCHEN
BOILER HOUSE
CURED
THE GRANARY
IL SOGNO OSTERIA
NAO
SANDBAR
So now let's talk shopping.
If you have time to shop, then you have a few downtown options. Rivercenter Mall is located right on the River Walk and has just about every store you can imagine.
For a fun, unique San Antonio experience, I would head to Market Square. It's basically like being in Mexico but without anyone carrying around a whole pig's head in a clear plastic bag. (That scenario is based on a true story) El Mercado has restaurants, shops, and tons of local flavor.
And if you decide to venture outside of downtown, then I would suggest The Shops at La Cantera for some serious shopping including Neimans and Nordstrom and, coming soon, an H&M. Or The Outlet Malls in San Marcos where you can find just about every outlet store you could ever imagine. It's overwhelming.
As for family-friendly activities, here's the list:
1. SeaWorld
Shamu. What else do you need to know?
I don't really care for a zoo. But you might.
3. Fiesta Texas
Rollercoasters.
Voted one of the best waterparks in the world. I have the best memories of going there with my dad when I was little. He'd wear sweatbands around his elbows to prevent innertube burn. Good times.
We took Caroline there last summer and I'd forgotten how cool it is. Stalagtites and mites and all that stuff.
And then there are all the other things:
The Texas Hill Country is full of all manner of spring-fed swimming holes. You can find an extensive list here.
You can take a Riverboat cruise down the Riverwalk. It's a tourist thing, but people seem to enjoy it.
Also, little known fact, San Antonio is home to a little piece of history called The Alamo. And, in all honesty, if you haven't ever seen it, then you're missing out. Of course if you're from Wisconsin it may not mean as much to you as it does to those of us that are proud Texans.
And if you enjoy history and missions and that sort of thing, you can visit the San Antonio Missions. Not to be confused with the minor league baseball team of the same name. Although you could go see them too. But you might be disappointed if you're looking for old churches.
Another option is La Villita. It's located downtown and is a historical art village filled with shops and a few restaurants.
Or you could tour the King William District and see some really beautiful historic homes.
And then there are the hotels. You can stay on the Riverwalk. Or you can stay out by Sea World. Or you can stay out by La Cantera. There are approximately six quadrillion hotels in the city and I've hardly stayed in any of them because I live here. And I like to sleep in my own bed. But here are three really great resorts that take the whole hotel thing up a notch. Or eight.
1. JW Marriott
If you get tired of being in San Antonio and want to explore, there are so many great small towns close by that you can visit for the day. My favorites are:
1. Boerne (pronounced like Bernie, as in Weekend At)
If you head out that way make sure you stop at Fiddlin' Frogs
which is one of my new favorite stores ever and then once you get there you'll find a great Main Street with a bunch of great shopping.
2. Gruene (pronounced like Green, as in Acres)
Eat a chicken fried steak at the Gristmill and visit the oldest dancehall in Texas.
I adore this little town. Great shopping.
4. Comfort
And how can you not enjoy a place called Comfort, Texas?
So there you have it. A completely non-comprehensive guide to San Antonio and all it has to offer. But maybe it will help you. Or maybe you're never planning to visit San Antonio and that's okay too.
And if I've left off anything that might be essential and/or life-changing, please let me know. Then I can kick myself for not being thorough.
Copyright secured by Digiprove © 2014