Look who's decided to come out of early retirement.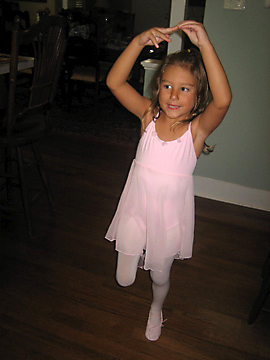 There were some who believed she was all washed up after I had to drag her to the last two months of classes the year she was three years old because we'd already shelled out money for her to participate in the recital.
We only survived that time by the grace of God and lots of bribery in the form of after class dinners at McDonalds.
But she's assured me she's older and wiser. She's in the best shape of her life and is ready to go back into the dance arena.
She is the Brett Favre of Beginner Tap and Ballet.
So I signed her up for fall classes this year, but I am also older and wiser. When they asked if I'd like to go ahead and pay the recital fee, I politely declined.
I'll pay that bad boy the day it is officially due and not a moment sooner.
Either this will be our year of dance excellence or I'll be auctioning off several pink leotards, a pair of slightly used tap shoes, ballet slippers and a handy carrying case that says, "DANCE! DANCE! DANCE!"
There is still a part of me that thinks by October she may just want to "QUIT! QUIT! QUIT!"