So, I've been so wrapped up in the start of Kindergarten and crying while looking at Caroline's baby pictures that I haven't even talked about what a great weekend I had.
It started out with a little bit of a glitch when Sophie called to let me know that the extremely helpful Continental Airlines had decided to cancel her flight from Houston to San Antonio.
Well done, Continental. Way to establish trust and consumer loyalty.
Sophie was trying to figure out what to do and I just tried to be helpful by continually yelling into the phone, "JUST RENT A CAR AND DRIVE HERE! JUST RENT A CAR! IT WILL ONLY TAKE 2 1/2 HOURS! RENT A CAR! IT'S JUST A TWO HOUR DRIVE!"
Needless to say, she got off the phone with me and went in search of someone who could provide an actual solution.
In the meantime, I was able to spend some time visiting with Amanda and we had more fun talking about life. She's just starting to potty train her little boy and I offered helpful tips along the lines of "POTTY TRAINING IS SO HARD! GIVING A TODDLER CONTROL OF ANYTHING IS A NIGHTMARE!"
Seriously, I'll put that pep talk on DVD and make millions.
Sophie finally arrived in San Antonio around 3:30, which gave us just enough time to go in search of chips and guacamole before heading over to the Alamodome for Living Proof Live.
Right as it started, Gulley met us there and I got to see all my worlds collide. Hello internet world, meet real life world.
What ever happened to that sweet girl who was afraid to use the email?
Travis and the praise team were awesome. I mean, ya'll, they can flat sing. Every single one of them is so incredibly gifted and I could have listened to them all night.
Beth spoke about our inheritance from God and if we would only realize that we are all heiresses of God we wouldn't give ourselves away so cheaply. It was so incredible and God used it to continue to speak to me about how much He values us. In fact, one of Beth's points was that not only is God our portion, but we are His. He delights in us.
I love when God uses a theme.
After it was over, several of us went to Mi Tierra to eat some late night Mexican food. It was just like being back in college except I hadn't spent the evening drinking cheap, warm beer out of a plastic cup.
Throughout the weekend I was able to meet so many sweet women that I've met ON THE INTERNET over the last couple of years. It was so great to finally be able to hug people who have been such an encouragement and blessing to me. I loved every minute of it and can't wait until we can do it again.
And I would be remiss if I didn't mention one of the most important lessons I received over the weekend.
On Friday night before the event, I was talking to Beth's daughter, Melissa, and I asked her exactly how she fixes her hair. We have similar hair but mine is missing something. She told me the trick is hot rollers (which I already use on a regular basis) and then asked me if I back-combed my hair because it looked like what was missing was some back-combing.
So not only did I get a word from her mama, but Melissa ministered to me with some valuable hair wisdom.
Although, Melissa has a backcombing advantage because she was not a teenager in the 80's. I guarantee she has never used a comb to do this to her hair.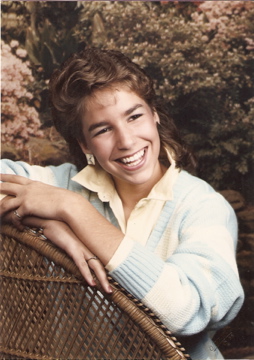 Once you have backcombed your hair to achieve a full, sassy mullet, it's hard to pick up a fine-tooth comb again.
But I can't be held back by the sins of my past.
I'm ready to try again. I need some lift and I'll do what must be done to get it.
In fact, I am so committed that I even purchased a brand new comb yesterday at HEB.
As long as I don't start carrying it in my back pocket, I think I'll be okay.