Good news!
The friendly Sears repairman showed up at exactly 8:10 a.m. yesterday morning. Clearly, I am living right.
Bad news!
The dryer is dead. There was talk of a resurrection but, considering the majority of parts needed are no longer in existence for our particular model, as far as resurrections go it would have ranked up there with raising Lazarus from the dead.
Except it wouldn't have been free, but rather $350.00 with parts and labor.
On the bright side, Sears applies the repairman's diagnostic fee towards the purchase of a new dryer so I headed to our brand new Sears Outlet store to purchase a dryer.
I walked in, looked around and decided on some sort of Kenmore with limited bells and whistles. It was the dryer of choice for two reasons.
1. It was big on the inside.
2. It didn't have a complicated control panel. I get stressed out with too many drying options. Life is hard enough without adding in PERMANENT PRESS/COTTON vs. LOW HEAT/DRY SENSOR.
Several of you were concerned about my washing machine situation, so I feel the need to let you know that we purchased a brand new front loader washing machine about a year ago.
I put a lot more thought into the washing machine purchase because a good washing machine is crucial whereas a dryer is just something I use to dry socks, sheets, pajamas and towels. Everything else gets hung to dry.
Also, thank you for all the helpful suggestions. According to the comments, I should never buy a Maytag and only buy a Maytag. Whirlpools are terrible, but some of them last for twenty years. GE is horrific, but some people swear by them. Ugly washers and dryers last longer than pretty washers and dryers.
The only real consensus was that those of you with LG washers and dryers adore them and, apparently, they sing a little song and make the universe a happier place. But here's the thing, for me personally, spending money to buy an appliance is like spending money to rent a shovel or a paddleboat.
If I'm going to shell out big money, it's going to be for something meaningful, like shoes or a great pair of jeans. Things that can truly change your life.
Anyway, while I was perusing the store for a dryer, I spent a lot of time opening and closing the doors of various dryers as if that would give me some insight into their drying capabilities. It seemed to give the illusion of KNOWLEDGEABLE CONSUMER.
Everything was going really well until I shut my middle finger in one of the dryers.
That was when I just picked one (not the one I slammed my finger in because clearly that dryer was a bad seed), made the purchase, scheduled delivery and walked out of the store with my dignity, if not my middle fingernail, in tact.
Since I was right next door to Target, I decided it might soothe the pain of my ailing finger. But as I walked through the women's clothing I realized I must be delirious from the pain because I thought I saw floral print leggings on display.
And then I came to the horrifying realization that Target is, in fact, offering floral print leggings for purchase.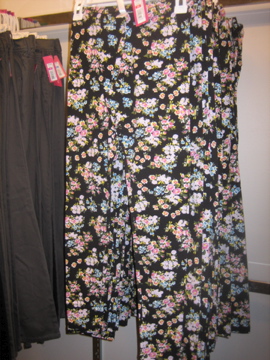 I haven't thought about floral print leggings since the days I thought it would be awesome if everything I owned was by Adrienne Vittadini.
In other words, EIGHTEEN YEARS.
I smell a comeback.
In which case I won't need that dryer because everyone knows you have to hang those bright, floral knits to dry.
Fashion Friday will return next week. I accidentally deleted my entire fashion email file, so if you've submitted a question it is floating around somewhere in internet space. However, next week I'll discuss the top trends for fall.
Only time will tell if floral leggings make the cut, but I'll go ahead and say DOUBTFUL.