Here's what you need to know about my day yesterday. I spilled almost an entire large bottle of water in the bottom of my purse because I didn't put the lid on right. I literally had to turn my purse upside down in the Target parking lot to pour water out of it.
I was as happy about this as you would expect.
It is currently sitting turned inside out in the hopes it will return to some semblance of its former non-soaked state.
On a different, happier note, Jen was successful in getting her chemo rescheduled and will be able to come to San Antonio for my first book signing next Wednesday, April 8th. I am so thrilled.
And speaking of that book signing, it's at Barnes & Noble San Pedro across from North Star Mall starting at 6:30. And I'm super excited because B&N is donating a percentage of profits from all sales that night to S.A. Reads which is a reading program designed to have at-risk students reading on par with their peers by the end of 3rd grade through their participation in a tutoring program. They also run one of the biggest book banks in South Texas, donating thousands of books each year to underprivileged children in Bexar County. If you'd like more information about them, feel free to visit their website at sareads.org.
But, most importantly, today is a big day for my dear friend Angie Smith. Her very first Bible study releases today. It's called Seamless and it's a seven session study that is designed to help you develop a great understanding of the entire story of Scripture and the themes, places and promises in the Bible that run from the beginning through the end.
(I won't even tell you how old I was when I realized that the Bible really tells one long story, but the answer might rhyme with "schmirty".)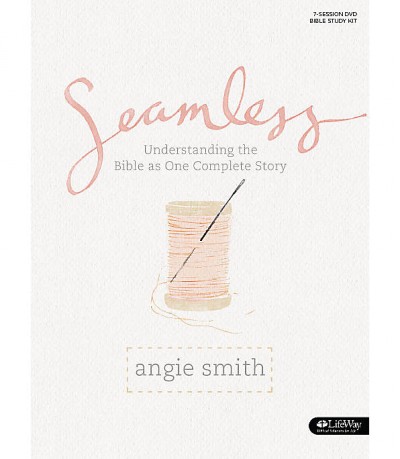 The thing I love about Angie is that she has one of the best hearts of anyone I know and she seeks Jesus in a way that is real and relatable and makes you want to listen when she speaks. She is also one of the funniest people I know although I'm not sure that quality necessarily relates to this Bible study, but I want you to know that because I so appreciate people that make me laugh out loud and she falls solely in that category.
If you're part of a church group looking for a good Bible study for the summer or just want to get together and study scripture with a few girlfriends or neighbors, I have no doubt you will love Seamless.