Well, we are in the midst of some serious hurricane preparedness here. Never mind that the weather people don't really have a clue where Ike is actually going and they are still showing the entire Texas coast as their CONE OF UNCERTAINTY.
Which, by the way, is totally a term I'm going to start using on a daily basis.
"Are you cooking dinner tonight?"
"Well, the CONE OF UNCERTAINTY is still pretty big. I'll get back to you around 6:00."
Anyway, I wasn't really concerned about Hurricane Ike because my relationship with weather people, especially local weather people, is tenuous at best.
I have been burned too many times by BIG CHILL '07 or FROSTY FREEZE '05, which turned out to be little more than some very cold drizzle and meteorology hype.
But I began to pay attention when P mentioned that I might want to go to HEB and stock up some bottled water and canned goods.
Although for the record, it would have to be a pretty dire situation before I'd pop open a can of Chef Boyardee Ravioli.
Anyway, P is not a weather alarmist, which is why he never could have been a meteorologist. He is always the one to tell me that it's not really going to rain, or snow, or what have you.
Needless to say, when he mentioned canned goods, I took notice and began making a list, although he did caution me to not go overboard. I thought that was kind of a cheap shot considering that those bottles of water I purchased during the height of the Y2K scare served us well through the better part of 2006.
So I headed to HEB and loaded my cart with various hurricane readiness items.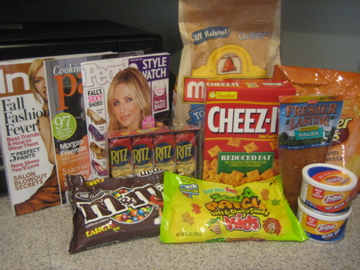 Oops. Almost forgot breakfast. It is the most important meal of the day, even in the middle of a natural disaster.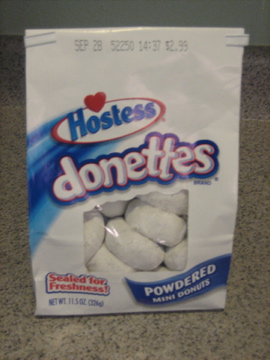 And lest you think I am not taking this seriously, then let me show you this.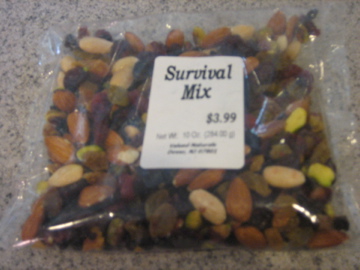 Do not play around with Survival Mix. That bad boy will last us the better part of an hour if times get tough.
I almost bought a big box of Velveeta for queso, but felt it might be wasteful to use one of our Hurricane Preparedness Candles of Natural Illumination to melt a pound of processed cheese with some Ro-tel.
So we'll just have to stick to guacamole with our chips and salsa.
And canned Spaghetti-o's.
Now we just have to sit and wait for what may end up being a slight drizzle and a small gust of wind.
Oh, and the inevitable headlines which will scream "We Don't Like Ike" and other terribly original captions.
Earlier, I thought the crown jewel of my day was when P came home with a rented generator and a window unit air-conditioner that he purchased from Home Depot. Because while I am willing to live on peanut butter crackers for days, P knows that I am going to need me some A/C.
Who says romance is dead?
But then while I was cooking dinner, P told me to go look at what was outside our neighbor's house.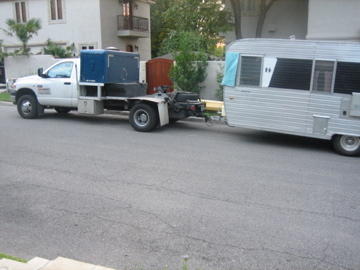 Looks like Cousin Eddie had to evacuate.