Did I mention that Caroline and I baked Halloween cookies on Sunday afternoon after we got home from the grocery store? And by Halloween cookies, I mean that I bought a roll of Pillsbury Slice and Bake sugar cookies while we were at HEB along with a tub of Duncan Hines frosting.
If you thought for a moment that I meant homemade sugar cookies, then I feel compelled to ask what part of PMS you don't understand. I was hanging on by a very fine thread, my friends.
When we got home I realized that I don't own any Halloween-themed cookie cutters so we ended up just cutting the dough in slices and baking round, boring cookies. By the time they cooled enough for us to ice them, she had forgotten they existed. However, she conveniently remembered they existed about three minutes before bedtime.
I told her that we'd ice them when she got home from school on Monday.
Which explains my horror when I walked in from running errands yesterday morning and found only an empty Ziploc bag and a few stray sugar cookie crumbs. Apparently P missed the sugar cookie conversation and helped himself to eight or two dozen un-iced sugar cookies.
Obviously he's on a diet again or he wouldn't have left the crumbs.
My life is hard.
Fortunately, I still had to make a run to the new Fancy Target (oh all the additional stoplights make me tired!) and was able to purchase not only a new roll of Pillsbury Slice and Bakes, but also found fall-themed cookie cutters on the dollar aisle. Needless to say, it was a triumphant moment.
When Caroline got home I announced we were making new and improved Halloween cookies. I will be forever grateful that she didn't seem to care where the other cookies had gone, not because I would have had any problem completely ratting out her daddy, but because somehow it still would have been my fault.
Anyway, we got to work rolling out the slice and bake dough.
Please note that the outfit she has on is an indication of how worn out I was from the weekend. I meekly submitted three outfits yesterday morning and they were all dismissed. I didn't have the will to fight, so I pulled this one out. The rastafarian look is always the ace in the hole.
The cookie dough wasn't providing enough sugar, so she began to dig into the Halloween candy.
We live by the belief that less is never more, especially when it comes to sprinkles and frosting.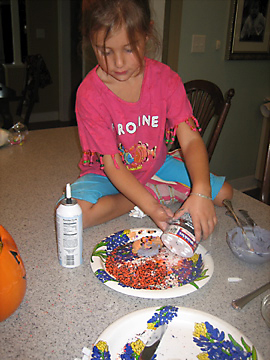 And we also feel strongly that we need to taste our finished product.
I'm pretty sure that bare feet in the midst of the baking area violates about 132 health code laws, but it's really a minor thing compared to the fact that she licked most of the cookies before she iced them.
Here's our finished product.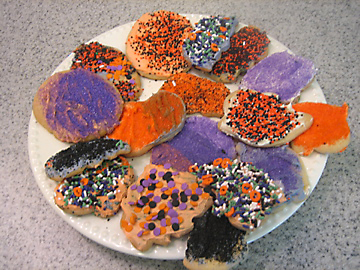 In case you can't tell, they are in the shape of ghosts, pumpkins, bats and the occasional acorn.
Have I mentioned I'm the ghetto Martha Stewart?
I think I gave myself too much credit.