I am sitting in my hotel room mentally going over the events of the day and I have tears rolling down my cheeks. I'll be honest, it's not the first time it's happened today.
On the flight to Miami, I listened to my iPod most of the way. The song "Captivate Us" by Watermark came on and as I listened to the lyrics I felt like I was seeing a glimpse into my week as I listened to Christy Nockels sing, "Captivate us, Lord Jesus, set our eyes on you. Devastate us with your presence falling down".
In that moment, I prayed that God would devastate me with His presence on this trip. As much as I imagined that I wouldn't walk away from a trip like this unchanged, a small part of me was worried that I might. What if it turns out that I'm dead inside?
Today was one of the most heartbreaking, yet joyous days I have ever experienced. We left this morning and headed to one of the Dominican's Batey communities. These are basically Compassion projects in the midst of sugar plantations owned by large corporations. We were told that most of the residents are Haitian refugees who were lured to the DR with the promise of a better life, which hasn't been the case. Instead they find themselves barely surviving in a country that doesn't even recognize them as citizens. They aren't necessarily slaves, but they aren't free either.
As we drove into the Batey community, we were surrounded by fields full of sugar cane on every side, which gradually led to a small village where we could hear the excitement of the children before we even got off the bus.
We divided into groups and began to visit a few classrooms that are part of the Compassion project. The first class I went to was filled with kids ages 3-5 and my heart melted onto the floor right on the spot. They sang a few songs for us and we reciprocated by teaching them The Chicken Dance or as I preferred to call it in my limited Spanish vocabulary "El Pollo Bailar".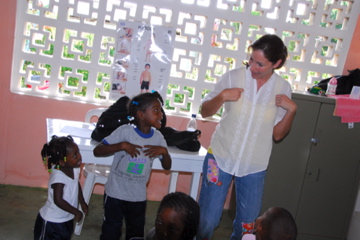 Y'all will be glad to know that El Pollo Bailar is every bit the hit in the Dominican Republic that it is in America and that my rhythm is equally limited overseas. There are some things that cross all cultural boundaries.
After a few classroom visits, I was taken to a small classroom to meet my sponsored child named Ana Anjelica. Although I've sponsored a child in Uganda since the last Compassion trip, I just began to sponsor Ana prior to this trip. I was prepared that she might be a little solemn because her profile picture was so serious.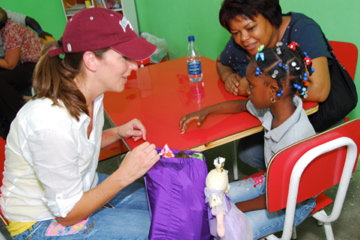 I approached Ana and with the help of a translator explained that I was her new sponsor and was so excited to meet her. I had brought a backpack filled with various things that I felt certain a six-year-old girl would like, but as I pulled them out she never cracked a smile. She was polite and answered questions that I asked through the translator but no smile, even when I pulled out my surefire ace in the hole, also known as a Ballerina Barbie.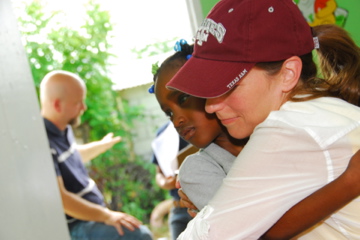 Honestly, it would have been great if she'd jumped up and down with excitement, but I understood why she didn't. I have no concept of what her day-to-day life is like or what it involves.
After we met, a group of us went to her house for a home visit. Her home was the worst one I've been in since the trip began. There weren't even sheets used for partitions, but rather long pieces of paper from a Beauty Rest mattress ad. I introduced myself to her mother whose nickname was Chica.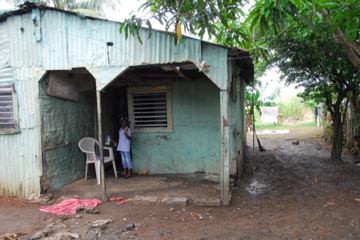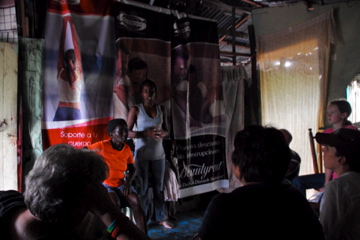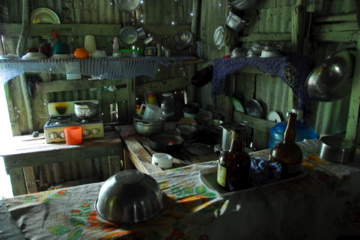 Ana immediately disappeared behind one of the Beauty Rest partitions and about that time her grandmother showed up at the house. We began to talk with them and ask them questions about their life. Ana is one of three children with another one on the way. Her father is a day laborer and just goes out and looks for work every day.
This was her grandmother. She followed us all the way down the road as we left and her expression never changed.
Toward the end of the visit, I asked Chica how I could specifically pray for her family. This was her answer.
"I don't really believe that God will answer the dreams I have for my children, but I hope they stay in school and get an education so they can have a better life."
It broke my heart and it made me understand while Ana is such a solemn girl with a sad look in her eyes. She is being raised in an environment where there is no hope.
And here's where I'm going to be really honest and say that I totally understand why her mother feels the way she does. All she's ever known is poverty and difficult circumstances. Chica can't even comprehend what a better life would look like because all she has ever known is hardship. It's the reality that poverty goes so far beyond material things.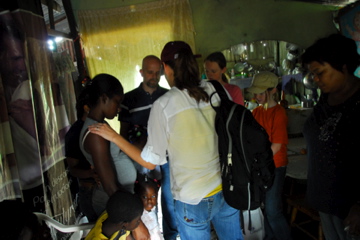 Honestly, it's hard for me to reconcile it in my mind and understand why I am blessed with so much, when others have so little.
If I were in their place, would I believe that God could answer my dreams? Would I even dare to dream?
I believe as strongly as I believe anything that God is good, but sitting there in that house filled with sadness it was hard to understand all His ways.
I cried as I sat there on the little couch in Ana's home because I wanted to offer them some kind of hope and, all of a sudden, my $32.00 a month didn't feel like much at all.
But the thing is that as Ana's sponsor, I have the opportunity to give her hope. By providing for her socio-economic, academic, spiritual, and physical needs, I am giving her hope for a better life with my $32.00. However, the most important thing I can do is to commit to write Ana on a regular basis to let her know that I love her, that God loves her, and that it's okay to dream of a life beyond what she knows.
Because if I'm not telling her, then who is?
I understand that in my head, but it devastates my heart. I looked at this little girl today who is the same age as my Caroline, my smiling, laughing Caroline, and all I saw was sadness. God used it to devastate me, but He also used it to challenge me to go deeper. These Compassion kids aren't just kids on a piece of paper or a random snapshot. They are real kids that are barely making it in this world and need every last piece of hope they can get.
And if you think you can't make a difference, then let me tell you about Beatriz.
Beatriz was a lady we met on our second home visit and has three children, two of whom are sponsored by Compassion and she told us that she was a Compassion child from the time she was six years old until she graduated from high school. We asked her if she knew who her sponsor was and without pausing, she said, "Bill from Michigan."
Not only that, her son Misael pulled out the letters he's received from his Compassion sponsors named Peter and Melanie from Massachusetts. He was so proud of his letters. And even though this family didn't necessarily have any more materially than Ana's family, they had joy. It was a startling contrast.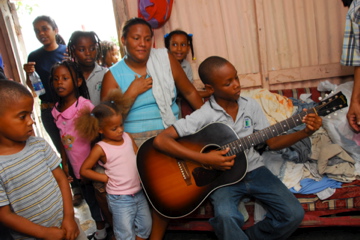 Until today I had no idea how much hope these kids find in having a sponsor and how much the letters they receive mean to them. Not only do you know their name, they know yours and find hope in your words.
And for some of them, like my Ana Anjelica, you may be the only one telling them that there is more than the life they know and that God has a plan for their life.
Words have power, even when they're written by a goofy American who does a bad version of El Pollo Bailar.
If you'd like to sponsor a child, you can go here or click on the image in my sidebar and if you already have a sponsored child, I encourage you to take the time to write them before the day is over.
And if you haven't read all the other bloggers on this trip, you can find their posts over at Compassion Bloggers.