I talked about how hard yesterday was in my last post, but it was also my favorite day so far. The kids were so excited to see us and I got a small glimpse of what it must feel like to be Hannah Montana, but without the long blonde hair and legwarmers.
I couldn't get enough of them as they climbed all over me while saying, "Mi Americana! Mi Americana!"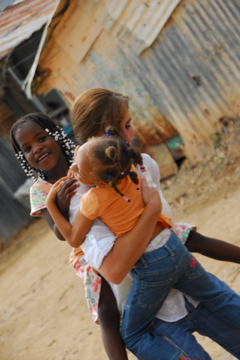 They were all so precious and I took pictures of them with my camera so that they could see themselves. I let them hold my backpack. I let them braid my hair and wear my Aggie baseball cap.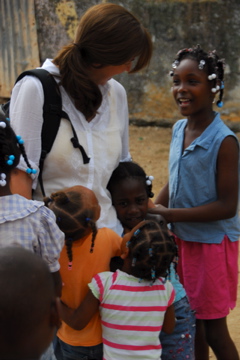 At one point one of the little girls lifted up my shirt a little bit and started poking my stomach. Wanting to use one of my few Spanish vocabulary words, I said, "Blanco!" thinking that she must be fascinated by my white skin.
The translator looked at me a little sheepishly and said, "She says you're a little bit fat."
Perfect.
So I said, "Great. Tell her the fat girl wants her camera back."