At some point over the summer, Caroline discovered The Justice League cartoons. Here is where I could go into a long tirade about how I'm not really a fan of Flash Gordon and confess that Spiderman kind of creeps me out, but I'll save that gem of a post for another time.
Caroline became intrigued with the whole concept of superheroes, especially Wonder Woman. If she's like her mama then it's because of the cool red boots and the great hair that is always in place, but I suspect it's because Wonder Woman isn't afraid to use her Golden Lasso and save some folks from danger.
And somewhere deep down in us, don't we all have a little bit of a desire to be a superhero, with or without the kicky red boots and silver wristbands?
This week is your chance to become a superhero.
All of the bloggers on this trip have talked a lot this week about the difference you can make by sponsoring a child through Compassion because we are in the midst of an incredible opportunity to see the change that sponsorship can bring in a child's life.
Yesterday we went to another project to meet two girls who are part of a Compassion program called LDP (Leadership Development Program). This is a different type of sponsorship program that provides a college education for impoverished high school graduates.
We were able to watch two beautiful young women with the brightest smiles I have ever seen tell us about the difference that Compassion has made in their life.
Mariolvis told us that she became a sponsored child when she was five years old. Her sponsor wrote to her and encouraged her all the way through high school. She is now twenty-three years old, attends college with a major in Marketing thanks to the LDP, and told us that she still reads the letters she used to receive from the family that sponsored her throughout her childhood.
And when we went to her home, she pulled the letters out and showed them to us.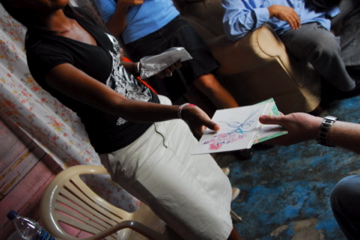 SHE STILL READS THE LETTERS.
Julia was the other girl we met and she had more personality than should be allowed. She is currently attending college studying Engineering and Computer Science. I'm considering asking her if she could tutor me by email because I could use some computer education.
We were able to go to Julia's home as well and meet her sweet mother. When we asked her mother about the difference Compassion has made in their lives, she literally threw her hands up in the air and waved them around. She had no words.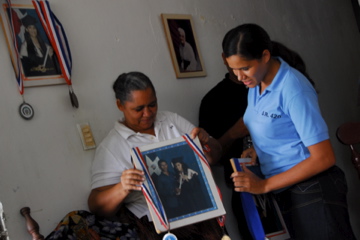 Julia had slipped back to her bedroom because she wanted to show us her high school graduation photo and some academic medals she had been awarded. As she walked back in the room she had tears in her eyes and shared with us that she vividly remembers being a young child and being picked to become a part of Compassion's child sponsorship program.
She had to have her picture taken for her sponsorship packet, but literally didn't have clothes to wear for the photo. As tears streamed down her face she told us of how she had to wait in the bathroom with no clothing, while seven other little girls took turns changing into the same dress for their sponsorship photos. That dress was all they had.
The shame and sadness of that memory filled her with grief even fifteen years later.
But now she is a beautiful, vivacious twenty-year-old woman on her way to earning a degree in Engineering.
We asked her about the difference Compassion made in her life and this is what she said:
"People who sponsor children through Compassion are the superheroes of the Earth."
You may not be able to leap tall buildings in a single bound, but you can be a superhero of the Earth by sponsoring a child.
And I think that's pretty cool.
Please sponsor a child today or if you are already a sponsor, please think about sponsoring an additional child. I can't even explain the impact that sponsorship has on the lives of these kids. These children are holding out for a hero. (Don't make me bust out the song from the "Footloose" soundtrack because I totally will.)