Last spring we filmed various people reading excerpts from Church of the Small Things for me to share leading up to its official release on October 3. There was a time that I regularly posted videos of Caroline, but those days are long gone now that she's a teenager and not really interested in being on any kind of social media unless it's her own. However, she agreed to read an excerpt from the book and I am probably biased but I think she's the cutest.
I'm ignoring the fact that she already looks significantly older than this even though this was filmed just four months ago.
Bangs. I know they work for some people but we are not those people. Remember when Reese Witherspoon won the Best Actress Oscar for playing June Carter Cash in Ring of Fire? There are some people who would feel that is her greatest accomplishment, yet I believe these bangs are significantly harder to achieve.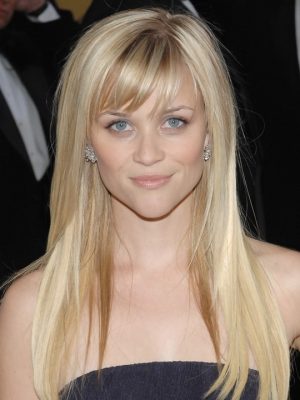 I carried this photo around for years in the mistaken belief I could achieve this. Never mind that I look nothing like Reese Witherspoon in any way, shape or form. Oh, and I also don't have a team of stylists to fix my bangs every day.
Anyway, you can read another excerpt from the book here about my grandparents that was featured on Country Living this week.
There are still some signed, first edition copies available for pre-order at Barnes & Noble and they are currently 30% off which makes them just $16.07. You can order one here. Once they are gone, they are gone forever so if you want a signed copy for yourself or to give as gifts, this is your chance.
And you can find the book trailer and all other buying options here.
If you pre-order, don't forget to go enter your order number here to get all your pre-order bonuses, which include downloadable prints by Heather Gauthier, the amazing cover artist, five of my family recipes, the first three chapters of the book and the first video session of the Church of the Small things Bible study.
Thank you for pre-ordering and for accepting me even though I suffer from bangs insufficiency. I'll see you back here tomorrow for Fashion Friday.
Copyright secured by Digiprove © 2017