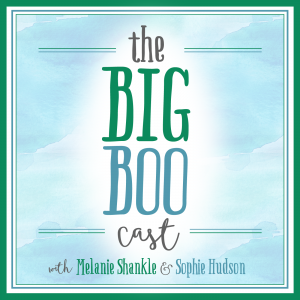 I just have to say a huge THANK YOU for all the support y'all have given Church of the Small Things as its made its way into the world this week. I am so appreciative. And if you've read it and have time to leave a review on Amazon, Barnes & Noble, or GoodReads, I would so appreciate that.
There's also an excerpt from the book about my brief experience owning a white couch here on Country Living.
Sophie and I recorded what I'm wanting to call a very special episode of the Big Boo Cast. And by very special episode, I mean we planned it out and had a theme and everything. It's amazing what a little forethought will do. We talk about all the small things that make us happy and I have to say that this one is one of my favorites we've done.
We'd love for you to subscribe on iTunes, and we'd be honored if you'd leave us a review.
You can click here to listen. Or here. You can even listen right here on the blog.
You can also listen on Stitcher.
And if you're on the Facebook, well, we are, too.
Here's where you can get more info on the stuff / products / places we mention:
– Church of the Small Things (signed copies!) or here on Amazon.
– Barefoot Dreams Coastal Chic Lite Hooded Cardigan
– Kristen Bell's Hurricane Harvey Instagram posts
– Somersaults Sunflower Seed Bites, salt and pepper
– "A Stanford researcher's 15-minute study hack lifts B+ students into the As"
– Goliath Must Fall: Winning the Battle Against Your Giants
– Melanie on Twitter and Instagram
– Sophie on Twitter and Instagram