I would like to report that I am totally well rested and back to my normal self, but that would be a lie. However, I am much closer to that than I was last week at this time so that feels like a victory. And I figured I better recount the last several days while I still vaguely remember what happened and where I was and what I did.
Last Tuesday, Gulley and I drove to Dallas for a book signing at Barnes & Noble. We made our usual stops along the way for fried chicken, a DQ Blizzard, and the cleanest bathrooms we could find. Eventually we ended up at Jamie and Trevor's house where we hung out and caught up on life before we went to the book signing. It was so fun to meet a lot of people who were on the launch team for the book and to see some old friends and I tried to concentrate on that instead of the fact that I had to catch a 7:00 a.m. flight the next morning.
After a refreshing four hours of sleep, Gulley drove me to the airport to catch my flight to L.A. I've never wished more that I was one of those people who can sleep on a plane but I have never one time been that person and so I watched a movie instead since I was fortunate enough to be on a plane with the built-in screen on the seat in front of you.
When I landed at the airport I rented a car and drove myself through Los Angeles traffic to get to the Universal Studios lot where Hallmark Home and Family is filmed. The fact that I managed to do this successfully made me feel levels of accomplishment that are really beyond what is normal. I had the option to have a car and driver but my fear of getting carsick sitting in a backseat during stop and go traffic was greater than my fear of navigating traffic and unknown streets.
Once I was on the Universal lot, I was directed to turn on Steven Spielberg Drive, go past the old West town on my left and then arrive at my trailer. When I got home on Thursday, I was telling P all of this and he said, "Let me see your pictures of it." And I had to admit I was so overwhelmed by the whole thing that I didn't take even one picture. He proclaimed that I am the worst blogger ever and I can't disagree with him because if a blogger goes to Universal Studios and drives through an Old West town and has her own trailer and a tree falls in the forest and no one hears it, then did it even happen? Doubtful.
But I managed to get through my portion of the show without shaming my family and that felt like a victory. And I ate fish and chips next to Roma Downey and so, basically, I was touched by an angel. Then I drove my rental car back to my hotel by the airport and ordered all the food from the room service menu. I'm only halfway kidding.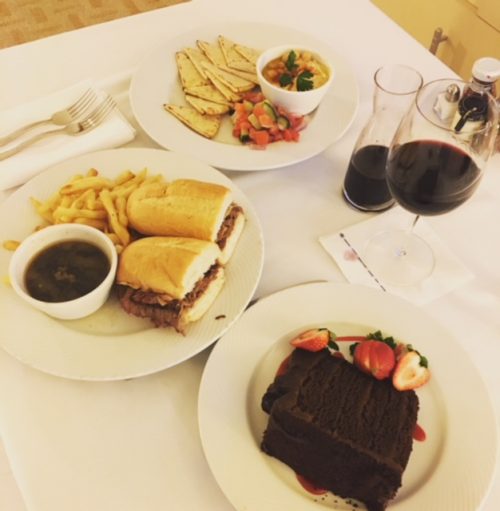 I realize the fact I took a picture of this but not one single part of the rest of my day confirms that I am the worst.
The next morning I made it to LAX and through security and even had time to grab a large coffee before making it to my gate. Or so I thought. As it turned out, LAX is a complicated labyrinth of nonsense and everyone headed to Texas was loaded on a shuttle bus that drove us practically to Arizona before loading us on a plane that seemed way too tiny for a three hour flight. It was a plane that was so tiny that they just passed out drinks because a drink cart wouldn't fit down the aisle and so, of course, we ended up sitting on the runway for an hour and a half because the cargo door had a broken hinge that had to be fixed.
I finally made it back to San Antonio by mid-afternoon and was back to my real life of driving Caroline to soccer practice by that evening. P took her to school on Friday morning and I slept in. It was the best sleep I can remember in recent memory. Once I woke up, I started the laundry, cleaned up the house and ran to the grocery store because it was Homecoming weekend and Caroline was having a group of her friends over for dinner before the dance on Saturday night.
The girls all came to the house Saturday evening and ate dinner and then got dressed. There was a flurry of helping with hair and doing makeup and zipping up dresses and lots of smiles and laughter.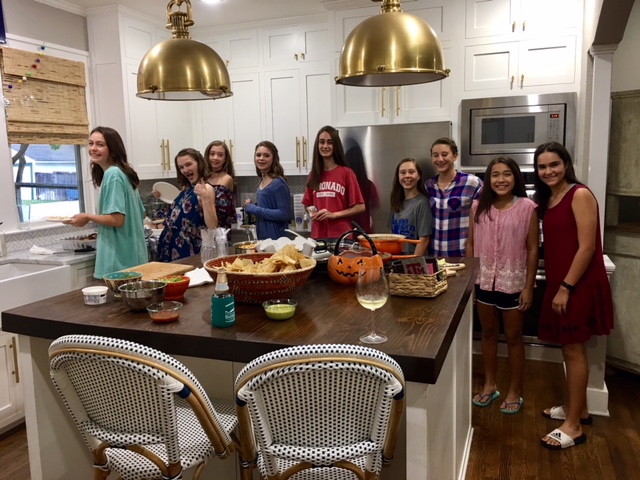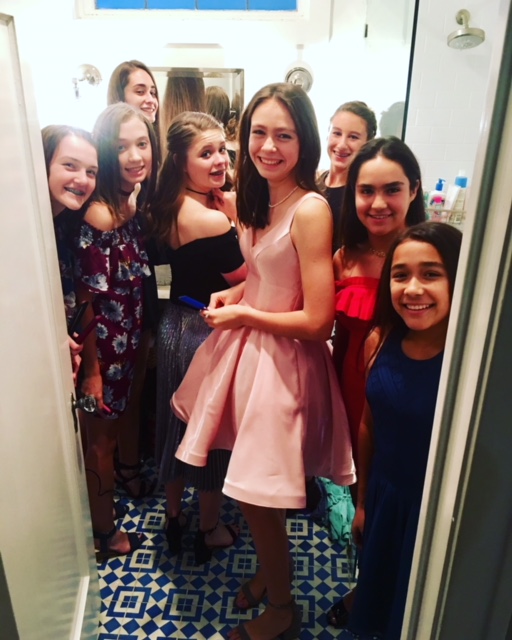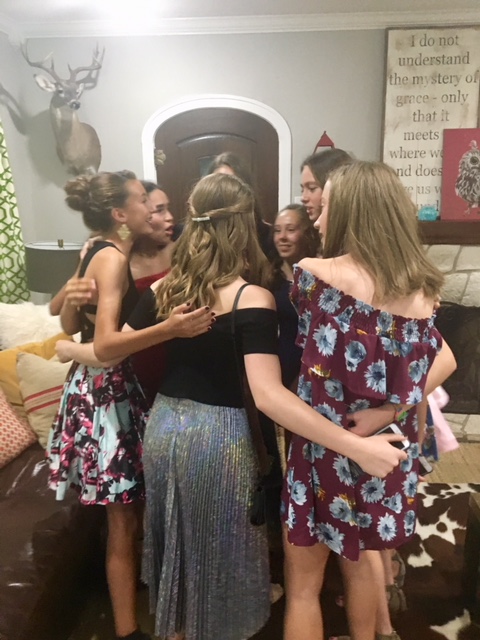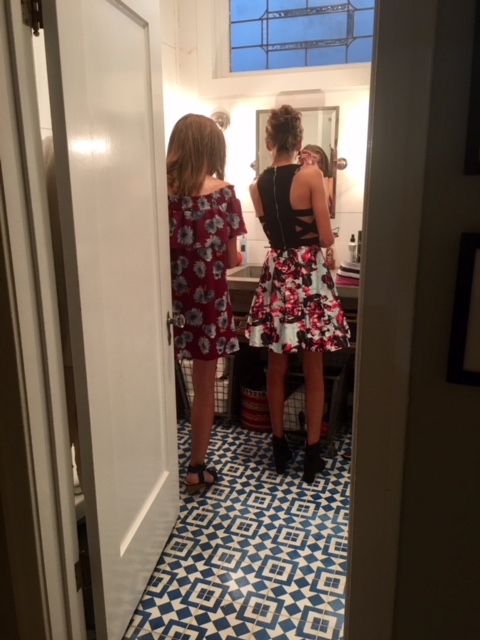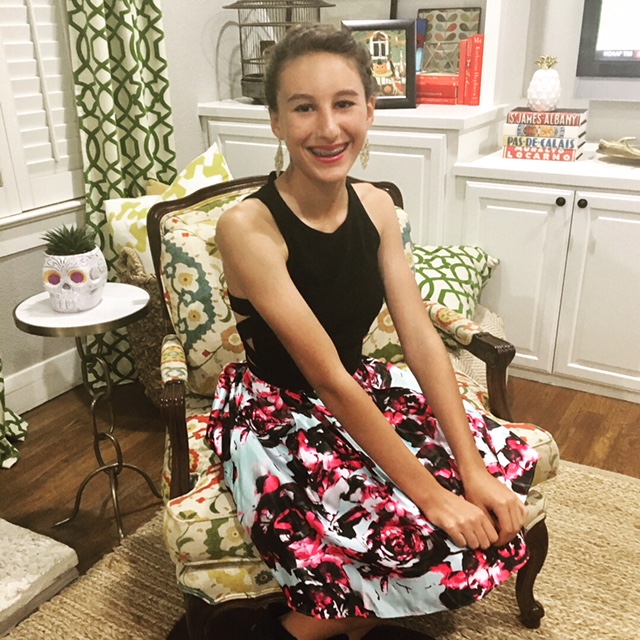 When I dropped them off at the dance I got a little teary-eyed and maybe it's because I was so tired and emotional, but I think mostly it was because it was one of those moments when you are fully aware that you are living smack dab in the middle of the good 'ol days and that this was a moment to cherish.
I picked Caroline up from the dance later that night and then we pretty much went straight to bed because, as much as that seems like plenty of excitement for one weekend, we had more on the horizon in the form of a soccer game in Houston at 10:00 a.m. Sunday morning. This means we had to be out of bed at 5:00 a.m. which means I didn't feel like I was living my best life on Sunday morning.
But we made it to Houston and the game was terrible. The refs were terrible, the team didn't play up to their normal level and Caroline even got her first ever yellow card. I couldn't find the spot in her baby book for "Baby's first yellow card" but it felt noteworthy since she's been playing since she was in first grade. It was a milestone. It was also a bad call in my opinion, but refs tend to not ask for parental advice while officiating games.
And it didn't even happen on this shot where she caused a defender to fall over.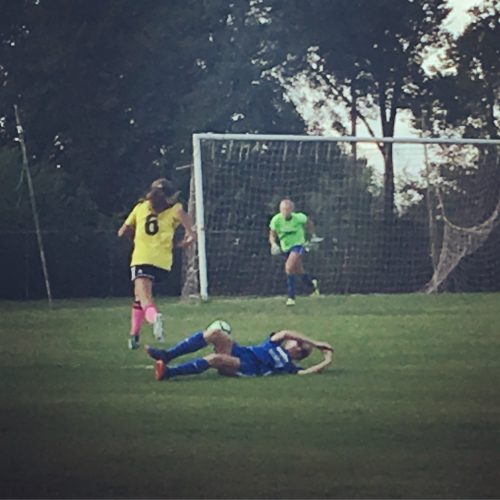 Oh, and I also forgot to mention that I watched the Aggies beat Florida on Saturday night and it was very exciting and I am impressed with this team who keeps managing to win in a supremely ugly fashion, but they win nonetheless. I'll take that all day long.
The end.
(I wrote "The End" because this is long enough to be a book. Thank you for bearing with me.)
Also, there's an excerpt from Church of the Small Things up on Success.com today. You can find it here.