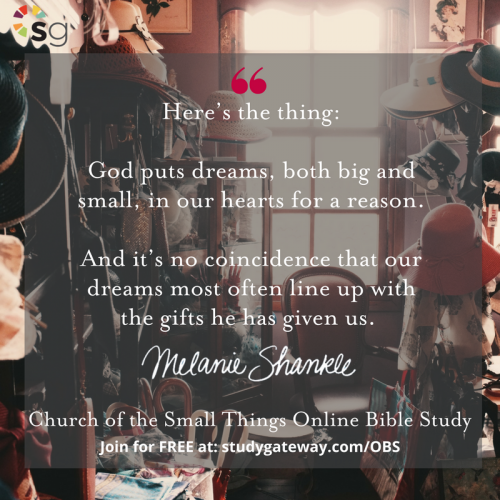 So I never really thought I would write a Bible study. Not because I don't read the Bible and love Jesus and all of that, but more that it just seemed really difficult to write questions and find practical applications and to feel remotely qualified to teach about anything. I am a girl who never won a Bible drill in Sunday School and still can't find Habakkuk or Zephaniah in my Bible on the first or fifth try. But you know what they say? We make plans and God laughs. And so this happened:
The Church of the Small Things book has been out for two weeks, but the Bible study version is officially out today. Several of you have asked, so I'll clarify that while they hit on the same theme of what God can do with the small things, they are also totally separate from each other and so you can read the book and then do the study or do the study and then read the book or you can read both at the same time or you can never read either of them and quit reading this blog post. It's totally up to you and what you prefer and how you can live your best life.
And in what may the most surprising part of all of this, Faith Gateway decided that the Church of the Small Things Bible study will be their lead online Bible study for the fall.
The online study begins on October 22 and runs through December 7, 2017. You will have access to all six videos during that time as well as a private Facebook page and weekly blogs.
You can do the study on your own, with the Faith Gateway online community, or with a church or small group. Each week's video is 15-20 minutes just to give you an idea of the time commitment and you can watch them at any point during the week. You can purchase the accompanying study guide here on Faith Gateway or at other online retailers or Christian book stores.
If you register before October 23, you can get access to some free bonuses. To get more information or to sign up, you can click here to get to the registration site.
If you've ever wanted to do a Bible study but felt intimidated or didn't have a group or didn't want to get out of your pajamas, then this is the perfect opportunity. No one will check to see if you actually did your homework or if you have good answers or if you really listened to the video. In other words, it's perfect and you get to experience a little bit of Round Top, Texas, the Junk Gypsies and Royer's Pie Haven.
I hope you'll join us for this six week study. I can honestly say that as I've spent the last two weeks traveling and reading responses about the book and just seeing all that is going on in the world right now, I believe in all that God is doing in the church of the small things more than ever.
Have a great Tuesday.