Not only is it already November, but I am excited to report that the weather has finally decided to cooperate and recognize that maybe November isn't the time that any of us want to deal with our car thermometers announcing that it's 92 degrees outside. I've even worn boots the last three days in a row and so that feels like a victory.
Needless to say, they are not the Sam Edelman camellia boots that are still sold out at Nordstrom, but I'm not giving up hope yet. I just know there is someone out there who will decide they don't want a pair of size 8.5 golden caramel boots after all and return them to Nordstrom. A girl has to have a dream after all.
Speaking of dreams, there is an excerpt about chasing your dreams from Church of the Small Things in Propel magazine. You can find it here if you're interested in reading it. And I was also a guest on the Mom Struggling Well podcast last week and you can listen to that interview here.
In other Church of the Small Things news, you may remember this darling t-shirt featuring a quote from Mother Teresa that Milk and Honey Tees designed to help us all remember that it's the small things that matter most.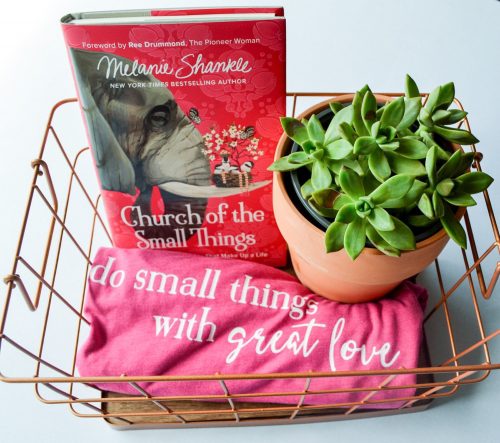 This Milk and Honey small things t-shirt will be available for order until November 15th. If you happen to think a cute t-shirt and a copy of Church of the Small Things might make a nice little Christmas gift for someone in your life, you can find the t-shirt here and there are still a few signed copies of the book with bonus content available here online at Barnes & Noble or in your local Barnes & Noble bookstore.
Now for some cute things I've found this week:
1. j.crew long sleeve ruffle front top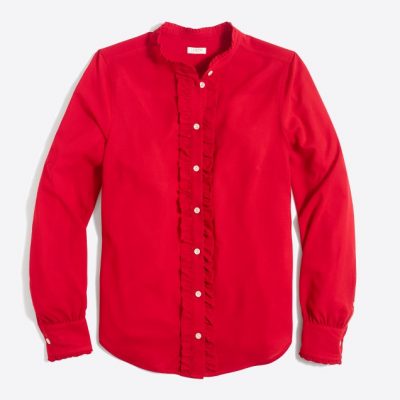 I am so drawn to everything red right now. I'm sure it's because Christmas is right around the corner, but this is the perfect shirt to add a festive touch to a pair of jeans. Or you could dress it up with a pair of velvet jeans and heels. It also comes in black.
2. philosophy metallic stars sweater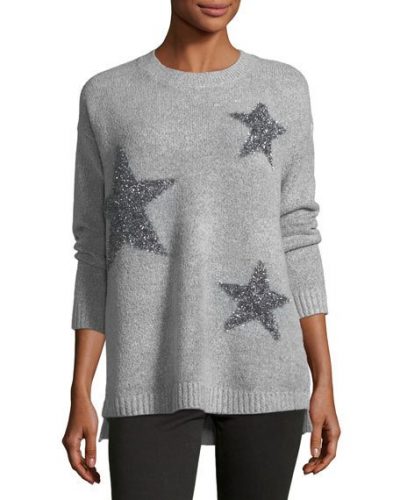 I love stars and I love sweaters. So, basically, this is the perfect sweater. I think it's another piece that could be paired with jeans or dressed up for a holiday party. It's on sale for $89 plus an additional discount depending on whatever Last Call is currently offering. It was an additional 50% last I checked but that might change by the time this post goes live.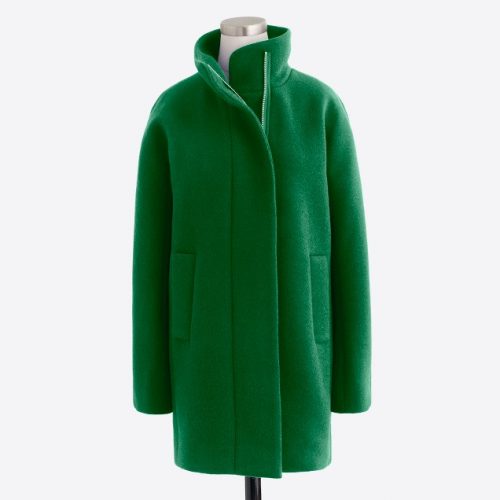 I have been in love with this coat since I first saw it. It comes in a bunch of different colors but this bright green just has my heart. And it's at J.Crew Factory so it's significantly less expensive than it is at J.Crew. Now if I could just trust that the weather will get cold enough for me to actually need it in my life…
4. treasure and bond drape cardigan
I love the drape of this sweater and how easy it is to throw on over a t-shirt and a pair of jeans. Or even with a cute dress. It also comes in burgundy and black and is $69. This would make a great Christmas gift because the sizing is pretty simple.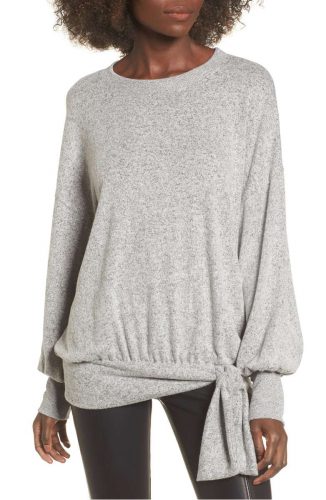 I believe the side tie must be the new cold shoulder and hallelujah to that. I can get on board a side tie train. And I think this is so cute and just $49.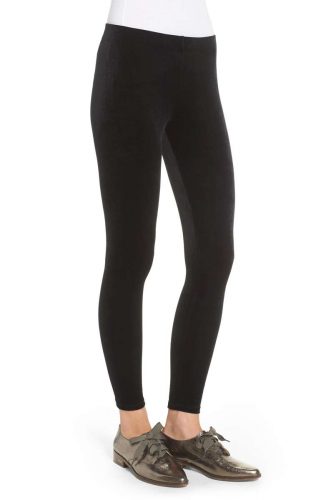 If there is one piece that your wardrobe needs for the holidays, then I think it's some velvet. I happen to love these velvet leggings because you can pair them with a sweater like the one with stars above and have a cute, comfortable dressy outfit for a holiday get together.
These are $49 and also come in dark silver.
I also love these AG super skinny velvet leggings and they fit like a dream, but are significantly more expensive. They are for the person who's ready to make a real velvet commitment. I happen to love them in the dark green color.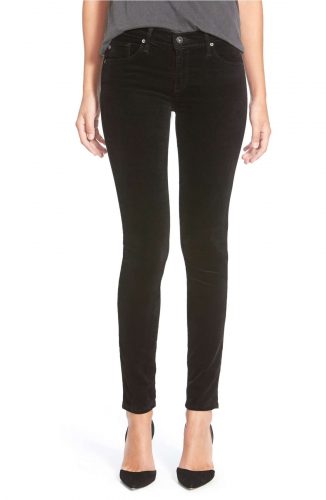 And these spanx velvet leggings are a great in between option as far as price goes. Spanx leggings always fit great and I'm sure these are no exception. I love them in the black, but they also come in a dark navy and a dark gray.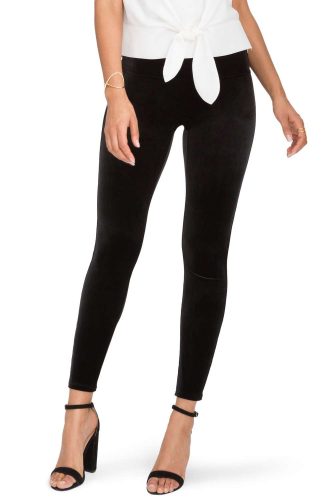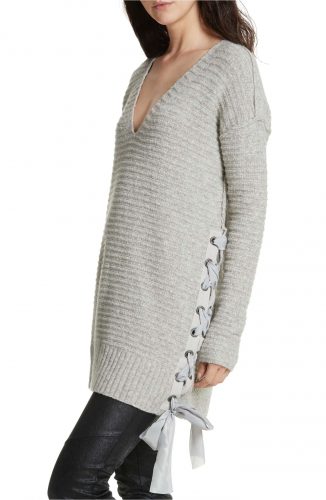 This sweater is my new favorite for several reasons. It has "lustrous chenille yarns" according to the description which means it's soft and not itchy. It has a v-neck which makes it universally flattering and a little dressier than just a crew neck sweater and it has darling laces up the side. It would be perfect with velvet leggings. It also comes in black or a pale pink depending on your color preference. I'm not sure how I'll decide because I love all three colors.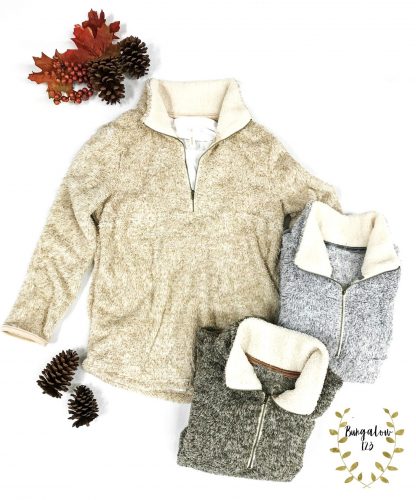 My friends and I refer to things like this as our "Cozy Sues". It's an article of clothing that you must have on your body on a cold, rainy day. If ever there was a Cozy Sue, this is it. It's like wearing a blanket. This comes in mocha, gray or honey colored. I don't really know how you could go wrong and this is a perfect Christmas gift. Those of you with teenage girls to buy for? This is a winner. Caroline would live in this all winter long.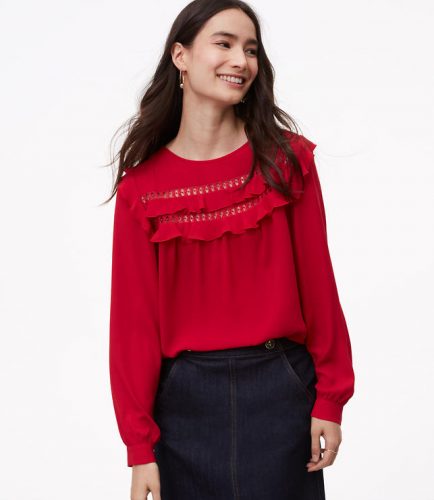 Clearly I am drawn to a red blouse right now. This one is $49.50 with an additional 50% off with no code needed. It comes in red or an equally pretty periwinkle color. This is a great top to wear casually or to the office, but could easily be dressed up for a party.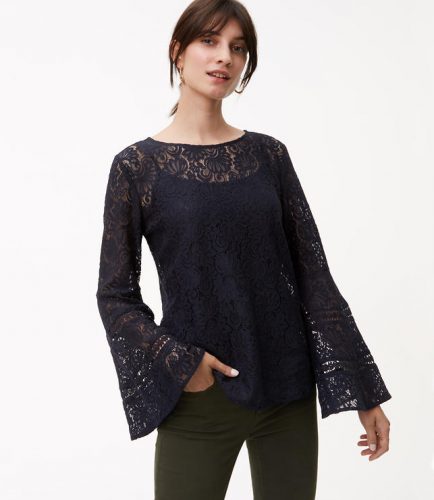 Speaking of parties, this lace top is perfect. It's actually navy, not black, but I kind of like the unexpected navy. It would look so pretty paired with dark gray. It's $59.50 plus 40% off with code HAPPY at checkout.
That's it for today.
Have a good Friday.