Y'all. I so hope you are reading this while you are still in your pjs and thinking about heating up another plate of Thanksgiving leftovers and shopping online instead of fighting crowds in a mall. Unless, of course, you enjoy waiting in line and camping outside of Best Buy. In that case, you do you.
As for me, I'm going the online shopping route. Actually I'm spending my Black Friday watching Caroline play soccer because soccer doesn't care about your 50% off everything sale.
Here are a few things I found this week that could make great gifts for someone. Or you can send this to your significant other/mom/best friend and say "ANY OF THIS". Whatever works.
1. free people slouchy ottoman tunic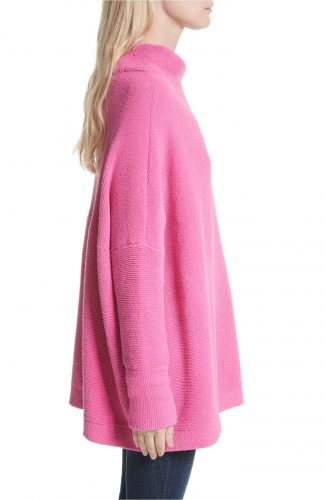 I have been waiting for this to go on sale, mainly because I love this pink color. But it also comes in mink and black if you aren't so much a pink kind of girl. It's now 40% off and $88.80.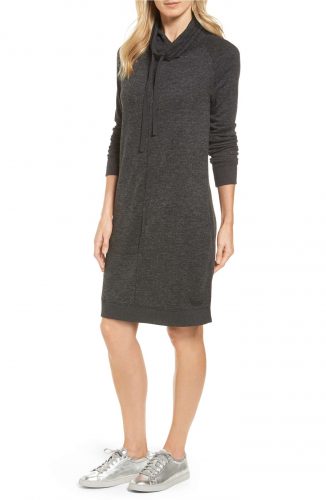 This sweatshirt dress is so cute and so practical to throw on with a cute pair of sneakers for all the Saturday morning soccer games I attend. It's 33% off and on sale for $45.90 It also comes in a light gray.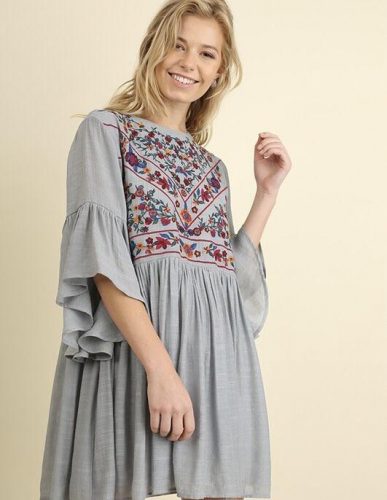 The Nod Boutique has become one of my go to places to find cute, trendy pieces for good prices. I actually have this tunic in a berry color, but I love this light gray. It looks so cute with jeans or leggings and it's $46.
The Nod has two different Black Friday promotions going on. You can get 15% off your total purchase with the code BLACKFRIDAY15 at checkout OR you can get a free blanket scarf with a $100 or more purchase with the code BFFREESCARF.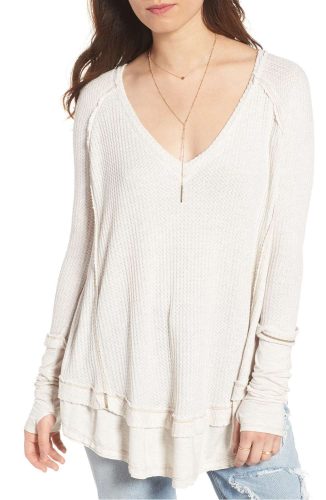 I have this top in black and wear it all the time because it is so soft and comfortable. It's now 40% off just $40.80.
5. j.crew oversize tunic sweatshirt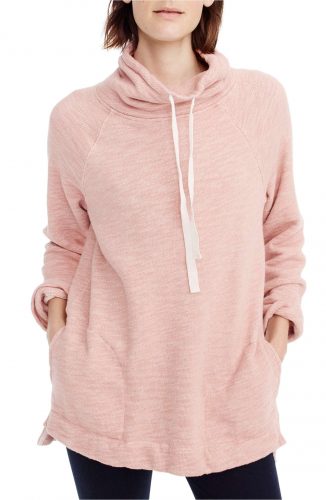 Oversize? Tunic? Sweatshirt? These are a few of my favorite things all combined in one item. It's 40% off and now $41.70. It also comes in a dark charcoal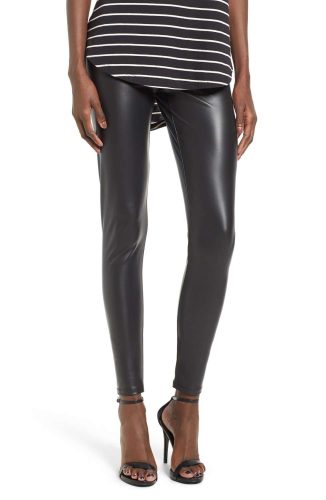 If you are looking for faux leather leggings, then look no further. These are 35% off and just $18.90. I ordered them and will confirm that they run a little large so I'd size down, but they have plenty of stretch and you could wear them to a Christmas party and still feel like you could eat without splitting your faux leather leggings down the seams.
7. free people heart it laces sweater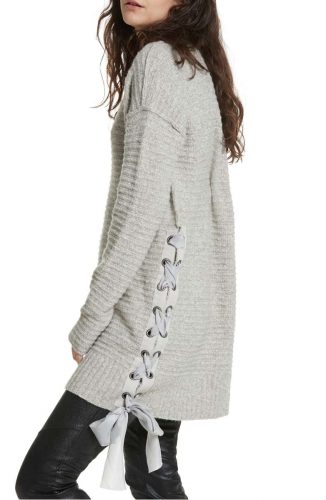 This is another Free People that I've been waiting to go on sale because I love that lace up detail down the side. It's 40% off and now $88.80. It also comes in pale pink, teal blue and black.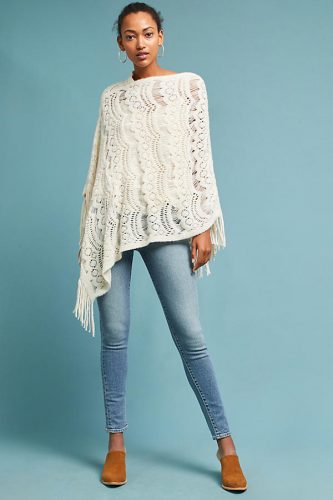 How pretty is this? It's not on sale and $98, but it seems like one of those pieces you could wear for a long time that would make even a simple outfit just a little bit more dressed up.
9. old navy luxe curved-hem tee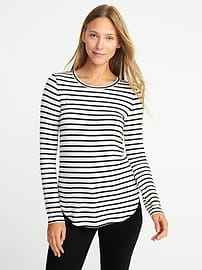 I ordered this in a black and white stripe and now I want it in more colors. It is so soft and the perfect length. It's just $19.99 plus Old Navy is offering an additional 50% off everything at checkout plus free shipping with the code FREESHIP. Which means it might also be a good time to stock up on cute pj pants for everyone on your Christmas list.
10. gap short sleeve sequin dress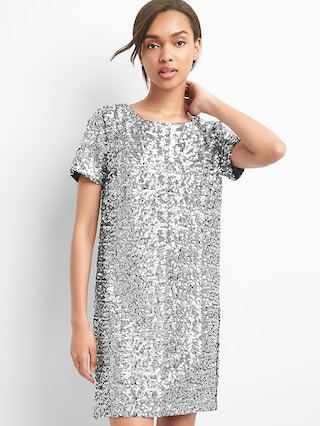 This has promise to me. It could be really cute for holiday parties with either tall boots or heels.
11. clare wool tunic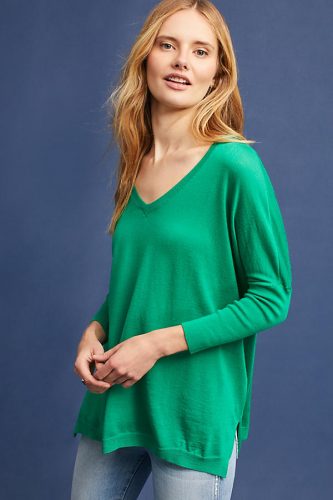 I tried this on earlier this fall but knew I wasn't going to pay full price for it even though I really loved it. But now it's on sale for $59.95 plus an extra 25% off all sale at Anthropologie. It is totally worth that price point because it is soft and lightweight and just a great sweater. I happen to love the green but it also comes in black, pale pink, and lavender.
12. gap cable knit duster cardigan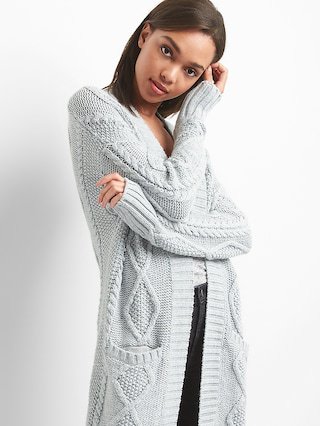 This is so pretty and I love that it could be dressed up or down. It's normally $128 but everything at Gap is 50% off with the code BLKFRIDAY.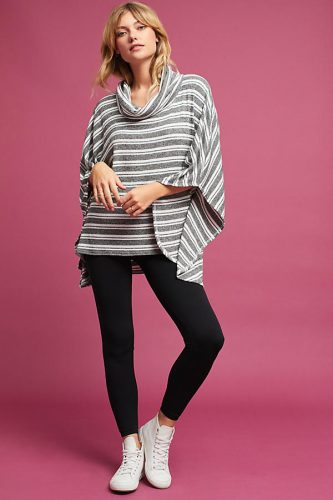 Apparently today is the day for a good poncho. Maybe that's a sign that I ate too much for Thanksgiving. But this one is unique because it has stripes! Plus, it's on sale for $49.95 but there's that extra 25% off all sale at Anthropologie.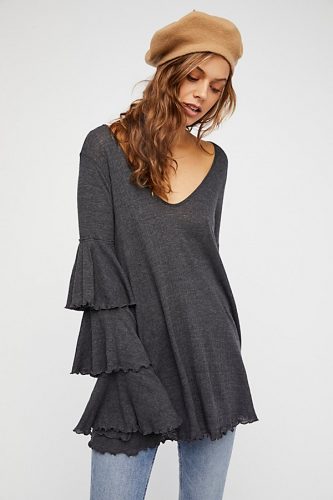 I wasn't even looking for this but it showed up in my email inbox and, well, look at those sleeves. Also? It's a tunic. It's $60 and also comes in gold, berry, rose, ivory and teal.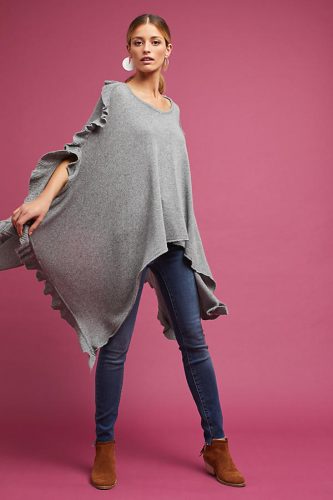 Yep. Another poncho. I'm sorry. This one is one size fits all which means it could make a great Christmas gift since there's no size guesswork involved. It's on sale for $79.95 plus an extra 25% off. It also comes in wine which would make it perfect for an Aggie game.
That's it for today. Hope y'all had a great Thanksgiving.
Have a good Friday. Happy shopping!