When I was a little girl, I was endlessly fascinated with the episode of Little House on the Prairie when a blizzard suddenly hits Walnut Grove and Miss Beedle had already sent some of the children home from school and Pa and the other men of Walnut Grove had to get out and find them while everyone else hunkered down in the schoolhouse to weather the storm. I have vivid memories of re-enacting this story all by myself and burrowing all the way under my Holly Hobby bedspread to the end of my bed as I pretended that I was Laura Ingalls in a covered wagon, trying to survive a blizzard. Let me add to the bizarreness of this by clarifying that I grew up in Houston, Texas where this scenario had not even a remote possibility of being an actuality. Not to mention that it was 1976, so the closest thing I was ever going to get to a covered wagon was a wood-paneled Plymouth station wagon.
All that to say that there is a still a little girl inside of me who still gets inordinately excited at the prospect of a winter storm even though I have been duped many times throughout my life by a meteorologist's dire warning of an ICEPOCALYPSE or an ARCTIC BLAST or a SNOWMAGEDDON that turns out to be nothing more than a thirty-six degree day combined with rain that is indeed very cold, but is just rain. Not ice, not snow, not sleet, not frizzle.
So when the local weathermen began to talk of a possible "ice event" that could hit San Antonio this week, I was skeptical at best. However, I still channeled Ma Ingalls and drove to HEB to stock up on food and chocolate and, most importantly, wine. I realize Ma Ingalls probably didn't actually stock up on wine but I promise you it's only because they didn't sell it at Olsen Mercantile.
Then on Monday afternoon, it was announced that school would be cancelled on Tuesday due to the icy weather forecast. As excited as I was for a three day weekend to turn into a four day weekend, I still thought it felt weird for an ice day to be announced when it was 72 degrees outside and I'd just picked Caroline up from soccer practice where she was wearing shorts and a t-shirt.
But, let me tell you, it's lucky that they made that call because I woke up this morning to this sight.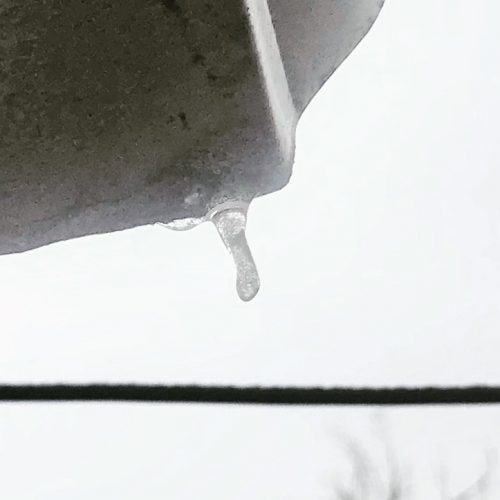 That, my friends, is a lone icicle hanging off the gutter of our back porch. Obviously, it was like we had just found ourselves in the very middle of the famous blizzard episode of Little House on the Prairie. It was terrifying but we will rebuild.
I will say we did get some freezing rain and even a few snow flurries before the day was over and we were all thrilled to have an extra day to just relax and hang out. Apparently my survival instincts kicked in because I consumed approximately 10,654 calories because I decided it was the perfect weather for crawfish étouffée and mini molten lava chocolate cakes. This is what happens when you spend an entire day in your Gap pajama leggings and an oversized sweatshirt.
So I thought I'd share my recipe for crawfish étouffée. I've shared it before but I looked back and realized that was eleven years ago and there's a good chance some of you missed it. So here you go.
Crawfish Étouffée
1/4 c. diced celery
1/4 c. diced onion
1/4 c. diced bell pepper
1 tsp. cayenne pepper
1 tsp. salt
1/2 tsp. dried basil
1/4 tsp. dried thyme
1 tsp. black pepper
5 tbs. vegetable oil
1/2 c. flour
2 c. chicken stock or canned chicken broth
1/2 stick butter
1 bunch green onions, chopped (separate white and green parts)
1 lb. peeled crawfish tails (defrosted if frozen) – you can substitute shrimp if you prefer
Hot cooked rice
In a small bowl, combine celery, onion, and bell pepper. In a separate bowl, combine cayenne, salt, basil, thyme, and black pepper and set aside.
Make a roux: In a heavy skillet (preferably cast iron), heat the vegetable oil until very hot, then gradually add the flour. Cook over high heat, stirring constantly until it turns chocolate brown. Be careful not to burn it. (Side note: You can make your roux on the stovetop, but I've started making mine in the oven and it's a game changer. Just mix your flour and oil in a dutch oven and cook for about two to three hours in a 350 degree oven. Stir it about every thirty minutes.)
Take the roux out of the oven and put it on the stove. Add celery, onion, bell pepper to roux. Add seasoning mixture. Let cook 2-3 minutes on low heat, stirring.
Add chicken stock to roux mixture, stirring until there are no lumps. Continue to simmer until sauce is thickened. In a separate skillet, melt butter, add white part of green onions, and crawfish; sauté 2-3 minutes, then pour it all into the dutch oven with the roux and vegetables. Simmer about 30 minutes.
Serve with rice and garnish with green part of green onions if desired.
It is so delicious and even better the next day. I also inadvertently learned a helpful cooking tip today which is if you keep your reading glasses on while you chop onions it keeps your eyes from watering. And with that epiphany, I felt my youth go gently into that good night.
Also, I cannot say enough about these chocolate lava cakes. I used Ree's recipe. You can find it here.
So that's what's been going on around here. I also used this long weekend to watch The Marvelous Mrs. Maisel on Amazon Prime and LOVED IT SO MUCH. It is not family friendly, but it is so funny and so smart and the clothes are to die for. I'm in mourning that it's over because I need to know what happens next.
And I'm also watching The Bachelor for the first time in forever. I don't think I've watched it since Sean Lowe's season, but I got sucked back in by Arie because I remember him from Emily's season and he's 36 and I thought he might bring some refreshing maturity to The Bachelor stage. The verdict is still out on that, but the ABC producers are killing it with the dramatic re-enactments and a ramped up kitsch factor. It is so over the top absurd that I am totally here for it. And it's made even better by reading my friend Lincee's recaps which you can find here.
Hope you have a great day or a great night or a great whatever hours are in front of you by the time you read this. Stay warm. And don't forget that you can always break a desk into a bunch of pieces and burn it in the wood-burning stove if you get desperate.
One final thing. I keep forgetting to mention that I'll be in Austin this Thursday evening, January 18th at Austin Ridge Church. You can find out more and/or register here.
Copyright secured by Digiprove © 2018