This is one of those weeks where I put this whole post together and then realized I chose a lot of blush colored items to feature. I didn't necessarily do this on purpose, but I think it happened because blush is a hot color right now and it's officially February which means Valentine's Day is around the corner and pink seems festive.
Anyway, here are some cute things I found this week: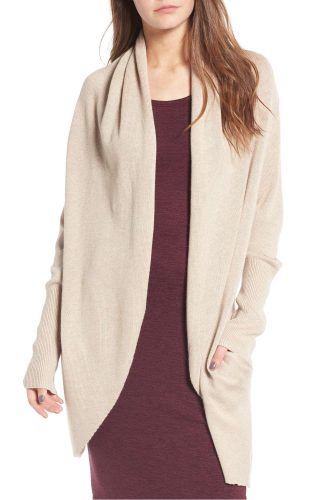 I bought the charcoal gray version of this last year and it's one of my favorite things to wear on days when it's cool but not cold. It looks good over everything from a button-down to a dress to a t-shirt. And it's 40% off and now $44.98. It also comes in a light gray.
2. lush perfect roll sleeve tab tunic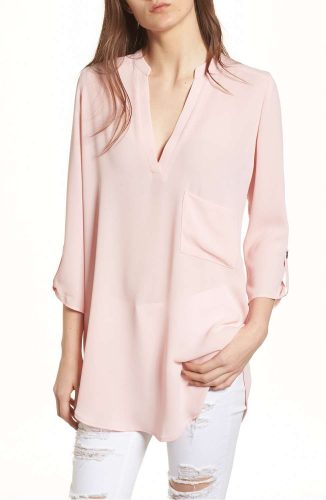 I feel like I've featured these tunics a million times. Probably because I've featured them a million times. But they are such a basic staple in my closet and I love that they're long enough to wear with leggings. They are 40% off and now $27.90. It also comes in black, gold, ivory and lavender.
3. free people heart it lace up sweater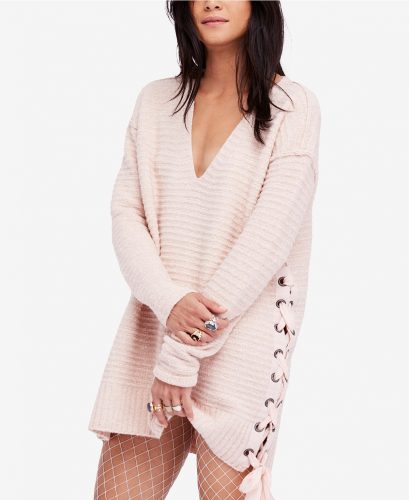 I have loved this sweater since I first saw it and it's an extra 25% off at Macy's with code RED at checkout, which makes it $83.24 It also comes in black, gray and teal.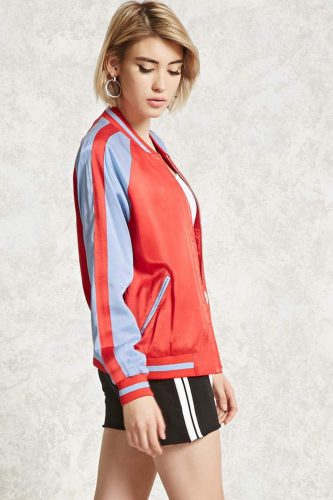 I've kind of had my eye on bomber jackets and/or track jackets. I think they look cute on people. For instance, Bruno Mars. And then I saw this on at Forever 21 and it's just $22.99. It also happens to be almost identical to a satin track jacket that I owned in fourth grade that came from Weiner's. I've never loved myself more than I did in that jacket. And those memories kind of make me want to buy this. But I'm afraid Caroline would say, "Mom. Please don't wear your satin track jacket." And maybe rightfully so.
However, this velvet floral embroidered jacket has potential.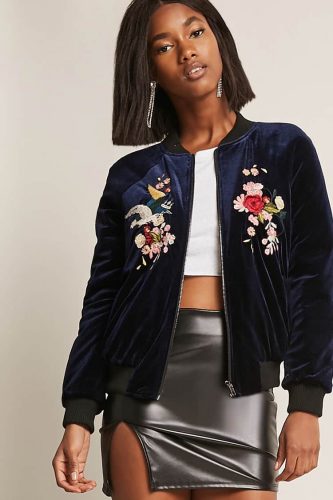 It's a little more at $58, but I think it's so cute.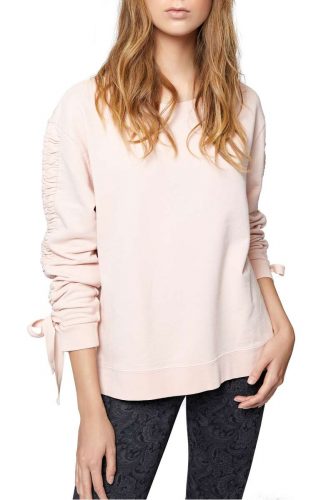 I believe I have mentioned I am in the market for more sweatshirts since that tends to be the attire of my real life. I love this one and it's 40% off and comes in gray, olive green, and milk.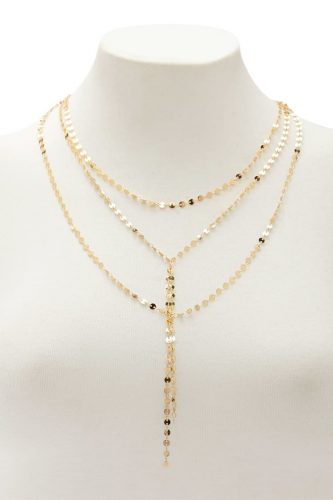 I've been eyeing a necklace just like this that is much pricier and then I saw this on Forever 21 for $6.90. SEVEN DOLLARS.
Here's the original bauble bar amber layered y-chain necklace that I love. It's worth it if you know you'll wear it, but the $6.90 is perfect if you just want a quick trend fix.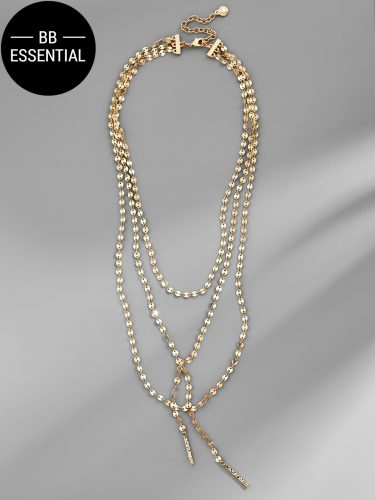 This one is $48 and also comes in rose gold and silver. It probably will last longer than the Forever 21 version, but you could also buy 6 of the cheaper one and just throw them out when they make your neck turn green.
7. marc fisher halo wedge sandals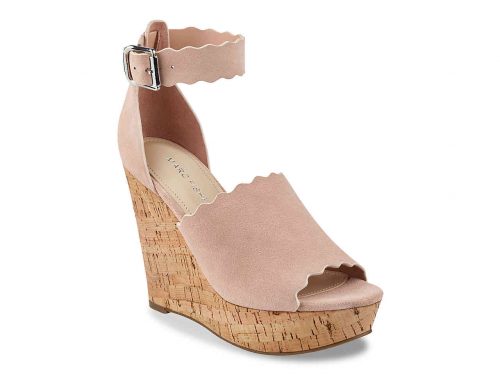 I love Marc Fisher wedge sandals every spring and summer but they are usually twice this price. These are on sale for $59.99. They also come in black or taupe.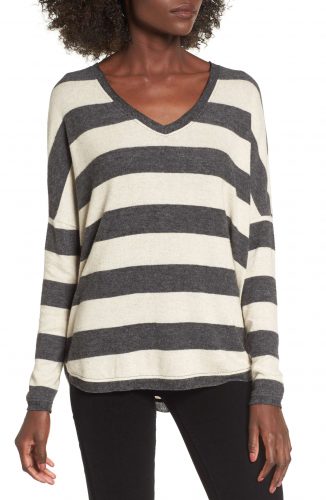 This is such a great tee to wear with jeans. It's $39 and also comes in a black and charcoal gray stripe.
9. old navy luxe curved hem tank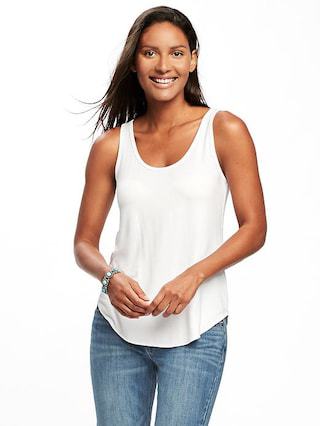 This tank comes in a bunch of different colors and is a great layering piece under a jacket or cardigan. Personally, I order mine in the tall size because I like it to be a little bit longer. They are on sale for $13.59.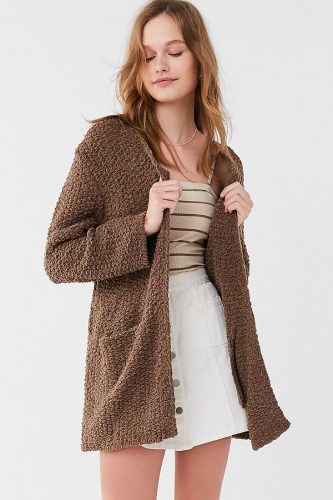 And if you buy that Old Navy tank then you might need a good cardigan. This chenille one looks so cozy.
But I also really like this charlie dolman cardigan.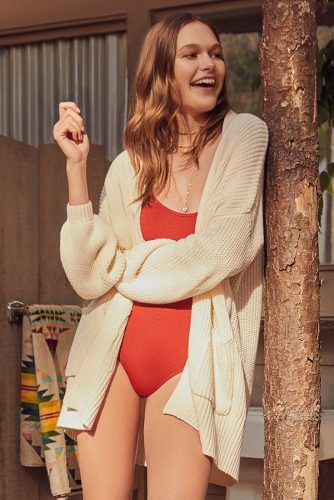 It's on sale for $39 and also comes in gray, gold, or a brown with striped cuffs. I'm also trying to figure out why Urban Outfitters is showing these cardigans worn over a bathing suit. Is that a thing? I need it to not be a thing.
That's it for today.
Have a good Friday.