So.
I don't know how it's already almost the end of the week. I'm so tired that I had to just stop and actually make sure it is almost the end of the week because my days are so off and I think I'm still on Las Vegas time even though we've been home for three days.
And since it is, in fact, Wednesday night as I sit and write this, I believe it qualifies as almost the end of the week because we're more than halfway there.
Caroline and I flew to Las Vegas last Thursday night with her soccer team for the Las Vegas Mayor's International Showcase. We arrived in Vegas at 7:50 thanks to the time change and I figured we'd be at our hotel and hopefully in bed by 10:00. I was young and naive then. It took us a sweet forever to get our rental car and then we had to stop to eat because Caroline was starving and then another hour to check into our hotel room at The Excalibur. If you just read "The Excalibur" and thought, "Man, I remember staying there thirty years ago for my twenty-first birthday!" then let me assure you that not one thing has changed since then, including the blankets and the air ventilation. I think I contracted second hand emphysema.
But we finally made it to our room by about 11:15 and if you've read this blog for any amount of time, then you will know the horror I felt when I discovered our hotel room only had four pillows total. FOUR. This is significantly less pillows than I require to sleep. And Caroline is the same because DNA. I didn't meant to raise a high maintenance child except I forgot I am also high maintenance.
So I called Housekeeping to request four additional pillows and they told me they could only bring two because of a pillow shortage. Who knew there was a pillow shortage? Where have all the pillows gone? SAVE THE PILLOWS! They brought two pillows and I nicely asked the man if there were perhaps anymore pillows and perhaps mentioned there might be a nice tip in it for him. He knocked on my door a few minutes later with this: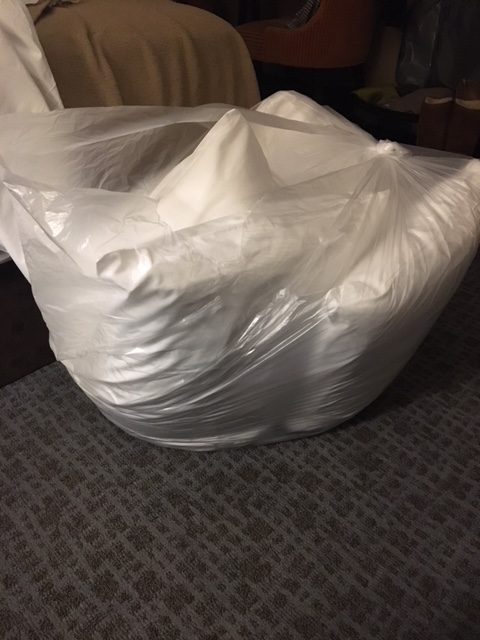 A bag 'o pillows. And that's when I learned I am not above paying cold hard cash in exchange for comfort. I also chose that moment to ask him if they perhaps had a box fan but, alas, that was a bridge too far. Although he did offer to bring me a mini fridge.
We played four soccer games over the next three days against teams from Sweden, Canada, Nevada and Washington. We won some and we lost some but we had a great time. The games on Friday were honestly some of the coldest soccer games I have ever sat through and that is saying something. The wind wasn't playing around and I kept trying to text P updates on the game but couldn't feel my fingers. That's why this is the only photo I have of the actual soccer portion of this trip.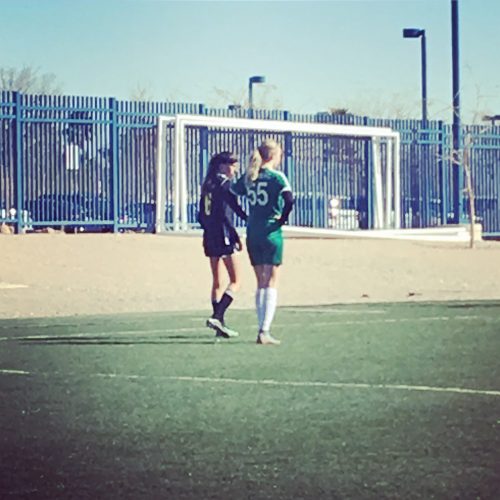 On Saturday night we took the girls to the Tournament of Kings dinner and show at The Excalibur. They had a game earlier that morning and spent the afternoon shopping and relaxing, then several of them came back to our room to get ready. One of my spiritual gifts is the ability to curl hair and it was basically like my version of heaven to get to curl their hair while I pretended like I wasn't totally listening to their conversations. And then they all took turns doing each other's makeup while profusely complimenting each other on their "cute shoes" and "perfect skin" and "AMAZING eyes". I wanted to put them all in my pocket and carry them around.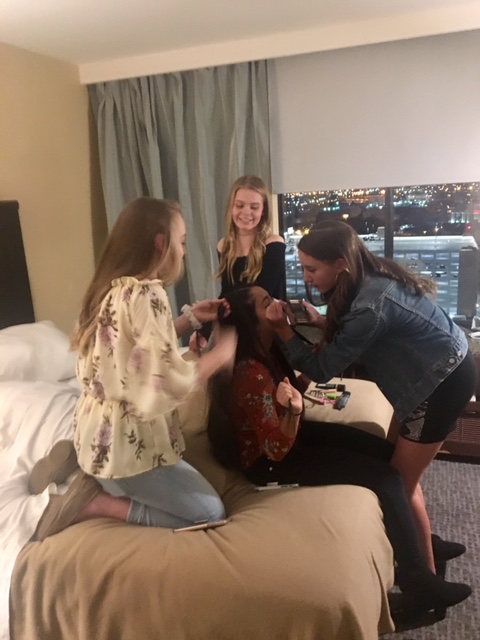 We went to the Tournament of Kings show and I cannot even discuss that I had to eat a Cornish Game Hen with my hands. Talk about what happens in Vegas stays in Vegas. The girls attracted the attention of the guy who played the young Prince Christopher with all their cheering and booing and he made the show so fun for them. He even came out to talk to them afterwards.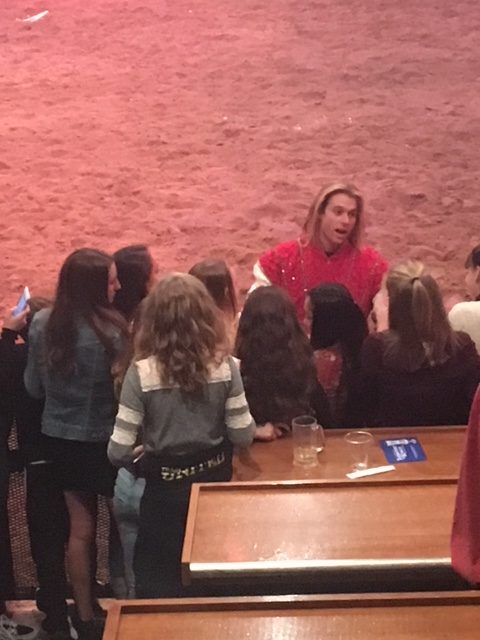 They wanted to go walk the strip after the show so a few of us went with them. We saw several people getting arrested and other various examples of what Caroline referred to as "bad life choices". And then we looked over and they were like this.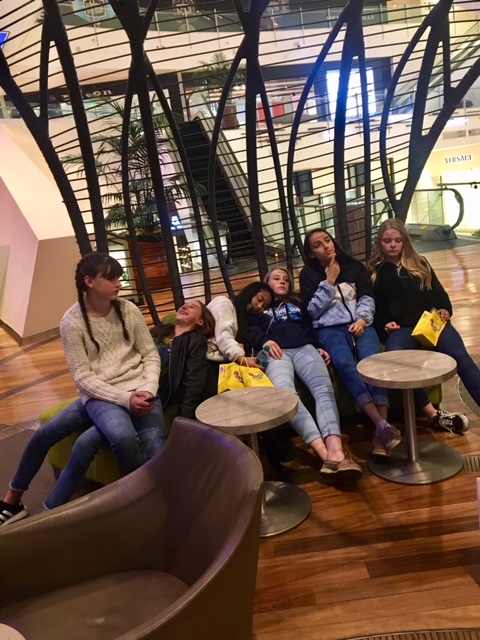 That's when we decided it was probably time to go back to the hotel and go to bed.
We had one last game on Sunday and then flew home. Our plane arrived back in San Antonio at almost midnight and I think it was close to 2:00 a.m. before we went to bed. Needless to say, we were a little groggy the next morning when it was time for school.
But I had a small speaking thing I'd committed to for Monday night and so I managed to be semi-coherent for that. And then I had to leave for Austin at 7:00 a.m. on Tuesday morning to be a small part of Jen Hatmaker and Nichole Nordeman's Moxie Matters show. It was so fun and I loved seeing the show. Then I got up this morning (Wednesday) and drove home to San Antonio in time for my eyebrow appointment because PRIORITIES.
In addition to all that, I have seventy-four loads of laundry that need to be washed, we're out of milk, Mabel has fallen into a depression over my absence, and Caroline has a track meet Thursday night that will start at 5:30 and last until infinity. It's all fine. Everything is fine.
I'm just a little tired.
But honestly? It's all worth it. Or at least that's what I keep telling myself.
Oh, and Mabel wrote a haiku as she is prone to do when feeling down.
I hate suitcases
Where oh where are you tonight?
Who will give me treats?
Copyright secured by Digiprove © 2018