So I have a new book out today.
And it's weird because I keep forgetting about it. I'm not sure why. Maybe it's because I feel like I was just doing all this with Church of the Small Things and now here I am again. Or maybe it's because it's mid-April and we're just in that crazy downhill run to the end of the school year. Or maybe it's because Cardi B. is pregnant and I'm just focusing on that.
I don't think it's that last thing.
Although Caroline told us at dinner last night that some of her friends were arguing on Snapchat about some stuff and P and I decided to do a deeper dive into that statement and asked, "What are they arguing about?" And she replied, "Oh, you know, like celebrity pregnancies and stuff."
I believe the children are our future. Teach them well and let them lead the way.
Anyway, Everyday Holy is different from my other books because it's a 100 day devotional. When I started writing it, I thought it would essentially be like writing 100 blog posts. How hard could that be?
Let me tell you the answer. It was very hard.
But you know what it taught me to do? To look for God in all the ordinary, mundane day-to-day places of real life. That has really been the theme and the challenge God led me to as I wrote Church of the Small Things and it continued on into Everyday Holy. It has challenged me and it has changed me. It's taught me that the biggest thing God calls us to do in this life is to look for him right where we are, instead of always waiting for that elusive next thing. He has each of us where we are for a reason and a purpose.
As for the cover, I want to show you the original inspiration. My friend and artist, Heather Gauthier, painted this piece and named it "Richard's Third Espresso".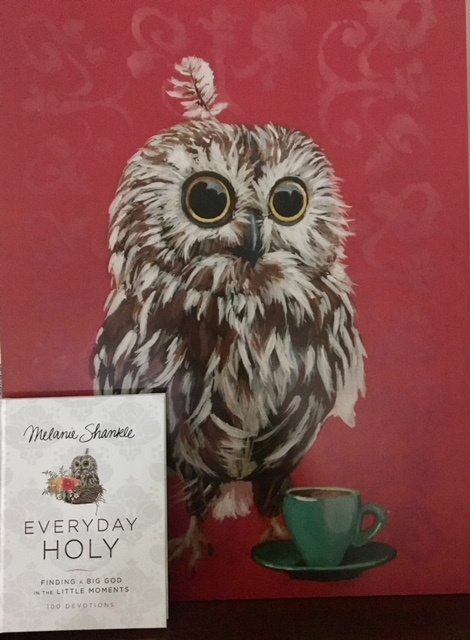 I have this print of it sitting on my mantle because it makes me laugh every time I see it. And when we began to discuss the cover of the devotional, I was struggling with what it should look like. I mean, it's a devotional book. Does that mean it needs to have like praying hands and a peaceful riverside scene on the front? Maybe a waterfall?
So I sent them this picture of Richard and said, "Hey, I know this is random but I really love this guy" and they sent me back a prototype of what became the cover, featuring Richard front and center. I could not love it more.
I feel like Richard is all of us. Life has him a little frazzled. Maybe even a tad freaked out. He needs that third espresso even though he knows that much caffeine is bad for him. And he's got that one feather that won't stay down no matter what products he uses.
And here are a few sample pictures from the inside just so you can get a feel for how much it's basically like something Oswald Chambers would have written.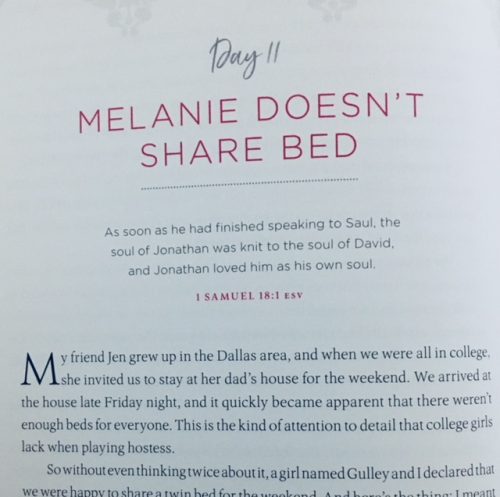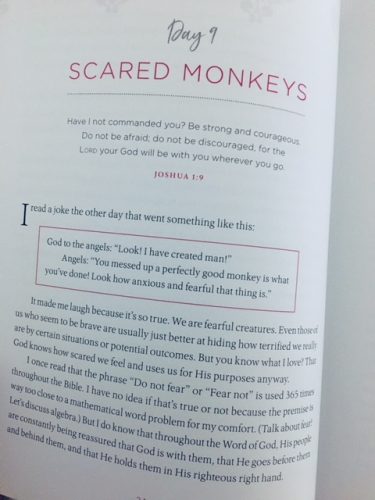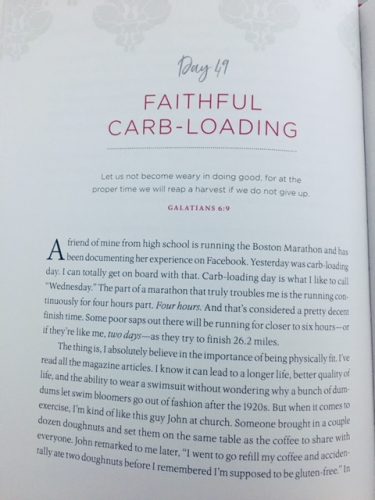 All that to say, I love this book. I realize I'm biased because I wrote it, but I'm really proud of how it came together and I know that God was in it every step of the way because otherwise I would've just watched Netflix.
My hope is that it will make you think, make you laugh, and draw you closer to the God who loves to see us do both of those things every day. It would also make a great Mother's Day or graduation gift because Richard is all about celebrating special occasions.
The general average price point right now seems to be $12.32 (because apparently no one likes to end with a five or a zero anymore like God intended) and I don't know how long that will last. The original price is $17.99 but we really wanted to offer it at a discount right from the beginning and someone actually listened to us.
You can find it here on Amazon, here on Barnes & Noble, here at LifeWay, here at Faith Gateway, and here at Target.
You can also find it inside actual bookstores if you are a person who still walks in a bookstore.
Thank you so much for your support for Everyday Holy and please spread the word, write an online review if you feel so led and just know that I am so thankful for every bit of it.
With much love and three espressos,
Melanie