A long time ago, I used to post the occasional recipe. I don't know why I haven't written a recipe post in so long but it may have something to do with the fact that I assume y'all know how to heat up Dino Nuggets in the microwave or pick up your phone and order pizza.
But I seem to have inadvertently stumbled upon a case of the writer's block, so today is your lucky day.
A while back I was on the phone with Sophie and we were talking about various ways to prepare pork products. If I remember correctly, there was a sale on pork chops at HEB ($1.99 a pound!) which led to the conversation.
Because isn't that what friends do? Talk for hours on the phone about pork recipes, what's on sale at Walmart, and if Jack Bauer will ultimately meet his demise through exposure to bio-weapons or who shot J.R.?
Oh my word, I have turned into my Mema.
Anyway, I told her that I couldn't believe I'd never told her about my creamy pork tenderloin recipe because I believe it was singlehandedly responsible for P's decision to spend the rest of his life with me. Well, that and my awesome collection of Carpenters' CD's.
Yesterday I actually remembered to purchase a pork tenderloin from HEB and will now share the recipe with you, complete with very poor photography of the entire process. Except for the steps I forgot to photograph.
Creamy Pork Tenderloin
List of Ingredients (I didn't take a picture of them. This is starting out well.)
1 pork tenderloin (about 1 pound)
1 egg
1 tbs. water
1/2 tsp. dried rosemary, crushed
1/4 tsp. pepper
1/2 tsp. garlic powder
1 cup Italian-seasoned dry bread crumbs (I buy these because PLEASE)
3 tbs. canola oil
1 pound fresh mushrooms, sliced
2 tbs. butter
1 can cream of chicken soup
1 cup sour cream
1/4 cup chicken broth
Cut the tenderloin into about six to eight pieces.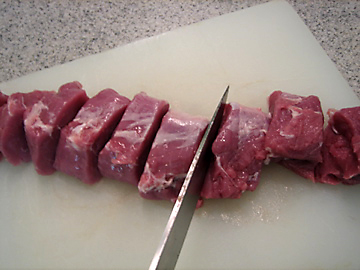 Use a mallet or hammer or whatever to flatten the pieces to about 3/4 inch thickness. You may notice in this picture that no one has shown up to demolish my countertops and hook me up with some new granite ones.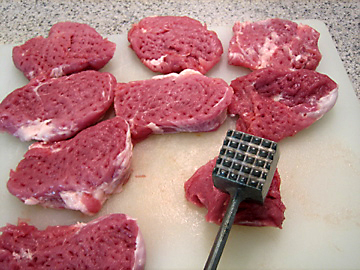 I don't think those pieces are 3/4 inch thick but let's just go with it. I've never been into precise measurements. It's a pork recipe, not rocket science.
Combine egg, water, rosemary, pepper, and garlic powder in a small bowl. Place the bread crumbs in a separate bowl. Dip the pork into egg mixture, then into bread crumbs.
(I didn't get a picture of any of this because my food photographer is unreliable at best. She may be worse than my maid.)
In a large skillet over medium heat, brown pork in oil for about 5 minutes on each side.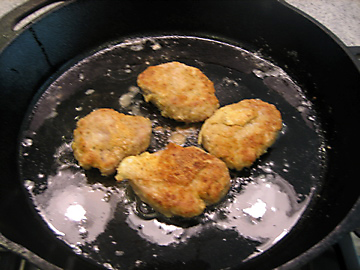 That's the reflection from the overhead lighting that you see in the skillet. I believe this is why magazines hire food stylists and not some hack who should stick to ordering takeout.
Remove the pork medallions to a 13 x 9 pan. In the same skillet, saute mushrooms in butter until tender.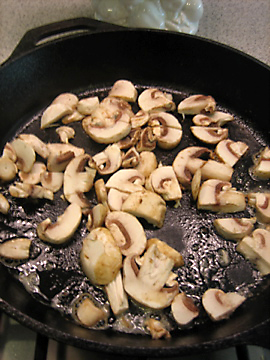 Add in a cup of sour cream. I like to use "light" sour cream in my fried pork recipes. It keeps it healthy.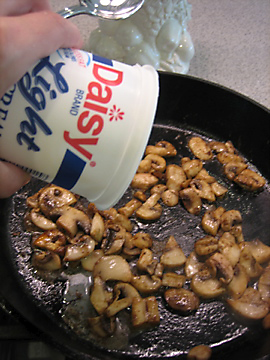 Stir in cream of chicken soup. I used cream of mushroom instead because I am a culinary renegade. Also, I didn't have any cream of chicken soup.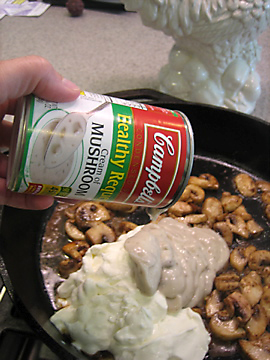 The last step is to add a 1/4 cup chicken broth, which is so simple when you actually have chicken broth available. It's like I didn't even look at the recipe before I went to HEB.
(I'll be honest, I didn't even look at the recipe before I went to HEB)
But because necessity is the mother of invention, I improvised.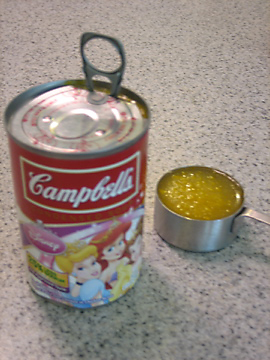 Sure there may have been a stray princess noodle mixed in but that just adds to the complexity of the dish. Plus, guess what Caroline is eating for dinner tonight?
Stir all the ingredients together until the sauce is smooth, then pour over the pork.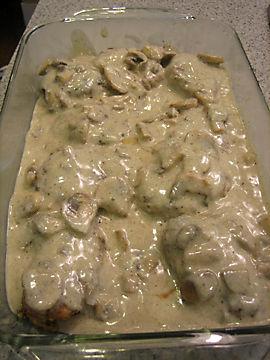 Cover the dish with foil and bake in a 325 degree oven for one hour.
Serve with rice and maybe some sort of vegetable to balance out all the various cream products and butter.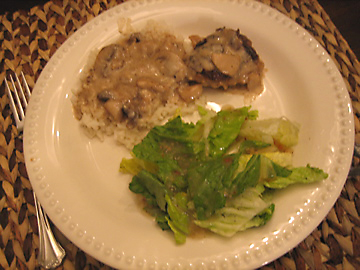 I chose salad because the only green vegetable I had on hand was lettuce.
The important thing is that I remembered to buy Sour Patch Kids.
And a large bag of M&M's.
And some Dreyer's Chocolate Peanut Butter Cup ice cream.
You know, the essentials.