I can't even tell you how many times I've started to write a blog post over the last few weeks and then I either decide I have nothing to say or I get distracted by Netflix or Caroline texts me from wherever she is at the time to tell me it's time for me to come pick her up. And all my good intentions go out the window.
But here I am. Caroline is home which means she won't have to be picked up. P let me sleep in this morning and took Caroline to school so I'm not as tired at 10:15 p.m. as I usually am. And I finished QB1 on Netflix so I'm not tempted to watch it instead of write. It's the perfect storm.
Here are few quick bullet points about some things that have happened here over the last month or so.
– There has been a lot of soccer
– Two weekends ago it was my turn to record Caroline's team's soccer game on the big tower video camera so the game film can be uploaded to Hudl for learning purposes and highlight film. Everyone kept saying it wasn't that hard and anyone can do it, so I felt that surely I was qualified. However, in the one hour that I was responsible for recording I managed to get stung by a bee and the wind blew so hard that it caused the entire tower camera to blow over into a huge mud puddle. These events probably ensure two things: 1. No one will ask me to record in the future and 2. There's a good chance that the video includes two instances of profanity being uttered by the camera operator.
– This past weekend Caroline and Perry drove to Dallas for soccer games and I flew to Marshall, Texas for a speaking event on Friday night. I talked about this on the podcast, but I have to write it here just in case you don't listen to the podcast. Flying into the East Texas Regional Airport was a delight. First of all, it's the size of my house. Second, I had to rent a car and they gave me a Volkwagen Beetle with a dent in the side and a large piece of plastic hanging down underneath it. The rental car employee, Don, walked me out to show me the large piece of plastic and even laid on the ground and reached under the car to try to break off whatever it was. Ultimately, he couldn't get it to break off (car parts are tricky that way) and sent me on my way assuring me it would most likely be fine by saying, "I don't reckon it will hinder you none." This is now my new life motto. Also, you don't get that kind of personal service when you fly into D/FW and rent a car.
– I loved the women at my event in Marshall. They were so kind and couldn't have made me feel more at home. I honestly find this to be true at every event I do which is my motivation to keep traveling for speaking events instead of staying home in my pajamas.
– Speaking of staying in my pajamas, I am in the thick of working on my next book which, between that and the cold weather we're having, means that there isn't a lot of getting dressed going on in my world right now and I don't hate that.
So that's kind of a catch-all for life around here. But the other development is that our dog, Mabel, has had some sort of cough/wheeze for the last six weeks or so. She doesn't do it all the time, but when she wakes up or gets really excited the wheeze starts and is followed by the sound made by an old man with a cold ordering soup in a deli. It's kind of a "KAAAAHHHK" thing that I originally thought meant she was about to throw up, but I guess is more of a throat-clearing thing.
I took her to see our vet about a month ago assuming it was a respiratory infection of some sort. Our vet agreed with my unprofessional assessment, gave her some antibiotics, and said to let her know if it didn't seem better in a month.
Well. It didn't seem better in a month. So we dropped Mabel off for a day of x-rays and blood work at the vet's office on Tuesday morning. She called to let us know we could pick Mabel up at 4:00 p.m. and took me to the back when I arrived to show me Mabel's x-rays. Her concern was that Mabel's heart is twice as big as it should be for a dog her size and there were also some pockets of fluid and enlarged lymph nodes. She somberly told me that the enlarged heart could be a concern and a sign of possible heart disease, but we would know more in twenty-four hours after all the blood work results came in. She also suggested that we keep Mabel calm and limit her activity until we had a better idea of what was going on. Here's the problem with that; Mabel doesn't do calm. Mabel has two speeds: sound asleep or full-on crazy.
Needless to say, we were worried about our Mabel and concerned about what a diagnosis of heart disease might mean in terms of how much longer she could live since there were several possibilities of things that might not be treatable. We love our vet and she knows how much we love our dogs and so she called us as soon as she got the results yesterday that showed that, while Mabel does have an elevated white blood cell count indicating an infection that needs to be treated with stronger antibiotics, her heart is totally normal even though it's twice the size of a normal heart. Apparently, Mabel has a heart like some athletes do and it's larger due to her activity level. The vet's exact words were, "She's got a heart like the racehorse Secreteriat had".
And so I think we all know that there will be no end to Mabel bragging about her Secretariat heart now that she knows this information. I told our vet that maybe Mabel is like the Grinch and her heart grew two sizes that day. But that doesn't explain why she still doesn't really like anybody except for her immediate family.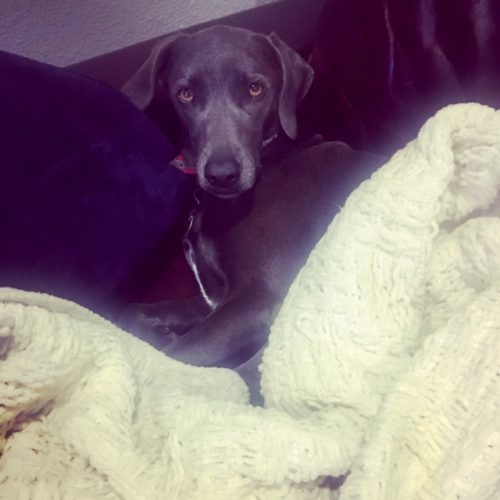 Naturally, Mabel wrote a couple of haikus about what she is calling her "near death experience" and Piper keeps telling her what Rachel told Ross on Friends after he survived a "gunshot" that turned out to be a car back-firing, "THAT WAS BARELY AN EXPERIENCE".
Looked death in the eye
Told it not to mess with me
It got scared, ran off
Heart like a racehorse
Means I'm better than most dogs
Especially Piper
Hard to be elite
I am both athlete and dog
Destined for greatness
My heart is so large
Because I am filled with love
Except not really
Hope you have a great Thursday.
Copyright secured by Digiprove © 2018